From offices to airports, campuses to hospitals, the management and operation of any property can benefit from indoor mapping – rapidly emerging as the latest milestone in the mapping of the natural and built environment. Landscapes have long been digitally mapped and analysed, with cities and buildings joining more recently but today, technology also allows mapping to go inside a building.
Why do we need indoor mapping?
Traditionally, facilities managers have relied on CAD drawings (computer-aided design) to depict building interiors or route contractors to where work needs to be done. Yet these static illustrations have limitations and often don't reflect current configurations. Firstly, it's hard to share this data, whether it's analogue drawings or trying to share a 3D model with staff who do not have the specialist software required to view it.
Often, CAD images also reflect the design and not the real world building, which might have also been altered since construction, while moving between floors can mean having to view different drawings in different formats. These factors all combine to present a challenge when locating rooms, assets and making best use of spaces and it's difficult to query the data and make it truly operational.
Indoor intelligence
Primarily used for facility or building management, indoor mapping gives an instant understanding of an indoor environment, capturing and visualising maintenance, HVAC and other IoT sensor data but it can also visualise people and assets to improve wayfinding and navigation within a space.
Some users are benefitting from bringing their BIM and CAD data into an indoor mapping environment because it gives a complete situational awareness of an entire site. This means they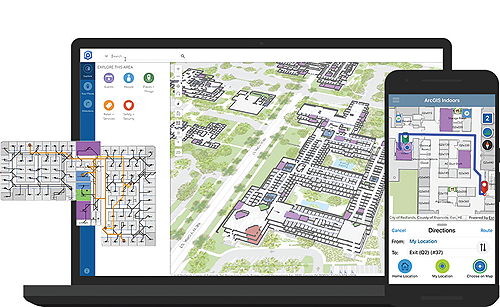 now have the context of a building's surrounding environment, plus the macro level interior detail of a building down to individual floors, rooms and spaces, creating 3D digital twin workflows. CAFM systems and FM databases can also be linked, to make building management even more seamless and connected.
By giving users better access to the data they need, it allows those responsible for the smooth running of a facility to do their jobs more efficiently. Indoor mapping can help plan and optimise space planning and capacity monitoring or the allocation of rooms and desk reservations to support a safe return to work. When indoor mapping is linked to maintenance systems, users gain improved work order visibility and greater accountability. By showing and sharing the location of problems and then directing maintenance workers to those jobs, workflows become more streamlined.
Next generation workspaces can also be supported by indoor mapping, by helping to monitor and understand the health of a building and ensure employees are in a safe and productive environment. Any type of sensor data can feed into an indoor map, giving staff a 3D interactive view into how well a space is functioning and performing against carbon emissions or energy consumption targets, plus humidity, carbon monoxide or carbon dioxide levels and other factors such as noise pollution.
Concert, sports, and political event planners can also use indoor mapping to plan and practice effective event response. Indoor mapping generates complete 3D models of the venue for analysing security aspects, such as viewsheds and individual lines of sight. Security services can analyse exit routes and other conditions that might interfere with emergency response.
Where am I?
To have truly effective location intelligence inside, people also need to know their current location and see the relationships between people and assets that are moving in space and time. Demand is growing for mobile maps that show an individual their precise location inside a building, helping them locate, for example, an available conference room, departure gate, MRI scanner, or maintenance task that needs attention.
And this is where IPS technology or an 'Indoor Positioning System' is proving invaluable. With GPS-enabled mobile phones losing their accuracy indoors, IPS is needed to provide indoor navigation and wayfinding capabilities and use a combination of Wi-fi and Bluetooth beacons.
Common operating picture
Just as with outdoor mapping, everything that happens in a building is tied to a location and bringing it all together in one place makes sense. Ultimately, indoor mapping provides a common operating picture, connecting multiple, disparate data formats and sources, quickly visualising them in interactive 3D maps to help manage a building more effectively.
Where are AEC professionals on their indoor mapping timeline?
In a recent poll, Esri UK asked 150 AEC professionals about their indoor mapping plans. Key findings included:
90 per cent said they were in the early stages or had not yet started their indoor mapping plans
he most popular benefit of indoor mapping was considered to be sharing visual data with 45 per cent of the vote
When asked how they use/intend to use indoor mapping, 33 per cent said asset location and tracking; 19 per cent said reporting and managing service issues; 19 per cent said wayfinding
Case study: University of Oxford improves efficiency of estate management with indoor mapping
The University of Oxford recently upgraded its estates management processes with a new indoor mapping system to provide more efficient methods of maintaining asset data, planning new buildings and how it charges university departments and other tenants for the space they use. Offering easy access to property and interior space data across 300+ buildings and 35,000 spaces using interactive maps, the University used GIS mapping technology from Esri UK to build the new system.
Replacing manual processes, static CAD floorplan drawings and Excel spreadsheets, the new solution combines over 2,000 floorplans into a single interactive map, enabling the university to more easily share data online with building managers and department administrators. Interactive maps now give an overview of the estate, showing buildings in context of their surroundings down to individual floors, rooms and spaces, while interactive dashboards show floorplans, usage and cost details.
"The challenge was to create an indoor mapping system which would provide 24hr access to floorplan and budget information for academic departments and other tenants and keep pace with the dynamic nature of our estate, which has several thousand changes every year," explained Lomin Saayman, Information Records Manager, University of Oxford Estates Services. "The Esri UK solution gives us a geographical visualisation of our estate and allows tenants to easily report any changes, so our central asset record is always up-to-date. Overall, the increased visibility and accuracy is helping improve how we inform departments what they will be charged for the year and in how we plan for the future expansion of the estate."
Craig Evenden is Head of AEC and BIM at Esri UK, the global market leader in geographic information system (GIS) software. AEC organisations use Esri's GIS to help plan, design, build and manage buildings and infrastructure. Customers include Arcadis, Mott MacDonald, Costain, Atkins and the Skanska, Costain and STRABAG Joint Venture.
For more information, please see www.esriuk.com/aec