Beautiful bridge restoration
CEMEX Germany created an innovative and customised ready-mix concrete to restore the 289-year-old Augustus Bridge (the Bridge) over the river Elbe in Dresden, Germany. Widely considered the most beautiful bridge in Europe, the Bridge was the longest stone arch bridge in Europe at the time it was constructed.
The project's primary contractor, Hentschke Bau GmbH of Bautzen, is using approximately 4000 cubic metres of this concrete from CEMEX Germany. Concreting work began in April 2017 and is expected to be completed by the Spring of 2020. The renovation includes the total replacement of one of the Bridge's arches at the Old Town abutment above the riverside road, Terrassenufer, which has been completed. Each of the Bridge's arches and piers will be equipped with reinforced concrete slabs as a basis for a new waterproofing system. In addition, all visible surfaces made of sandstone will be extensively repaired.
In order to maintain the historical integrity of the Bridge, CEMEX Germany developed a custom, light-coloured concrete that matches exactly the original colour and style of the Bridge. Created by CEMEX's ready-mix technologists, the customised concrete is being used for both the new construction of the arch at the Old Town abutment as well as the restoration and reinforcement of all the other arches and piers.
It's electrifying
The new European IT headquarters for global electrical wholesaler City Electrical Factors (CEF) has been described as a 'visual celebration of the company's ethos and rich industrial heritage',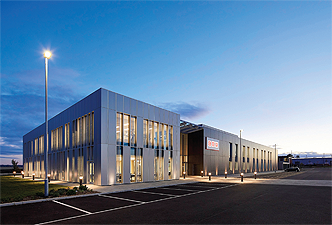 thanks in part to an electrifying aluminium façade featuring Proteus HR rainscreen cladding.
Architects FaulknerBrowns designed the new £10m Data, IT and Marketing headquarters, known as Janet Nash House, using a variety of materials such as copper, aluminium and ceramic, which represent the components found within an electrical cable, CEF's staple product.
The southern 'L' shaped block, which houses the 'graphics and marketing' teams, features a striking façade executed in Proteus HR Euromax AluNatur Elox Anodised Brushed pre-coated aluminium, for which FaulknerBrowns took inspiration from the foil shield of a coaxial cable.
In contrast to the aluminium finish of the southern building, the northern block features large format porcelain panels, which are fitted throughout as a reference to the traditional use of ceramics as an electrical insulation material.
Hospitals for Scotland
Balfour Beatty has been awarded a £37 million contract to deliver two community hospital facilities in Scotland on behalf of hub North Scotland; Badenoch & Strathspey Community Hospital and Health Care Centre in Aviemore, and the Skye, Lochalsh and South West Ross Community Hospital at Broadford on Skye.
Balfour Beatty was appointed as main contractor for the delivery of these works following close collaboration with hub North Scotland throughout the 18-month preconstruction phase ensuring the provision of the most cost-effective and high-quality design solution.
In line with Balfour Beatty's commitment to reducing onsite activity by 25 per cent by 2025, the facilities energy centres, which will provide heating, electricity and water, will be constructed offsite to improve safety while enhancing productivity and efficiency on site.
In addition, Balfour Beatty Ground Engineering will apply its ground engineering expertise and specialist geotechnical knowledge to deliver the project's crucial ground engineering requirements including concrete driven piles.
Smooth operators
The Circus in Bath, a historic street of large townhouses in the city of Bath, Somerset, and one widely regarded as a pre-eminent example of Georgian architecture, has been resurfaced by Miles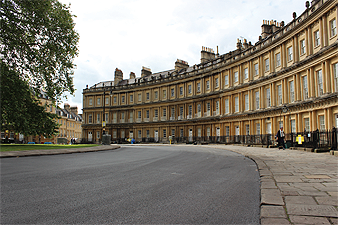 Macadam for Bath & North East Somerset Council and Volker Highways.
Due to the issues of historic concrete road construction and specialist nature of the project, Miles Macadam was selected for its diligent reputation and established track record in the treatment of concrete carriageways. More specifically, its own manufactured HAPAS approved Milepave Grouted Macadam was chosen to resurface The Circus, using a total of 1900m2 of Milepave, heavy duty asphalt surfacing to guarantee quality and longevity for a project of this nature.
Milepave is a long lasting, high strength, flexible surface course which minimises the risk of reflective cracking – a serious challenge associated with road maintenance when asphalt is laid over historic concrete. It also has inherent flexibility to combat underlying movement and is sealed against water ingress, therefore preventing further erosion of the support layer beneath the concrete.
During the works, which took three days to complete, Miles Macadam ensured that disruption to residents was kept to a minimum, with careful planning and traffic management.
£229m joint venture
Crest Nicholson and Sovereign Housing Association have formed a partnership to deliver 920 new homes within the next phase of the 2700 home new residential community at Harry Stoke, Bristol. The £229 million Joint Venture (JV) will utilise Crest's place-making and major project delivery skills to deliver both the homes and associated infrastructure. The arrangements also include a commitment from the Sovereign Housing Group to pre-purchase 376 of the associated affordable and intermediate homes from the JV.
In addition to the affordable housing, the partners are providing more than £9.5 million worth of community contributions as well as a local retail centre, community hub, primary school site and nursery. Much needed infrastructure developments are also being made, with the construction of a new link road to provide access for residents and the surrounding community.
Crest Nicholson and Sovereign Housing Association are long standing partners, with successful previous developments including Centenary Quay in Southampton, Tadpole Garden Village in Swindon and Harbourside in Bristol. The joint venture formation follows Crest Nicholson's wider strategy to accelerate delivery and diversify the tenure base on its larger sites through strategic partnerships.
Chris Tinker, Interim Chief Executive at Crest Nicholson, comments: "We are delighted to be extending our long-standing partnership with Sovereign and to be teaming up together to deliver this new residential community."
Revitalising history
Stepnell has completed a £13.2 million restoration on a Grade II listed hotel in Stratford-Upon-Avon. Formerly known as The Falcon Hotel, the newly named Hotel Indigo Stratford-upon-Avon
has upgraded its internal facilities whilst preserving the heritage of its historic exterior during a comprehensive refurbishment. The three-storey building, which features 93 boutique bedrooms, is located in the heart of Shakespeare's birthplace and dates back to the early 16th century.
Plans were originally laid out to refurbish the roof, but the job quickly grew in size when it was found to be beyond repair and had to be removed entirely, along with the internal plastering which was reinstated by a specialist company. Measures were also taken to preserve and replace the external beams and timber flooring in a bid to protect to the hotel's defining features.
St James's Hotel Group chose to partner with Stepnell's Rugby office and architect firm Hitchman Stone Partnership to deliver the high-quality refurbishment that brought The Falcon Hotel back to life.