Networking beneath the surface, Normet has been supplying its specialist products to support the mining and tunnelling industry for 50 years
Tunnel vision
Networking beneath the surface, Normet has been supplying its specialist products to support the mining and tunnelling industry for 50 years
Normet was established in 1962 in Finland originally as Peltosalmi Metal Works. It was one of the pioneers in developing and manufacturing forest machines to be installed on farming tractors like winches, wood chippers, cranes and trailers. From the beginning of 1970, following a change in ownership, the Normet name was formed and the business began to manufacture mining and tunnelling equipment leading to the majority of the company being purchased in 2005 by Cantell Oy.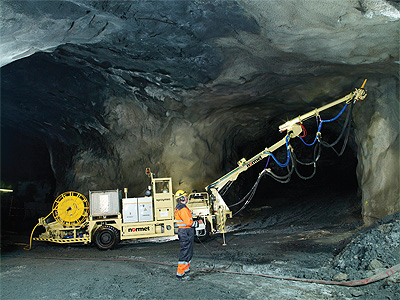 Under the new ownership focus was drawn on the sale of products and services having previously operated through distributors and agents. In 2006 Normet had sales and service locations in just three countries before an increase in network size that today promotes the company in 38 locations around the world providing customers with the best possible service.
Complementing the geographical expansion and control of equipment sales, spare parts and servicing, Normet's strategy was revised encompassing the new role as a solution provider for processes in underground mining and tunnelling.
Between 2005 and 2013 it was able to increase turnover by an average of 20 per cent each year. The company develops, manufactures and markets machines as well as construction chemicals and specialised dynamic rock bolts for underground processes. Mobile robotised concrete spraying, highly mechanised explosive charging, underground logistics, scaling and rock reinforcement are services supported by the comprehensive range of lifetime care services.
In an interview with Construction and Civil Engineering, global marketing manager Jukka Pihlava discusses the industry and the company's forecasted growth: "In recent years in the mining industry the supply has been higher than the demand putting pressure on commodity prices. The excess supply has led to the closure of unprofitable mines and postponing new mining projects. Mining companies have changed their focus from production volume to the cost of production, which has led to decline in mining capital expenditure (Capex). However, in civil underground construction there is an increase in the number of infrastructure projects, especially in growing markets such as China, South East Asia and South America."
As an example of its capabilities, Normet offers sprayed concrete processes in tunnel support, providing equipment for concrete spraying and underground transport, all chemicals and expertise in the whole process from the raw materials to the right strength sprayed concrete at the tunnel wall.
Forming part of Hong Kong's largest ever sewage infrastructure project, the Harbour Area Treatment Scheme (HATS), Normet has supplied, under Contract 24, over 20 items of equipment for concrete spraying, explosive charging and underground logistics. In addition, Normet provides a 24/7 service to the customer and technical support for the equipment fleet. Water ingress requirements in the HATS project are stringent and Normet has also supplied considerable amounts of water sealing chemicals for the pre-excavation grouting of the ground.
"We invest about four per cent of our turnover in the development of equipment and chemicals. Our equipment technology centre, including the prototype manufacturing premises, is located in the main factory in Iisalmi, Finland," Jukka highlights.
All R&D, engineering and documentation functions have been centralised in Finland, and products are developed in close partnership with customers as Jukka explains: "They are an inseparable part of the development and solutions are tested thoroughly before released. Prototypes are first tested at the technology centre, then at the customer work site to be sure that the equipment is suited to their needs.
"Future development is focused on operations such as concrete spraying, explosive charging, man lifting, underground installation works, scaling, and man and material transport. Modular platforms make it easy to change and add new functions to the equipment, from very basic transporters to fully automated self-propelled rock support machines."
Normet has established a competent and innovative team of chemists and material technologists responsible for developing construction chemicals. The major part of this team is based at the Global R&D Centre located at its premises in the UK, with additional chemical specialists in premises in Chile, India, Indonesia, Singapore and Taiwan.
With a growing interest in equipment rental for the mining and construction machinery market, Normet has developed rental solutions for mining and tunnelling contractors as well as plant hire companies. "The demand for rental is a result of increased competition for contracts, size of projects, unpredictable market changes and optimisation of capital employed," says Jukka. Through rental agreements, customers are able to reduce their own fleets, avoid investments and minimise the risks of fleets. An integral part of the rental contract is service, which lowers the costs of maintenance and repair costs.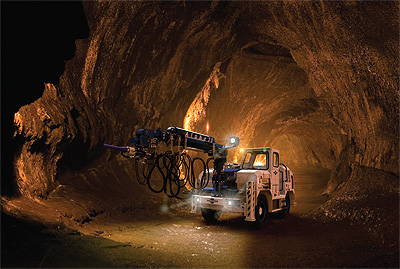 The entire range of equipment for mining and underground construction is manufactured in Finland i.e. equipment for concrete spraying and transport, lifting and installation, explosive charging, underground logistics and scaling. In Sweden the company manufactures equipment primarily for installation and finishing work in infrastructure tunnels, but also for mining, while in Chile it is manufacturing equipment for concrete spraying and transport (of different types and sizes than manufactured in Finland). Normet Chile is the only producer of specialised spraying robots and low profile transmixers for the application of wet sprayed concrete in Latin America.
Normet provides training for its personnel to ensure the shortage of skills in the industry is not reflected within the company. Customers also receive industry standard tuition in the processes, through training delivered at customers' sites and at the Normet Academy locations in Finland and India with concrete spraying, the most demanding underground process, involving classroom and simulator training before entering actual underground conditions.
The advanced simulator is an artificial cave where a 3D tunnel is projected to the walls, providing operators with the opportunity to learn techniques with different models of Normet concrete sprayers. The training covers spraying boom movements and tasks before spraying in different tunnel conditions with performance monitored based on the amount of rebound, the quality of spraying and the cost of sprayed concrete. Through the simulator training, an average 23 per cent improvement in operator efficiency has been achieved.
Moving into 2014 Normet remains committed to developing and supporting robust, sustainable solutions for the underground mining and tunnelling industries that enable its clients to excel with improved safety and productivity.
Summarising the vision over the next five years, Jukka concludes: "The mining industry will come back to its growth path as the commodity demand in emerging markets begins to grow. In addition, the demand for underground infrastructure projects such as metros, railways, roads, hydropower stations, fresh water and sewer plants and parking is continuously increasing in order to stimulate the economy and welfare in urban areas and global mega cities."
Normet OY
Services: Machinery and equipment for the mining and tunnelling sector