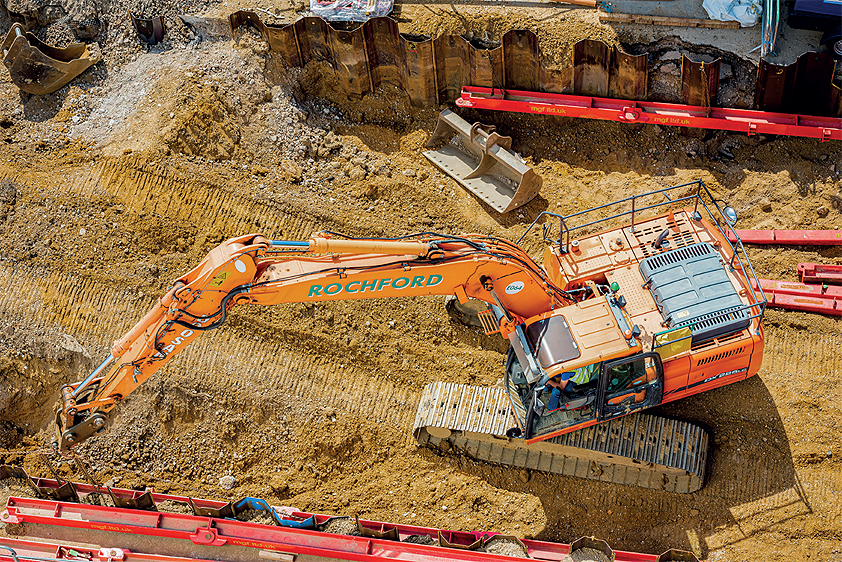 Rochford Construction Ltd
Hitting the ground running
Working across all sectors including housing and residential, retail, health and leisure and education, Rochford Construction Ltd has earnt itself a credible reputation for excellence and delivering on its clients' expectations
Established in 1986 by the Rochford family, Rochford Construction Ltd (RCL) has spent the last 34 years building for itself a trustworthy, well-earnt reputation within the groundworks and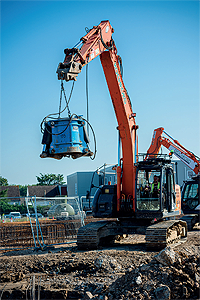 external works sectors. With its status built upon a proven ability to succeed in delivering projects that are not only within budget, but also within program and to specification, RCL is a company that truly values repeat business and long-term working relationships with its many clients.
RCL has continued to thrive as it has grown consistently in its primary sectors of activity. The first of these is the housing and residential market, where it works on a range of housing projects, from local authority housing associations to high-end residential developments. The company works effortlessly with its clients to meet a range of challenges, including particular requirements around noise, hazards and potential disruption in different residential areas. Working closely with its clients, RCL ensures that all such projects are delivered on time and within budget.
"Our reputation as a business is founded on consistently delivering projects to the highest of standards," states Director, Gerard Rochford. "Being recognised for being a company that cares about the work it undertakes means so much in this industry, and this is reflected in the efforts of our highly skilled people, a number of whom have been with us since day one and remain absolutely integral to our success."
In the education space, RCL works with its clients to develop all types of educational establishments, from primary schools to universities. As one would expect, the company's main concern is to ensure that its work in this sector is fit for the future, and that innovative techniques and the highest of safety standards are employed at all times. Meanwhile, when it comes to health and leisure, the company has displayed continued excellence, despite the fact that the development of public facilities including hospitals, clinics and leisure centres entails working within unique constraints. For its part, RCL works to guarantee that its performance measures – which include cost efficiency, timely development, health and safety, and local environmental impacts – are all factored in to the project to meet the end-users needs.
Expert partner
Last, but by no means least, RCL has also found itself working on various retail and commercial projects, primarily across the South East of the UK, where its ultimate aim is to make sure its client's goals are reflected in the finished project. The company's team's ability to drive any project forward, along with their pro-active approach to problem solving, helps to deliver tangible results in a timely manner.
Over the years, RCL has been able to support the above list of sectors by cultivating its own collection of different specialist services, including groundworks, hard landscaping, civil engineering, RC frames and plant hire. With its own in-house plant division, the company has the capabilities necessary to take on all groundworks packages regardless of size or value. Services offered in this area include, bulk excavations, enabling works, raft foundations, pile caps, ground beams, trend and pad foundations, contaminated ground disposal and remediation, cut and fill, de-watering in deep excavations, drainage, and general earthwork support. When it comes to the hard landscaping space, RCL is able to provide granite, yorkstone and precast concrete paving, resin bound, resin bonded and tarmac surfacing, bespoke furniture, bollards, fencing, soft landscaping, timber decking, and walls and retaining walls.
In terms of civil engineering, RCL's extensive team of engineers offer its clients the highest levels of service. While the company's expertise in civil engineering has continued to grow, its aim has remained the same, and that is to be an expert partner to its clients, providing industry-leading staff, technology and skills in order to exceed all expectations.
Other business areas include the delivery of reinforced concrete frames and plant hire. In the case of the former, RCL's management team boasts extensive experience in the RC frames industry, in which it offers a wide range of services such as architectural concrete feature finishes, basements, multi-storey RC frames, in-situ stairs, and pre-cast concrete beams, columns, floors and walls.
No matter the task at hand, health and safety is at the heart of all that RCL does. The company believes that taking the extra care in the planning of each project positively correlates with minimizing HSE risks as much as physically possible. The RCL team monitor and review what it believes are the fundamentals of this; training and quality management. The safety bulletins and briefings show its commitment to ensuring that health and safety is in the forefront of everybody's mind, every day.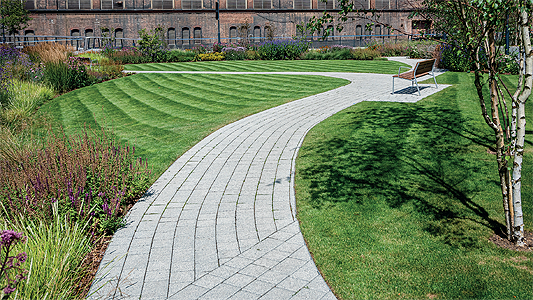 Site operatives and management hold trade specific CSCS/CPCS cards, obtained by undertaking the relevant NVQ. RCL is confident in the knowledge and experience of all of its workers and is proud that they have achieved several safety awards throughout the years. The team at RCL is equally as proud to have achieved and maintained accreditations across health, safety, quality and environmental disciplines. This is a vital part of the work it does each and every day.
Exciting projects
Examples of said work include eye-catching constructions such as Camden Lock Village and the Brocklebank Retail Park. The Camden Lock Village package – valued at £6.5 million – consisted of extensive hard landscaping, soft landscaping, bespoke furniture and final drainage connections. The site itself was spread over an area of approximately 7000 square meters, with original granite cobble sets that RCL had to extract and preserve in alignment with imported granite. Despite being a logistically challenging undertaking – due to the close proximity of a live railway line and a working canal – the works were delivered to the high standards expected of RCL.
The Brocklebank Retail Park required a full groundworks package, with works including site strip and piling attendance, formation of pile caps and ground beams, and several deep drainage attenuation tanks. An innovative technique was also used to reduce the volume of muck away waste from site. The material was then re-used and converted to CBM material, which was used for all sub base build ups to the main building, roadway, car parks and footpaths.
More recently, RCL has continued to be involved in several exciting projects, for instance completing a groundwork & landscaping contract on the Greenwich Peninsula redevelopment project. This landmark, £8.4 billion transformation program will see over 15,700 new homes created across seven new neighborhoods along a 1.6 mile stretch of the River Thames. It is such works that RCL will strive to tend for in the coming months and years.
Having established long-lasting relationships with a host of premier clients over the years, and having remained fully operational throughout the Covid-19 pandemic, RCL now finds itself well positioned for a period of growth that it expects to coincide with a number of delayed projects restarting soon in the UK.
"While 2020 has clearly been a challenging time for everyone, our secure pipeline of work helped to see us through the lockdown period in the UK, and we will continue to work with our clients to deliver quality projects in 2021 and beyond, " concludes Gerard.
Rochford Construction Ltd
www.rochfordltd.co.uk
Services: Specialist groundworks, external works and landscaping