Speedy Hire is the UK's number one tool and equipment hire company, Mike McGrath explains how the business is rapidly expanding
Hire expectations
Speedy Hire is the UK's number one tool and equipment hire company, Mike McGrath explains how the business is rapidly expanding
As a well-established company with a reputation for excellence, Speedy Hire is a national leader in terms of tool hire and has a wide array of complimentary businesses that support these capabilities. There are currently five equipment divisions within the Speedy organisation: Space, Survey, Lifting, Power and Pumps. Speedy offers an extensive range of tools and equipment for hire including access towers, steps and ladders, drills and breakers, woodworking tools, heaters, lighting, small generators, welders, and plumbing equipment.
Founded in 1977 as Livesy Hire, a subsidiary of the Allen Group, the company has since undergone a sustained period of prosperity, becoming a separate entity and creating its own niche in the market. For instance, over the last eight years, Speedy has enjoyed tremendous growth, a trend that is set to continue.
Speedy's key strengths, including the diversity of its customers, the increasing number of markets served, its range of activities and geographical spread, and its knowledge of health and safety legislations, will allow the company to continue to be the leading business within the hire sector and grow its market share further.
The tool and hire sector is currently going through a period of consolidation; an increasing amount of companies are strengthening their product and service offering in order to meet customers ever-changing demands. These circumstances present many opportunities within the sector in which Speedy operates.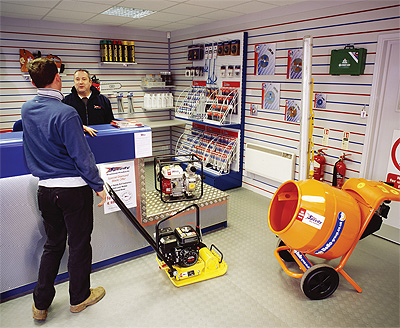 Since the company was formed, the group has expanded into different markets and different sectors. Today, the strength of the company's national network means it is able to move resources between regions so that it can benefit from areas of strong demand. Employing approximately 5000 people, Speedy has 540 sites strategically positioned throughout the UK and Ireland.
With this solid base to build upon Speedy is continually looking for opportunities to grow and expand its operations, either organically or through acquisitions. These additions subsequently become separate divisions of the company, operating autonomously from the main business, but supporting the incessant growth that Speedy has been experiencing since its conception.
In keeping with its growth strategy, Speedy has recently acquired Hewden Tools – a major player in the tools and equipment market. This acquisition reinforces the company's position as number one in its sector in the UK. Speedy is anticipating an integration period of five months, in which time the company will be actively working to making the transaction as smooth as possible.
Speedy completed the acquisition on 31st July 2007 and a rebranding of Hewden will occur on 1st January 2008. Hewden has 188 trading locations across the UK, which will increase Speedy's network of depots to over 540, with 402 being in the tool hire division.
Commenting on the acquisition, Steve Corcoran, chief executive of Speedy Hire said: "This is a transformational acquisition for Speedy Hire which is consistent with
our strategy of growing the business organically and through acquisition. This acquisition is an excellent strategic and cultural fit. It brings with it 1200 knowledgeable and highly experienced people with complementary skills, operating a similar business model to our own in a closely related area of the market."
Speedy has also recently acquired Waterford Hire Services – a longstanding, well-respected, independent tool and equipment hire business with 31 employees operating from two depots in Waterford City and South Kilkenny in south-east Ireland. This acquisition has added to Speedy's existing depots in Northern Ireland and the Republic of Ireland, which are now in their second full year of operation.
Steve comments: "We are pleased to be building on the good start that we have made in Ireland where both the demand for our products and the growth prospects are strong. Through our current depots and the addition of Waterford Hire, Speedy Hire will be well placed to capitalise on the significant infrastructure investment expected in the south-east of Ireland over the coming years."
Mike McGrath, commercial director at Speedy, is excited by the progress the company is making and talks further about how Speedy is focusing on growth: "It's a combination of factors really, we have already taken some very successful steps to boost our relationship with contractor customers, usually through the acquisition of their in-house hire businesses. We then enter into exclusive supply and service arrangements to meet the customers' hire requirements. That has been one strand of the programme, the second being to complete any gaps that we may have in the tool network with a selection of either greenfield sites or acquisitions in areas where we think there is an opportunity for us. Speedy's third major focal issue is to continue growing its equipment businesses, which have been strong so far and are giving us the largest areas of growth in the current market."
He continues: "One of our biggest growth stories of 2006 was the performance of our Scottish business and we have had a real push to develop that. In response to this we opened two sites in Ireland – one in Dublin and one in Belfast – and we're hoping to achieve similar success there."
Speedy's expansion programme proved to be so successful that it was recognised by The Times in 2006 with the national award for growth strategy. Mike is confident this will continue to be the focus for the company going forward: "This shows that our efforts to achieve a balanced expansion, through both acquisitions and organic growth have been effective and appreciated. We haven't finished this process yet and we're going to continue in the same vein, especially after having our work over recent years recognised with this award."
In addition to extending its network, Speedy Hire is raising awareness of working at height health and safety regulations. Following the introduction of new Working at Height legislation Speedy identified a clear customer need for assistance in communicating the new regulations at site level. Research showed that 67 per cent of site operatives were unaware of the new legislation that would enhance their safety on site, on daily basis.
This created an opportunity for Speedy to differentiate their brand, based on a commitment to health and safety. The Safety from the Ground up Campaign, although born out of the Working at Height regulation, is a broad health and safety campaign addressing a variety of industry issues.
This campaign won a top CSR award from the Business in the Community and was judged to have had a significant social impact. The leading business-led corporate responsibility charity chose Speedy over companies including Marks & Spencer and Scottish Power for the top responsible marketing accolade in its annual Awards for Excellence, after seeing the positive impact of the company's Safety From The Ground up initiative.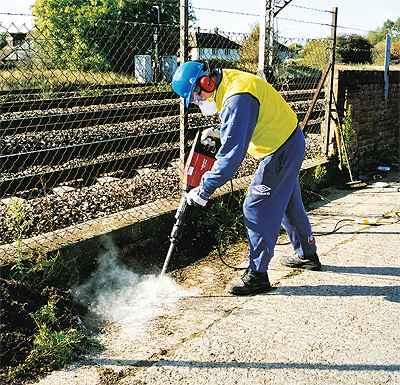 The Safety From the Ground Up campaign, which is in its third year and primarily targeted at construction workers, aims to increase the awareness risk and promote safer practice when working. the campaign has focused on a variety of issues, including Hand Arm Vibration Syndrome from power tools and the dangers of working at height.
"This award is another endorsement from an independent panel that has recognised the work we are doing on health and safety for our employees and customers," Steve says. "Our campaign is more than just a marketing initiative, we are at the forefront of the industry providing guidance to customers, working towards the shared goal of delivering safe working practice."
The responsible marketing award is given to a company that addresses opportunities and concerns around its products through responsible marketing, and by doing so, has achieved a positive impact on society.
Business in the Community is a unique movement of over 700 of the UK's top companies committed to improving their positive impact on society. The Awards for Excellence provide the opportunity for companies across the UK to be awarded a coveted 'Big Tick' for the positive impact their responsible business operations and activities have in the marketplace, the workplace, the environment or in the community.
Looking to meet all of its clients' requirements, Speedy places health and safety as the single most important aspect of its business. The company provides its customers with detailed information on safe usage and occupational health issues with a service accredited by the HAE Safe- Hire award, and training services to support their own safety and awareness developments.
Mike elaborates: "There is a huge amount of legislation in the industry in terms of health and safety – most recently there have been efforts towards improving conditions on site. We have taken these regulations onboard, sourced the best possible products, and ensured our tools and equipment meets the requirements of
the legislation and are safe to use. As a result, we have become good at taking those issues, which are headaches for our clients, and dealing with them. We are working closely with our customers to help them manage those risks, and that lends itself to an outsourced model, where they transfer their fleet and employees over to us from their internal hire business. So, we take on the people and kit, remove the hassle that goes with co-ordinating it, and then supply the service back to them."
As construction companies have become increasingly constrained by government legislation in recent times, this health and safety focus has been a major selling point for Speedy. The work that the hire firm has done towards meeting the new standards has earned it praise from the HSE. Health and safety issues are even taken around the country in 'roadshows', which make every member of staff aware of the changing regulations and safety issues.
As part of its ongoing commitment to improving health and safety, Speedy has recently launched an exclusive new product to tackle the problem of dust inhalation for users of cut-off saws. Working alongside product designers and manufacturers, the company has developed the Dust Buster, a portable device, which builds upon previous methods of water suppression to provide a practical solution to work-related dust. It is the first product of its kind to enable operators of cut-off saws and other cutting equipment to control dust as they work without restricting their location or relying on a constant water supply.
The product's development is part of Speedy's 'Safety from the Ground Up' campaign, mentioned previously, and marks a significant step forward for the company's latest initiative to tackle the widespread problem of dust inhalation. Speedy's current 'Let's clear the air on dust control' health and safety drive aims to reduce the number of site operatives that contract respiratory diseases by highlighting the causes of dust and the range of preventative measures now available.
It is evident from this focus on health and safety that the Speedy Hire business is not just all about growth and expansion. The company also likes to play an integral part in the community. For example, the business is backing a charity 'Hope and Glory' celebrity boxing event, which is taking place at the Birmingham Convention Centre in September, to honour a former employee, Mike Higgins, who was an integral part of the business. In addition, Speedy has recently donated two oak trees to the Children's Adventure Farm, a charity providing holidays and care for terminally ill and disadvantaged children. The donation is part of Speedy's ongoing commitment to social responsibility and follows an award for the social impact of its marketing campaigns from Business in the Community (BITC).
Looking at the growth of the company again, Speedy is also constantly expanding and improving its product offering to its customers. Speedy Generators – the UK's largest generator hire company – is expanding its fleet with an £8 million investment in new equipment. As partm of Speedy's Power division, Speedy Generators has already begun taking delivery of the first stage of this major fleet expansion. Over 500 generators, ranging from 20kVA to 1250kVA, together with associated ancillary equipment, will be added to the fleet over the next three months, taking the total number of generators in the fleet to over 5000 units.
Speedy Generators provides 24- hour planned and emergency rental services, equipment and maintenance. The company also operates its own transport, service and fuel management fleets to ensure a rapid response throughout the UK and Ireland.
The new equipment is part the company's aggressive growth strategy, which is aiming to continually meet its customers increasing demands. Speedy is continually introducing additional product ranges and services, such as the recent launch of the BioPower system, which is equipment powered by 100 per cent bio-fuel. The significant investment into Speedy Generators has enabled the company to cope with short-term demand, whilst also securing new long-term business.
Speedy invested £91.3 million in four acquisitions in the 12 months up to October 2006, and has continued to invest throughout 2007 with the acquisitions of Hewden and Waterford. Many of the acquisitions the company has made have opened up new opportunities for Speedy, such as the industrial, petro-chemical and utilities sectors, as well as offering wider services and products to its traditional customers. In addition, the company has invested in its product range with the addition of new innovative products and the expansion of its existing ranges. As a result of this growth and expansion, the mbusiness believes that it is now well positioned to be the main player in the market for the foreseeable future.
Mike concludes: "We have grown considerably over the last ten years, and we have no intention of letting that slip. We plan expansion within our current client base and within our range of product specialisms. We will continue to pursue the same successful strategy for the coming years, as well as drive important changes to further improve efficiency and long-term profitability."