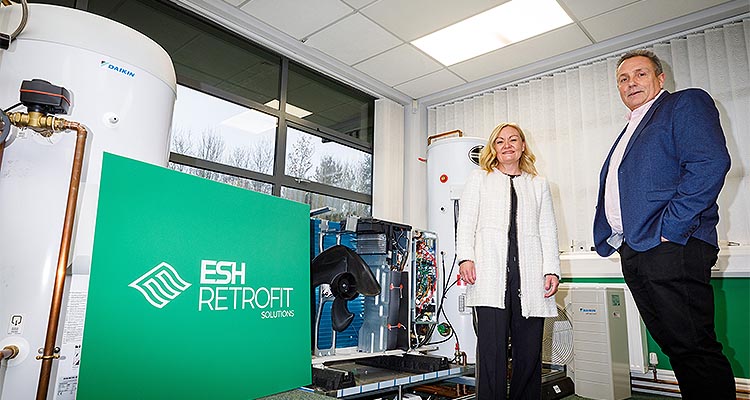 Under Andy Radcliffe's leadership, Esh Group is prepared for any industry rollercoaster
With a background in accounting, Andy Radcliffe joined Esh Group, one of the largest privately-owned construction businesses in the North of England, in 2010, as the group's Chief Financial Officer (CFO). Seven years later, he naturally progressed into the role of Chief Executive Officer (CEO) and has since guided the business through a transformational restructuring.
"I originally qualified as a chartered accountant and worked in the finance department of a textile company in Bradford," Andy opens. "It taught me a great deal and I managed to turn the company around from a state of distress, leading to its eventual sale. Years later, after being part of the sale of a private-equity-backed furniture manufacturer to a large American conglomerate, I found myself wandering into the 2008 financial crisis feeling hungry for change.
"So, in the depth of a construction recession, I was persuaded to join Esh Group. I came onboard as CFO, with an agenda to support the company's continued growth. It had endured the worst of the financial crisis and I was particularly impressed by the strength of its social values. Around 2016, myself and Brian Manning, our former CEO, agreed a transition phase; Brian was planning his retirement and appointed me as his successor.
"However, he passed away early in the transition, which not only threw me in at the deep end but left a huge legacy for me to continue as the group's new CEO. Through a series of opportunistic acquisitions, Brian had grown the business from around £3 million to £250 million.
"Despite our growth, our capabilities were sprawled across various sectors and services, and quite frankly, I felt as if I couldn't get my arms around them all. We weren't as agile as I knew we could be and a large part of our business was geared towards private development."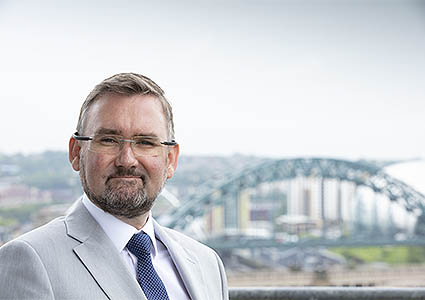 Having recognised an opportunity to strengthen and streamline operations, Andy and his team restructured the entire company, condensing 20 units down to just four principal divisions: Civils, Living and Build, and Homes by Esh.
"I considered my long-term vision and created a plan to redesign our business model," he details. "The problem wasn't any particular sector, but the business model itself. Alongside a series of subsidiary disposals, we merged and rationalised several operating units, developing a balanced portfolio across cyclical, counter cyclical, and non-cyclical construction.
"Our aim is to smooth out the inevitable rollercoaster ride – the boom and the bust – that construction companies experience in terms of revenue. As a successfully restructured company, we stood in a great position to weather the storms of the pandemic and rising inflation, experiencing a stable stream of revenue rather than peaks and troughs.
"While our offering to the private development market remains strong, we've grown our counter cyclical position, largely through an increased presence in the social housing market, as well as our non-cyclical revenue. We refer to non-cyclical as recession-proof revenue because these are typically infrastructure projects and are consistent regardless of the wider economic environment.
"Today, the Civils, Living and Build divisions operate under Esh Construction and sit within the broader corporate structure. Whereas Homes by Esh, our private housing business, has essential support from the larger group but operates independently."
Discussing Esh Construction's civils division specifically, Andy explains: "Our Civils division also houses the Esh-Stantec Joint Venture, which underpins our non-cyclical revenue.
"We have a tremendous ongoing collaboration with Stantec, working in partnership with Northumbrian Water, which has taken us into the design and build arena. We formed the joint venture in 2015 to deliver capital schemes through Northumbrian Water's AMP6 Water and Wastewater Infrastructure Framework.
"The Esh-Stantec joint venture has enabled us to take on a wide range of new opportunities," he details. Esh-Stantec has recently been appointed as the design and build contractor for a £6.4-million scheme, for instance, which will extend and upgrade the Northumbrian Water wastewater treatment works in Kelloe, County Durham.
Despite Esh being a large organisation, Andy strives to retain the family feel and community focus typically associated with smaller firms. "We're constantly considering how we can enhance the communities in which we work, whether that be socially or environmentally," he states. "The biggest thing is engagement; we actively sponsor worthy causes, for instance, taking part in volunteering or 'clean up' days, and donating to local food banks amongst many other initiatives that leave a lasting legacy in the communities in which we work.
"We're confident that we're ahead of the curve in terms of sustainability, but we must continuously reinvent the ways in which we can deliver additional value through sustainable practices. So, we've developed a carbon reduction plan and we're adopting science-based targets as we move forward on our journey to net zero by 2040.
"We're passionate about education and raising awareness of the potential career options within the construction industry. We run numerous schemes that engage with schools and colleges, providing young people with opportunities to facilitate a career in construction. There's also inevitably a big push for apprenticeships across all divisions of the business. In fact, eight per cent of our current workforce are apprentices or in sponsored further or higher education.
"We're a big business, but feel like a local one," he proposes. "We also run several schemes tailored towards unemployed people, offering education or training to further their personal development. This provides them with the initial skills and assets required to even step foot on a construction site, like CSCS cards, for example."
Referring to industry-wide skills shortages, Andy explains: "Attracting new talent into construction is a pressing challenge for the industry – and retaining it is even harder. The perception of construction is still fairly antiquated, but by adapting values and creating a culture where individuals can flourish, companies can positively impact such perceptions.
"To use a sports analogy, I think of the skills shortages as the bench strength of your team. If you don't invest in people, you'll quickly find that your older players will leave the pitch and you won't have anybody on the bench ready to play. In other words, companies need to invest in their people through career progression and development schemes, preparing a younger generation to enter the workforce as seasoned employees leave."
As our conversation draws to a close, Andy reflects on the construction industry at large: "One of the biggest changes I've witnessed is seeing how technology has encouraged flexible ways of working. It has been quite the game changer for us, as construction companies are finally becoming more digitally focused. At Esh Group, we've invested several million pounds in digital transformation over the last five years alone.
"Beyond eliminating manual tasks, technology is shifting the way in which projects are delivered," he adds. "The approach has changed from an adversarial culture where there has to be a winner and a loser in every relationship, to one of collaboration. Collaborating early, managing risk, and celebrating project wins together is very much on the agenda; it's not about who gets the biggest slice of the pie, but about how we make a bigger pie by working together.
"As I've alluded to, the construction industry goes through cycles. There's always a storm ahead and you just have to work out the best way to protect the business against those storms.
"But one of the most important things for me is legacy," Andy concludes. "Business isn't just about profits and winning contracts, but about the lasting impact of your actions. Brian left huge boots for me to fill and I'm hopeful that I'm continuing his legacy by focusing on prosperity, employment, and the local community."