Virtual reality, concrete benefits
A recent showcase of a virtual reality system in the US has raised awareness of the potential benefits of this innovative technology to the construction industry. Simon Jones delves a little deeper…
Possibly still seen by many as a thing of make believe and science fiction, the notion of virtual reality in the construction industry is already a physical certainty. A virtual groundbreaking has already been carried out by architectural visualisation specialist Theia Interactive for Suffolk Construction, in the US, but the potential benefits of the technology run far deeper than further enhancing the traditionally headline-friendly PR opportunity that is a project kick-off.
Virtual reality (VR) is a rapidly evolving, surprisingly low cost technology that has already proved itself at development and retail levels for industries such as automotive, where major vehicle manufacturers have utilised VR to provide design and point of sale competitive advantage. For Suffolk Construction, it offered a novel way of providing a spectacular groundbreaking where VR headsets replaced hard hats and HD screens delivered a breath-taking view of not only proceedings on the day, but of how the company's new headquarters will look as construction progresses.
Major stakeholders were fully immersed in an interactive experience, visualising the ceremonial movement of earth – or pixels, in this case – using commercially available hardware: Suffolk Chairman and CEO John Fish, Suffolk Northeast President Angus Leary and Boston Mayor Martin J. Walsh all donned HTC Vive VR headsets to begin proceedings, while attendees watched on using large HD screens. As the earth was moved, an architecturally precise visualisation of the future HQ formed to provide a glimpse of the future in more ways than one. But how was this scenario created, and how can the construction industry further benefit from this emerging tech?
For this project, Theia Interactive used Unreal Engine, a physics-based, real-time rendering engine, which has been in continual development by global games company Epic Games for nearly 20 years. Now at version 4.15, this free development tool is driving some of the most cutting edge AEC projects in the world.
Some of the benefits of using an established games engine is that it is incredibly powerful, easy to learn and very intuitive, allowing the entire Suffolk visualisation to be constructed in only four weeks. The key to this remarkable turnaround, says Theia, is the flexibility of Unreal Engine, which uses a visual scripting system called Blueprint to make it fast and intuitive to build VR experiences. Using data taken directly from Computer Aided Engineering systems, VR models can be constructed with great precision in a fraction of the time required by previous-generation systems.
Theia stated that, during work on the Suffolk Construction project, its operators were amazed at the ease of use and fluidity of the Unreal Engine system, providing the feeling that 'artists became programmers' quickly during the process. An idea may look great in an architect's head, and even once it's been through CAD, but VR can take that proof of concept one giant step further. NASA, for instance, has even used the Unreal Engine platform to develop a training programme featuring a technically precise, graphically stunning visualisation of the International Space Station.
That means that architects and developers can quickly visualise their ideas for customers, planners, investors and other critical stakeholders. They can discuss changes, up-sell to more costly options, explore radical ideas, and progress more exciting projects more quickly. It also helps to reduce costly late-stage changes because the development can be explored and evaluated at any stage.
A recent prediction from Goldman Sachs suggested that by 2025, 3.4 million design and manufacturing engineers would be using VR technology to design, prototype and manufacture products. The Unreal Engine Enterprise division, set up specifically to work with a quickly growing list of nongames partners, is confident that equivalent growth will be seen in the construction sector.
The accessibility of VR and its potential to increase early-stage collaboration between architects, engineers and construction specialists – not to mention introduce cost- and time-saving benefits to help streamline processes – makes it hard to argue with the business experts' prediction. From a cost perspective, too, VR has never been more attainable: companies such as Sony, Google, Oculus and HTC market affordable, commercially-available VR headsets, ultra-high definition 4K TVs, monitors and OLED technology are rapidly evolving and now commonplace, and computers with the required power are available on most high streets.
Following the development of its world-first virtual groundbreaking, Suffolk Construction stated that 'pixels are cheaper than bricks' with relation to architectural design and evaluation, promoting fresh ideas and strengthening any initial, in-built failsafe at the start of any new design project. It's a message that may well filter through the industry as we approach what could be a very intriguing time for VR technology adoption in the engineering and construction sector. If it's good enough for NASA…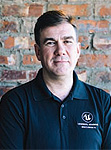 Simon Jones is Director at Unreal Engine. Unreal Engine Enterprise makes it simple and affordable for businesses to create Real Time and Virtual Reality applications. From new ways to engage with customers to methods to simplify the engineering of complex products to techniques for global collaboration in new product development, Real Time and Virtual Reality are driving process improvement, saving time, adding competitive advantage and increasing sales.
For more information, please see www.unrealengine.com/enterprise