With one eye constantly surveying the market needs and the other on serving its customers with the best service possible, Window Ware has established an unrivalled reputation in a niche hardware industry
Protecting the furniture
With one eye constantly surveying the market needs and the other on serving its customers with the best service possible, Window Ware has established an unrivalled reputation in a niche hardware industry
Back in 1987 Window Ware spotted a gap in the market to supply window and door manufacturers with bulk hardware on a next-daydelivery basis. "This was a really unique and unrivalled offering at that time," says Marketing Manager Sarah Binns. Very quickly the company realised the crossindustry appeal of its offering and established a trade counter to serve a range of trades from window and door manufacturers and fitters, to general tradesmen and repairers. "Because of this the product range has expanded quite significantly over the years and we now stock other associated items such as fascia products, guttering, super glue, silicone and so on to serve these other segments," adds Sarah. Now part of the Sunday Times Top Track 250 Arran Isle Group, which turned over £206 million in 2013, Window Ware has positioned itself as a leading player in the market with a robust reputation founded on quality products and service.
"Service is absolutely critical in today's market and everybody seems to be majoring on it," explains Sarah. "We carried out some double blind market research at the beginning of this year and we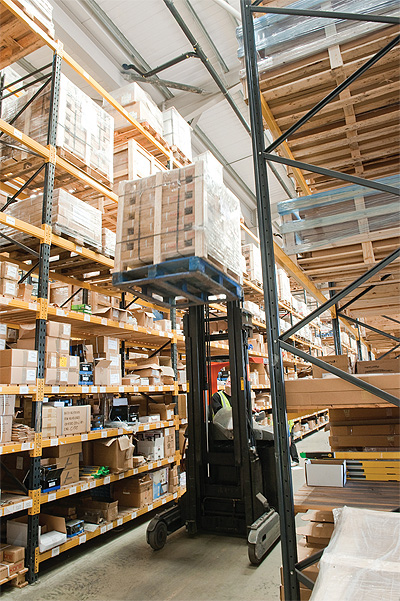 scored very highly. We came out on top as the supplier who best exemplified the attributes that were most important to customers, which were service and quality of product." Not only does market research support that Window Ware is leading the way in terms of meeting customer expectations, but its own exemplary figures go some way to reinforcing it as well.
The company has 18 competitive advantage statements, which are all qualified by facts to enhance its strengths. "For example, to demonstrate how high quality our service is, we measure our OTIF (On Time In Full), which averaged out at 98.5 per cent over 2014," highlights Sarah. "This means that we are getting the right order to the customer, on time and in full – so 98.5 per cent of orders arrived next day in 2014. We also have a quality rating which measures any defective products that are returned and we had a 0.12 per cent return rate last year from a total shipment of 7.4 million individual products."
A further commitment to service by Window Ware is also in its market diversity and 'we've got it' mentality. "From day one we have had tradesmen from all different trades come in to the trade counter," notes Sarah. "This has given us really close contact with a number of industries and has allowed us to develop an understanding of what they need to help us to review our product offering." The business currently offers a range of over 5000 in stock products and undergoes a continuous process of review and development to enhance this offering. In 2014, for example, Window Ware added 15 new ranges and sourced 1383 nonstocked items. "If a customer wants something and asks for it, rather than saying no because we don't stock it, if we can get it and can see that it will help the customer then we will get it in," expresses Sarah. "We will always go above and beyond to serve the customer whenever we can."
Evidently, this above-and-beyond ethos spreads outwards from just a product focused service offering. Document Q, a set of regulations that go into effect in October 2015, is designed to increase the security of windows and doors in building construction, and Window Ware has taken a leading role in ensuring that the industry is best informed and served with the regulations approaching. A blog entitled 'Are you ready for Document Q?' can be found on the company's website and gives customers an outline of the changes that will affect them, allowing them to prepare in the best way possible. Accompanying this is a press release called 'Five ways to prepare', and a document that lists all the compatible products that the customer will need to make sure they comply. "We've had some really good feedback from the window and door industry in particular, saying how nice it is for a distributor to take the lead on a subject that is still not really at the forefront of industry awareness," says Sarah. "So we're really continuing to make sure the message reaches as many people as possible."
Continuing to serve its industries in this way with new products and quality service very much defines Window Ware's journey into an even more successful future. One particular area of focus at present is into the research and development of products that will meet the increasing demands for smart home technology. As a result, in October the company will be showcasing a new cylinder lock that uses NFC technology to enable keyless door entry. With its finger firmly on the pulse of an ever-changing regulatory and technological market, Window Ware's ability to spot demand gaps and fill them make it a strong player in the field as it moves forward. Couple this to a continued commitment to offering quality products alongside a quality service and the company's reputation only looks set to grow.
Window Ware
Services: Supplier of tools and equipment for windows and doors industry