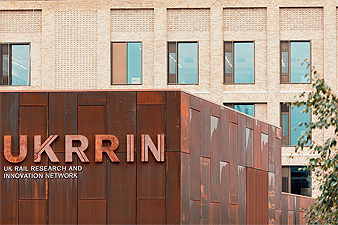 The state-of-the-art Centre of Excellence for Digital Systems showcases successful collaboration between academia and industry, as the university has partnered with the UK Rail Research and Innovation Network (UKRRIN) to commission the facility, with £16.4m in funding from Research England.
Designed by Associated Architects, the striking building has been created to align with the rail industry, featuring Corten cladding to give the same visual impact as railway lines and track signalling.
Offering a variety of contemporary and flexible design and research spaces, the building also has project labs, light labs and state-of-the-art equipment including cab simulators, signalling control centre, cybersecurity test lab along with electronic fabrication and technology assets to enable high quality, fast-paced research, through to proof-of-concept and testing.
The centre will house specialist research in digital railway engineering, focusing on railway control and simulation, data integration, cybersecurity, condition monitoring and sensing, and improved methods for technology introduction.