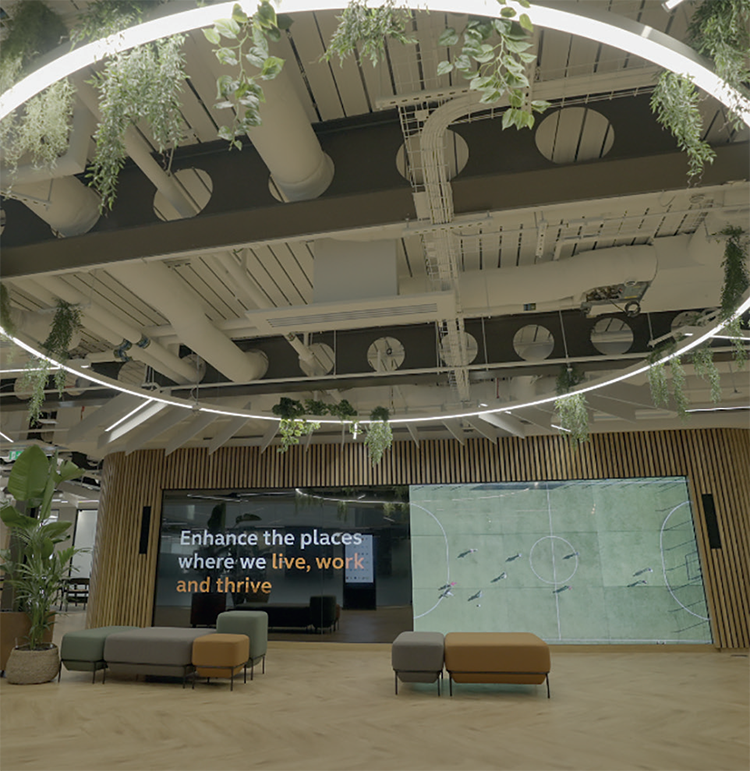 Supporting a changing world
Striving each day to find sustainable solutions to pressing challenges, Arcadis exists to improve the quality of life for people around the world
For Arcadis, sustainability is at the heart of everything this global design, engineering and management consulting company based in Zuidas, Amsterdam, Netherlands, does. This is as true in 2021 as it was back in 1888, when the business was established with the purpose of transforming unusable wetlands in its home country into prosperous land upon which people could farm, live, and build communities.
This was the origin of Arcadis' passion for improving quality of life and the driving force behind its commitment to sustainability. Today, it proudly describes itself as the leading global design and consultancy organisation for natural and built assets. With revenues in excess of €3.3 billion, and over 27,000 people under its employ and active in more than 70 countries, Arcadis now supports the likes of UN-Habitat –the United Nations Human Settlements Programme – with knowledge and expertise to improve the quality of life in rapidly growing cities.
"The world has changed the way we live and work," Mark Cowlard – Arcadis' CEO for the UK and Ireland – tells Construction & Civil Engineering. "Unexpected events and megatrends such as rapid urbanisation and climate change are putting pressure on communities, cities and resources worldwide. As a business, we want to maximise our impact by harnessing the power of technology and data to develop solutions to today's challenges. We are focused on improving the way resources are utilised, protecting our environment, creating transporting solutions, and planning for the places where we can enjoy our work and home lives. You can see all of this in the work that we do for our clients, the opportunities we create for our people, and in our efforts to enhance our communities."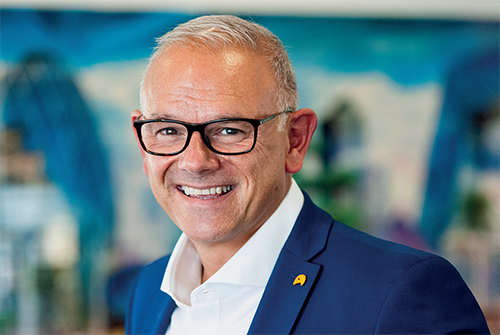 Here in the UK, the organisation celebrated the opening of its new London office at 80 Fenchurch Street (80Fen), in the heart of the city, in June 2021. This new premises stretches across 40,800-square feet – across two floors – and incorporates Arcadis' Building Intelligence solution in order to ensure a seamless office experience. "Building Intelligence helps us to make best use of space, provide energy and maintenance savings, and improves health and wellbeing. A combination of new flexible ways of working with the sensors, machine learning and insights that we gain through Building Intelligence gives a detailed picture of how the building is operating and how our people are engaging with it," Mark explains. "This in turns means we can choose how to flex our space and be agile in the different ways it can be used. Collecting data over time means we can test theories and adapt. After all, what we're doing at 80Fen isn't just a one-time fit-out, it's a step change in how we use and curate space.
"Long before the emergence of Covid-19, we had been reviewing how we use our work space, with choice and flexibility being key. 80Fen will provide a blueprint for future workplaces within the Global Estates portfolio – best practice feedback will be incorporated into other spaces in the future, and we are now taking this to clients around the world."
During the course of its illustrious history, service innovation has been a key characteristic that has helped inspire Arcadis to be a leader in its field, and is a trait that remains just as important today. "Through our unified innovation platform, QuickLaunch, we have been able to capture innovative ideas and solutions, and accelerate several initiatives that have delivered proven value to our clients," Mark continues. "These solutions have not only helped the digitalisation of our core services but have also supported the creation of new digital tools to embed sustainability, automation, digital data collection and analysis as part of clients' business as usual activities."
Arcadis has also grown its digital and data expertise through the acquisition of the software and analytics firms SEAMS and EAMS, that aims to improve infrastructure performance and resilience. The recently opened Arcadis Innovation Hub in Amsterdam is being used to develop innovative solutions in a start-up environment, and is also home to the Arcadis City of 2030 Accelerator program that it delivered through a partnership with TechStars.
"Digital transformation is a top priority for Arcadis," Mark goes on to highlight. "Every day we are using cutting-edge digital solutions that deliver real value and developing tools to help our clients complete programmes quicker and more efficiently. We also launched ArcadisGen in 2020, which was a shift towards productization, away from pure services and effectively into some areas of subscription based revenues.
"Further to this, we have invested in developing our people's skills in digital through a number of programs including our Expedition DNA Program and through our knowledge partnership with Vlerick Business School, all helping our people to equally be aware of the role that digital plays today, and in the future in our business, and the critical role of data too in exploring how we can improve client outcomes."
Acardis' care and thought for its people and their individual development can be witnessed on a daily basis throughout the business, and has seen it recognised as being among the very best big companies to work for in the UK. "We constantly strive to improve our employee experience and 'People First' culture, as we know that an engaged workforce is happier, motivated, and more productive," Mark enthuses. "It is tremendous that our people genuinely feel we have an environment at Arcadis that enables them to grow and realise their full potential. Our 'People First' approach is all about building something for our people, by our people, and we are committed to attracting the best talent and providing fantastic opportunities to learn, collaborate and – importantly – work on some very exciting projects.
"Over the last year, we've been listening to the needs of our colleagues and have implemented actions and improvements such as strengthening leadership skills and improving our processes to recognise colleagues. Our ethos is all about striving to improve people's quality of life, and I'm delighted to see this being played out in every aspect of our business. Some examples include our mental health first aiders, who have an integral role in ensuring ongoing support for those in need and help to signpost professional services where necessary. We also offer a Family Mental Healthline to colleagues within their company benefits."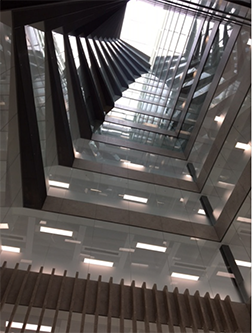 When Mark speaks about the exciting projects that Arcadis' employees can look forward to being a part of, there are numerous examples upon which he can draw. For his part, Mark is keen to note a recent contract awarded to the company by Highways England. "Highways England has appointed Arcadis to Lot 1 and Lot 2 on its new £420 million, six-year Commercial and Project Management (CPMS) services framework," he notes. "The six-year framework across two lots will include commercial, project and risk management, as well as planning services, to all parts of Highways England. The framework will also provide access to services to support work undertaken by, or in partnership with, the wider government and transport research bodies. Lot 1 will involve providing commercial management services, including quantity surveying and estimating services, while Lot 2 will include project management commissions, including risk management and planning services.
"This is a significant opportunity for Arcadis to build on the success we have enjoyed during the past ten years, and position ourselves as a major provider of commercial and project management services to Highways England. This significant win can be attributed to exceptional account leadership and an unerring focus on service excellence."
Other significant developments and projects of note involving Arcadis include – but are by no means limited to – securing a commission with Sheffield City Region to design South Yorkshire's digital infrastructure strategy, being appointed by Transport for Wales to monitor progress and compliance on one of its major highways' improvement projects (a 17.7km, 70mph all-purpose dual carriageway with six junctions), and working in partnership with the City of Edinburgh Council to support the regeneration of Granton Waterfront (a 66-acre site that will ultimately house 3500 new homes, a school, healthcare, retail and public spaces). Further to these projects, Arcadis is also supporting various sustainable and environmental initiatives, including Tesco's plan to deliver and install the UK's largest retail electric vehicle charging network, creating the infrastructure for the UK's first low-carbon aviation test centre in Scotland, and delivering the country's first carbon-neutral bus station in Leicester.
The unprecedented year that was 2020 also saw Arcadis respond to the sharp rise in Covid-19 infection rates in the early months of the pandemic by playing an integral role in the delivery of three NHS emergency Nightingale hospitals in Birmingham, Harrogate, and Cardiff. Here its team provided project and cost management services at pace to create new critical care facilities to help in the fight against the virus.
In terms of how the pandemic has impacted its own operations, while Mark confirms that Covid-19 ushered in new ways of working virtually overnight, Arcadis' employees across the UK adapted quickly to the changes. "Through our 'Beat the Market' programme, the team met the challenges and opportunities in the industry head-on, training over 200 people in virtual bidding skills and successfully helping clients navigate the new operating environment. We were also fortunate that we had already been encouraging our people to work from home when and if it suited them, so when we were hit by the pandemic, working from home was not something new to most. In fact, they and our technology were already well equipped to respond to our client needs from home."
Before turning to what the future holds for the organisation, it would also be pertinent to mention the fact that the Royal Institute of British Architects (RIBA) has awarded Arcadis 'Chartered Practice' status, recognising quality, ethics and best practice. "Arcadis' Buildings Design practice was launched in 2019, and now has 100 colleagues spanning architecture, interior design, mechanical, electrical, public health, and structural engineering. These multidisciplinary design experts span multiple and diverse sectors," Mark points out. "We are very proud to have been awarded the RIBA Chartership, which recognises Arcadis' commitment to quality, health & safety, sustainability, equality, diversity and inclusion. The chartership reassures our clients with an independent and external kite mark on the high standards of our work, and it recognises the talented people who work with us, and their continued commitment to service excellence. The RIBA Chartership will support our mission for future growth of the Practice, opening doors with new and existing clients."
As for Arcadis' goals for the coming years, maximising its impact for all of its stakeholders is the key objective of its 2021-2023 strategy. "We are expecting increased growth opportunities resulting from a combination of ongoing urbanisation, climate change, digitalisation, and societal expectations," Mark adds. "Our new strategy will accelerate growth by placing sustainability at the centre of all client solutions, leveraging global scale and sharpening our focus on areas of strength, and remaining a digital frontrunner.
"By achieving all of the above, we have every confidence of meeting our targets for 2023, which include mid-single digit organic revenue growth, increasing our operating EBITA margin to exceed ten percent, raising the number of women within our workforce by more than 40 percent, and reducing our emissions in line with a 1.5C science-based target before 2030."
Arcadis UK & Ireland
www.arcadis.com
Services: Design, engineering and management consultancy