For some 25 years, distributors of scaffolding and steel that work with Brisko Metal Resources have enjoyed a flexible, end-to-end service that delivers the quality, affordable materials they crave
Reshaping the future
For some 25 years, distributors of scaffolding and steel that work with Brisko Metal Resources have enjoyed a flexible, end-to-end service that delivers the quality, affordable materials they crave
From the buildings in which we reside and work, and the cars we drive, to the roads and railways that link our cities, and the gas and electricity infrastructure that helps to power our daily lives,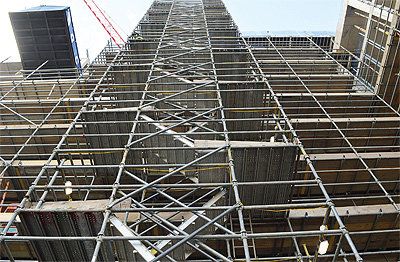 steel is woven into every aspect of the modern world, becoming an invaluable material of unrivalled importance. Behind every successful project involving steel, one will find a dedicated steel stockholder working to meet its customers' demand for good quality, affordable material, and there are fewer with a better track record than Brisko Metal Resources.
Suppliers of wholesale steel to stockholders across the UK, Ireland and Europe since it began trading in 1996, the company has been going from strength to strength since entering into a strategic partnership with The Taurani Holdings Group in 2006, with sales volumes increasing 15 per cent in each of the last three years alone. "By increasing our product portfolio and redesigning our service offering, we have been on a steady path of growth," begins Brisko Metal Resources' Managing Director, Lalit Premchandani. "Today, we ship in some 100,000 tonnes of product per year, ranging from high grade steel tubes and pipes to scaffolding and formworks, hollow sections and bars from our mill, housing up to 20,000 tonnes on site at any given time."
The aforementioned products originate from The Taurani Holdings (THL) Group's own manufacturing facilities, which act as a constant source of supply of steel that is made only from raw materials from reputed mills where the quality of product is reliable and constant. "When it comes to steel, traceability of materials is of the utmost importance, and being able to quickly and effortlessly trace our products back to their point of origin is a source of great comfort for both ourselves and our customers," Lalit explains. "As a company, we are also able to add our own quality guarantee when it comes to imports, storage and distribution, being both ISO 9001 and ISO 9001-2015 certified."
The steel products imported and distributed by the company are channelled to customers from three specific markets; scaffolding, manufacturing and construction. In the first category, the company holds one of the biggest degrees of market share in the UK and Europe, being the sole importer and distributor of various scaffolding products that have been put to use on all manner of projects. In the manufacturing space, the company is lauded by its customers for its supply of steel tubes and pipes for sprinkler and mechanical applications, and utilities such as highway drilling and lighting columns, while in the construction sector it has been steadily growing its market share for the better part of the last five years.
Among the many different projects of various size and scale to incorporate steel imported and distributed by Brisko Metal Resources one can list the likes of the London Olympic Stadium and
surrounding facilities, Wembley Stadium, Heathrow Terminal 5, The Shard, several buildings in vicinity of Canary Wharf, as well as multiple stores for blue-chip customers such as Ikea and Tesco.
Strong outlook
At the heart of Brisko Metal Resources' day-to-day operations is its 11-acre distribution facility and warehouse, located in Ipswich, Suffolk. "This facility is nearly five times the size of our previous warehouse and represents the scale of investment that we have made in the business in recent years," Lalit continues. "One of the biggest steel distribution facilities of its kind to be owned by a private company, it is staffed by approximately 50 people and operates on a 24/7 basis.
"Having been open from three years now, the Ipswich facility continues to be the recipient of capital investment with additional warehousing planned, new plant machinery being purchased, and further improvements being made to our own dedicated transport and logistics services. In addition to all of the above, we are also in the early stages of looking at creating a second distribution facility in the North of England, a project for which funding is already in place."
At the turn of 2017 there was an undercurrent of trepidation within many of the industries that make use of large quantities of steel that business could experience contraction as a result of reduced spending. As Lalit reveals, contrary to these expectations Brisko Metal Resources' volumes actually increased over the year, a trend that he hopes to build upon in the months ahead.
"The outlook for 2018 looks stable and strong, with demand for steel anticipated to remain solid and the price of the material expected to rise if not retain its current level," he says. "Our aim during this time is to gradually increase our product offering further still, while also getting closer to potential new customers in order to convince them of the many benefits that come from employing Brisko Metal Resources as a main supplier. By achieving this, and by hopefully diversifying our business to incorporate targeted applications that are related to steel, there is no reason why we cannot maintain the pattern of 15 per cent growth annually, if not better it."
Brisko Metal Resources
Services: Import and distribution of steel products