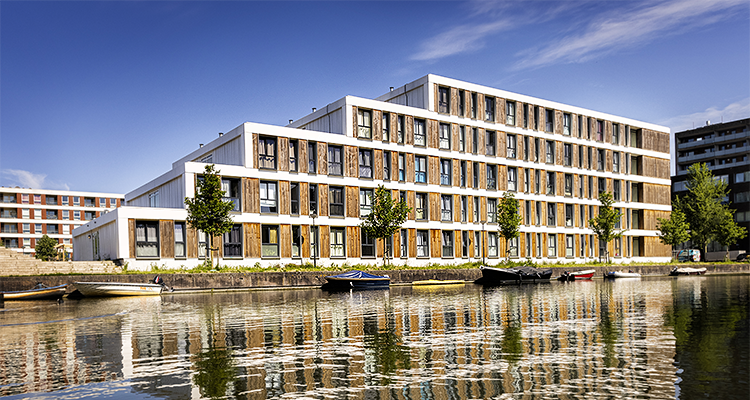 Daiwa House Modular Europe is shaping the future of sustainable construction 
Our mission is to solve the housing shortage across Europe by providing affordable and sustainable homes," begins Michiel Gieben, Head of Marketing and Communication at Daiwa House Modular Europe. "By using modular, industrialised, and often robotised building methods, our products have numerous demonstrable benefits, such as efficiency, speed, quality, and especially sustainability." 
Daiwa House Modular Europe was originally founded as Jan Snel in 1960 by Jan himself. Jan realised the revolutionary power of modular construction, beginning by producing 3D modules in his factory under strict controlled conditions, and gradually improving the quality and efficiency of the process.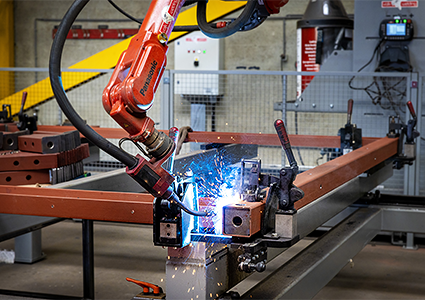 In 2017 private equity firm Parkcom, bought 70 per cent of the company's shares and began investing in international expansion, with new offices opened in Germany and the UK. Then, in 2020, Jan Snel was taken over by a market-leading industrial builder, Daiwa House, and rebranded as Daiwa House Modular Europe.  
Originally founded in Osaka, Japan, in 1955, Daiwa House Group opened the country's first factory specialising in revolutionary prefabricated structures. The Snel family remains involved with the company, and, together, the business launched in Dutch, German and UK markets.  
"We operate under three brands across Europe," Michiel explains. "Firstly, our core brand, Daiwa House Modular Europe specialises in permanent and semi-permanent modular buildings, with a focus on residential housing. This could be apartments, houses, student accommodation, hotels, or houses for people with complex care needs.  
"Then, we have our Jan Snel brand, which pays homage to the original founder, concentrating on module rental and sales for education, industry, and government sector customers," he continues. "Lastly, we have Medexs that specialises in developing sustainable clinical housing for the healthcare industry. We create entire hospitals, operating theatres, patient wards, clean rooms, and ventilation systems, which all adhere to strict medical guidelines." 
Sustainable solutions 
Across all three brands, sustainability is consistently at the core of operations. These initiatives date back to the 1980s, when Jan changed the materials used to construct the modules, switching from steel to a hybrid model of steel, concrete, or wood. This simple shift resulted in less waste and lower emissions during the build process, making the business an early contributor to the concept of circular economies.  
Today, the business remains committed to circularity. "Just like traditional brick and mortar buildings, our modular solutions are designed to last for decades," Michiel details. "However, unlike traditional houses, our buildings can be repurposed, often at a different location and with an additional structure or design, rather than being demolished. This means our module housing is completely circular and recent analysis has shown a 50 per cent reduction in our carbon emissions when compared to a traditional builder." 
A practical application of this circularity is the use of modular buildings for semi-permanent housing. "In the past decade, numerous earthquakes have occurred as a result of natural gas extraction in Groningen, the Netherlands, causing mass damage and destruction to people's homes," Michiel informs us. As a result, Daiwa House Modular Europe is currently working on a large contract to supply National Coordinator Groningen (NCG) with over 1000 units.  
Social responsibility 
"We've already supplied 655 homes to NCG, and we have a further 370 in production, so that people can live in so-called temporary replacement houses while their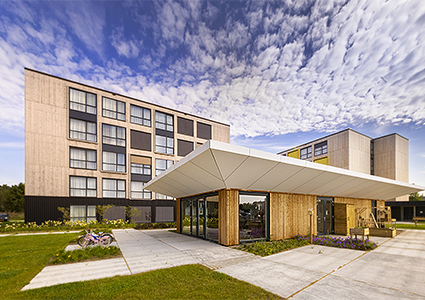 homes are being repaired," he goes on. "On average, people are relocated for nine months before they can return to their own homes. So, despite the temporary nature of these modules, they are designed to be comfortable; they are not only earthquake resistant but have the same quality as permanent homes." 
Michiel adds: "Once their use as temporary homes for the residents of Groningen is complete, the modules need not be demolished, but can instead be disassembled and reused for another purpose. This not only reduces waste but also works towards four of the United Nations' Sustainable Development Goals (SDGs).  
"For instance, our work conforms to Goal 8 by promoting decent work and economic growth, as well as contributing to Goal 11, to build sustainable cities and communities," he explains. "Also, the circularity of our design comes under Goal 12, and our commitment to emissions reduction is in line with Goal 13." 
Continued growth 
With circularity in mind, the business is also working to reduce, and eventually eliminate waste from both its building process and its supply chain. "The broader corporation believes in a clean world, without waste," states Michiel. "We are fully committed to reusing materials; we analyse products' origin and look for the optimal combination of materials that can be effectively reused. We've also partnered with an environmental calculation platform, which helps us to understand the impact of our entire chain, from raw materials to ordinary waste." 
In terms of carbon emissions, the business has pledged to become carbon neutral by 2030. "Climate change remains our most urgent challenge in society and all businesses need to accelerate their actions to reach the ambitions of various global agreements," Michiel elaborates.  
"We are currently working with a carbon dioxide performance ladder to help identify areas to reduce greenhouse gas emissions. So far, we're proud to have achieved level four out of five, and we aim to continuously reduce our carbon emissions not only within our own operation, but also in our entire business chain. 
"By its very nature, our modular construction method lends itself to circularity, but this does not mean we have achieved all of our ambitions," he continues. "It goes without saying that we are concerned about the planet, but we also think about social sustainability in terms of creating secure, healthy, and socially beneficial environments. We appreciate that the business has an opportunity to make a high-impact contribution in the industries we operate in, and to improving the overall sustainability status of the European construction industry." 
Turning to the future, the remainder of 2023 is set to be successful for the company's international growth, with a new extended production facility under construction in Montfoort, the Netherlands, and a mega factory underway in Fürstenwalde, Germany. "There are many pressing issues across Europe at the moment, such as supply chain issues and the war in Ukraine, and although these are negative events, we still have the ability to grow across the region in 2023 and beyond," Michiel proposes.  
"Hopefully we will soon return to peaceful, more normalised conditions in Europe, which will enable us to expand our geographical footprint, perhaps extending into the Nordic region or France," he adds. "There are plenty of markets in need of sustainable, yet affordable housing and we want to be able to provide our modules wherever they are needed or desired. 
"Our modules offer an ideal, flexible housing solution for future residents by delivering comfortable, safe, affordable, and above all, sustainable residencies," Michiel concludes. "And for that reason, I believe modular construction will occupy a larger piece of the construction industry pie in the coming years."