With years of industry experience behind it Dancourt Group's approach to the market is allowing it to diversify and grow beyond the reach of smaller competitors
Finding the competitive edge
With years of industry experience behind it Dancourt Group's approach to the market is allowing it to diversify and grow beyond the reach of smaller competitors
Dancourt drew its first breath back in 2002 and has since grown steadily to become a leading name in the South Western construction market now turning over in excess of £17 million. Working across the South West, South Wales and the Midlands, the company currently employs 135 people to deliver earthworks, groundworks and RC (reinforced concrete) structures. It also operates a large plant fleet.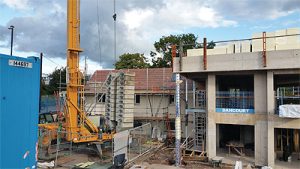 At the heart of Dancourt are its people. "We have a very dedicated team and a capable workforce," begins Construction Director, Jonathan Hunt. "Within this there is a very good team spirit. Everyone works well to ensure that together we can deliver a strong service and we place great focus on training and development." Leading the company is a very strong senior management team collectively contributing years of experience in the construction industry working for sub- and principal contractors, as well as clients, meaning that Dancourt has an inherent understanding of the industry's many needs and requirements.
"We are also very customer focused," Jonathan continues. "We work closely with our clients to develop plans and targets and we endeavour to follow-through on everything we promise. By listening to clients we are also able to develop and invest strategically to improve our services according to the feedback we receive from them. The same goes for the suggestions we get from our own people."
As a result of years of industry experience and a keen attention to client's needs, Dancourt has developed a strong understanding of market trends and how to make the best of potential opportunities. "For us at present the market is positive but conservative, which in reality provides a more sustainable economy to operate in compared to a boom and bust scenario," Jonathan outlines. "It remains very competitive and you have to work hard to find and develop the opportunities, but the work is out there. We are always looking to find new angles where we can do something differently and better than our competition. Of course, the challenge here is improving our service accordingly whilst maintaining competitive prices for our clients."
Demonstrating this understanding is one thing – putting it into practice is another but Dancourt's ability to realise new opportunities and come out on top of its competitors is clear to see. Last year it won the South West Subcontractor of the Year awards for both Skanska and Willmot Dixon, attesting to the firm's competitiveness in the marketplace. Jonathan also notes that with an industry facing uncertain external pressures from the economy, individual markets can be unpredictable so it is important to spread risk across numerous sectors. "Developing our name and our ability across a range of markets is critical to our continued success," he says.
One area where Dancourt is currently building a sturdy name for itself is in the construction of stadiums as it is currently delivering a £3.7 million groundworks and RC structures package on Bristol City FC's Ashton Gate Stadium redevelopment. With a remit to demolish and rebuild three stands to form a new stadium, the project is currently 70 per cent complete with two of the new stands completed in time for the 2015/16 football season. "The major challenge here has been working with our client Mcloughlin Harvey to develop methods and programmes to deliver the project in a live stadium environment," highlights Jonathan. When it is completed the new stadium will have an increased capacity of 27,000 and will be used by Championship team Bristol City as well as Bristol Rugby club. "It is great to be involved in the project being a Bristol-based business especially as we employ a number of Bristol City fans," adds Jonathan.
Other projects recently completed by the company include its own new offices and Bridge Farm Primary School, where it built a new classroom block along with all substructures, drainage, external works and a new car park under live term-time conditions. In addition, it is currently in the process of building Llantarnam Primary School on the site of an existing secondary school, which is due for demolition, alongside contractor Willmott Dixon. The company will provide new access roads, substructures, drainage, an attenuation tank plus all external works around the building. Supply chain partners, Hitatchi Construction Machinery and Tarmac Ltd have both played key roles in supporting Dancourt throughout these works.
As growth follows a steady uphill climb for the business, Dancourt has recently undergone a significant investment programme to facilitate it. Part of this has been into its in-house plant fleet with the acquisition of three new tipper trucks at the beginning of 2015. Prompted by a need to have greater control over material delivery, the new vehicles allow Dancourt to work within its own supply chain supplementing suppliers' transport to ensure it can provide the service it promises to its own clients. "We have found that some suppliers are not investing into their own transport like they used to and the franchise drivers are limited following the recession," says Jonathan.
Elsewhere the company has recently completed the construction of new offices to provide growth capacity as well as the environmental and business infrastructure required to take it forward in a sustainable manner. Within the new offices the company now has an in-house training suite and top of the agenda for the new facility will be to continue the strong work it carries out improving health and safety. "We are looking to further develop our own training business, 'Destination Training Services', which will form an important part of the operation from these new offices," Jonathan explains. "We place great emphasis on health and safety, working closely with clients to review and continuously develop our performance. In 2015 we won awards for health and safety and retaining these, as well as securing more, will be a key target for us moving forward."
As far as the rest of the future is concerned Dancourt has ambitious plans that sum up its passion and commitment to drive quality services into the local industry. On top of its health and safety commitments, the business will be looking to increase its market share of RC frame projects as well as developing its land surveying and earthworks modelling team. To supplement the projected growth it will also be initialising an apprenticeship scheme with local institutes to build its future workforce.
"In the longer term we will be focused on consolidating our market position to ensure we can develop our ability to deliver our existing services to a very high level, as well as looking at what other services we can offer to new and existing clients," concludes Jonathan. "It is about using the development of our services to grow the business because we are good – if a client wants to offer us more work because they are pleased with our service then great, this is how we want to grow. We grow because we get better."
Dancourt Group
Services: South Western specialist in medium sized construction and civil engineering projects