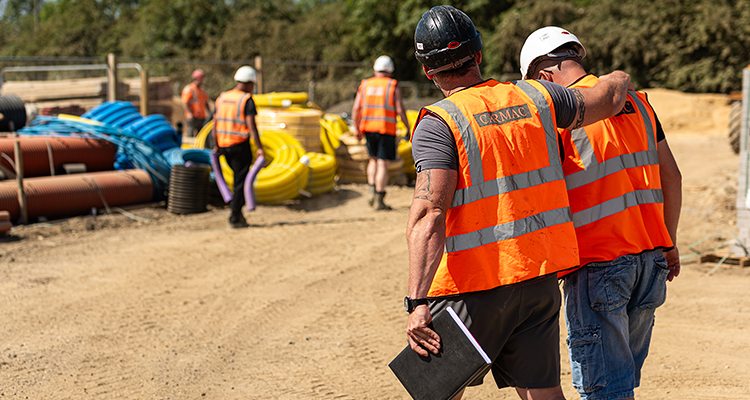 Carmac's Colm Kilroy reveals why employees are crucial to the company's growth
Tom McGowan Snr initially founded Carmac Building and Civil Engineering Ltd (Carmac) in 1984 as a machine owner and operator. Regardless of how its offering has developed over the last four decades, the deeply instilled family element of the organization remains the same; with Tom's son, Tom McGowan Jnr and son-in-law, Colm Kilroy, at the helm as directors today.
"During the plant and labor only days, Carmac found its feet with projects around Milton Keynes," Colm opens. "From working on the likes of Milton Keynes prison, we moved across into commercial work. This led to our focus on industrial sheds throughout the 1990s and early 2000s, until we entered the student accommodation sector. This initial boom developed into the residential house building side of things, which today accounts for around 90 per cent of our turnover."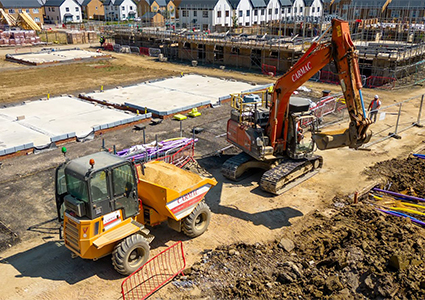 Carmac works alongside all the major homebuilders in the UK, but predominantly partners with Taylor Wimpey, Vistry, Keepmoat Homes, Mulberry Homes, Crest Nicholson, and Places for People. From its headquarters in Finedon and Wellingborough, the organisation's geographical footprint stretches from Oxfordshire in the west across to Cambridgeshire, and from Leicester down to Hertfordshire.
"The general rule of thumb is anywhere that's within an hour to an hour and a half from the yard. We've steadily grown to offer infrastructure services alongside our mainstay of civils and groundwork. Through the years, we've established a reputation that the more difficult the project, then the better for Carmac."
Similarly, over the last two years, Carmac has been working with Keltbray and Lend Lease on the Glen Parva Prison in Leicestershire, as well as multiple housing developments in Befordshire, Cambridgeshire, Peterborough, Oxfordshire, Northamptonshire, and Warwickshire.
Back in 2020, Colm and Tom completed a management buyout of the company and have successfully directed it on a steady path of continuous growth. "When we sat back to assess what we had, particularly in our exceptional workforce, we could clearly see that we had a great platform from which to escalate the company further. We saw potential with a number of clients to raise the bar and when they saw what we were capable of on paper, they offered us a couple of significantly larger infrastructure projects.
"Once we had a proven success record at this," he continues, "we found that growth came naturally. Turnover isn't what we're consistently chasing, we seek deliverability foremost. If we don't believe that we can fully deliver a proposed project, we're not afraid to tell clients no and that we're not in a position to take it on. We've actually found that this approach is far more respected within the industry."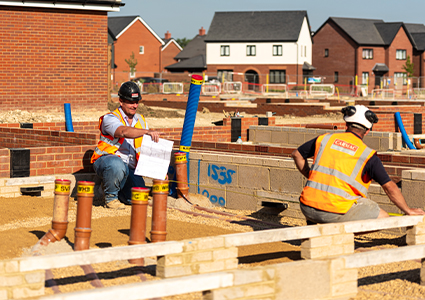 Carmac is known to have an excellent rate of staff retention, with some employees' tenures stretching as far as 30 years. From speaking with Colm, it's clear to see how much he truly values the company's employees.
"There are so many buzzwords surrounding working cultures these days," he states, "but I simply believe our staff retention levels are resultant of the senior leadership team's collective being at the coalface daily. The lads on site will see me, Tom, Andy Morris, Operations Director, or Tom West, Senior Contract Manager, down amongst it on any given day. Everybody is approachable, anybody can come up and chat. We have a great balance; during break time we catch up on the football, then switch to what we're going to deliver and how exactly we're going to do it.
"We find issues early and resolve them, which goes for out-of-work problems too. If one of the team is worried about money or perhaps a family member is sick and they need to take a day off, we will support them. We've found over time that any decency we show our workforce is fully reciprocated. We're very lucky to have Ian Tomlinson as our commercial director running the office side of things, because the confidence that we have in his capabilities frees us up to give everything to the lads that they require to succeed on site. That's another reason that we retain our team members, because everyone feels that they are constantly succeeding and thoroughly valued.
"We pride ourselves on being problem solvers rather than creators. It clearly has an impact on our workforce's mindset as, of the 240 or so we have on site, at least 160 have been with us for over five years. Darren Forskett has been with us for 30 and Joe Hawksworth for 29. Tom Snr and Andy Morris were always known for how well they treated people, and I believe that Tom Jnr and I have carried on that legacy.
"We're currently undergoing the planning process on somewhere we've bought for a new office and yard, that we're hoping to get started on next year," Colm concludes. "So, looking forwards, I want to see us settled into there, with all the same lads that currently work for us. A little more growth would be great, but that has to come from us successfully delivering to our clients. If not, what's the point? All the growth in the world is just hollow if it's not rightfully earned."