Engineering ingenuity: VolkerLaser pioneers cutting-edge solutions in the construction industry
With over 28 years of experience, VolkerLaser Ltd is one of the UK's leading multi-functional specialist contractors. Renowned for its comprehensive range of services, VolkerLaser offers a tailored package of works to clients including concrete repair, structural strengthening and refurbishment, waterproofing, cathodic protection, steel repair and strengthening, temporary works, jacking, and bearing replacement. It also provides specialist lightweight decking and access solutions, as well as being experts in long bridge and cable refurbishment, making it the specialist contractor of choice across the industry. The company excels in delivering excellence across all sectors within the industry and upholds unwavering standards of quality whether it is working on multi-million-pound frameworks or undertaking minor works.
As a trusted specialist contractor, the organisation fosters a collaborative approach with clients and fellow contractors during the construction planning stages of projects, identifying complex structural problems and providing innovative solutions, ensuring seamless project development. Operating throughout the UK as a reliable supply chain partner, VolkerLaser fearlessly tackles demanding tasks in diverse environments.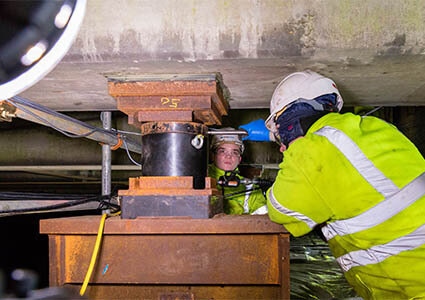 Specialised expertise
Headquartered in Worcester, VolkerLaser has been rooted in the Midlands since its inception in 1994. Founded by previous Managing Director, Mike Weaver, the company was originally part of Worcestershire-based Laser Civil Engineering Ltd. As the business unit flourished, it evolved into its own entity, known as Laser Special Projects, in 2000. It was subsequently rebranded to VolkerLaser in March 2009, under the umbrella of VolkerWessels UK. As a prominent multi-disciplinary construction and civil engineering group, VolkerWessels UK boasts an impressive turnover of approximately £1.35 billion and employs over 3000 skilled professionals. The success of the VolkerWessels UK group stems from its ability to unite best practices across five distinct business units: VolkerFitzpatrick, VolkerRail, VolkerStevin, VolkerHighways, and VolkerLaser. Each unit offers a combination of specialised expertise, advanced equipment, and skilled personnel to complete tailored projects of exceptional quality.
Knowledge sharing
In the past five years, VolkerLaser has undergone substantial growth, which is a testament to its dedicated and proficient team. The company's success can be attributed to its emphasis on effective communication and fostering strong relationships with clients and stakeholders. As a specialist contractor, the company recognises the importance of providing customers with the level of attentiveness they rightfully expect. Consequently, the VolkerLaser team consistently strives to surpass the expectations of its valued clients. Moreover, the organisation fosters a dynamic learning environment that nurtures the growth and expertise of its workforce. VolkerLaser acknowledges the significance of succession planning in maintaining a robust team. Through comprehensive learning and development programmes, the company ensures that the knowledge and expertise of senior team members are effectively transferred to the next generation. By prioritising continuous learning and knowledge sharing, VolkerLaser guarantees a strong and talented workforce capable of delivering exceptional results.
The business is one that is focused on innovation and recognises the importance of bringing new and more efficient services into the market. In recent years, VolkerLaser has expanded its portfolio to include bespoke access solutions, whether in the form of specially designed temporary works or innovative access systems like Fast Beam and V-Deck™. Both systems have been praised for the advancements they offer in terms of safety when working at height, but also for their ability to provide access where traditional scaffolding solutions would struggle. Currently, 4500 square metres of V-Deck™ is installed on the M5 Oldbury Viaduct, providing safe access for extensive cathodic protection works whilst allowing the canal below to remain open to the public.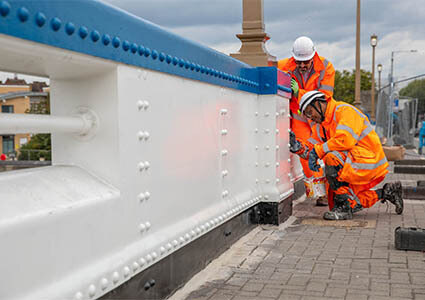 Lasting legacy
As well as continuing to supply its core services across the UK, VolkerLaser has also been contracted to provide specialist works on a series of heritage rail projects, working for Great Central Railway (GCR), and North Yorkshire Moors Railway (NYMR) in the last 18 months. Utilising the expertise of key personnel, the business understands the unique challenges created by heritage rail projects and has developed bespoke methods of working to overcome these, which has resulted in high praise from clients across the sector.
Overseeing the next stages of maturity in its market sectors is the new Managing Director, Ben Joyce who took over the helm in January 2023. As a chartered civil engineer with over 20 years of industry experience in design and contracting, Ben has spent ten years with the VolkerWessels UK business, predominantly with VolkerFitzpatrick on major civil engineering projects. Now, as managing director of VolkerLaser, Ben takes an extremely active role in driving the business, taking every opportunity to use the specialist skillsets of individuals and teams to bring maximum benefits to their clients, as well as continuing to develop this innovative, sustainable and successful business.
Whilst some may have only ever known the business for its waterproofing prowess, it's clear to see that VolkerLaser is so much more than that. With a diverse project catalogue that includes long-span cable bridges, contracts across the National Highways network, building refurbishments and bearing replacements on key structures in Dover, VolkerLaser has established itself as a prominent player in the construction industry. Through its focus on effective communication, lasting customer relationships, and continuous learning, the company has experienced substantial, but sustainable, growth and success. Its innovative culture demonstrates a commitment to bettering the industry and its people. The business is also committed to bettering the communities in which it works, going beyond the delivery of its construction projects to volunteer and fundraise with local people creating a positive and lasting legacy. Thus, VolkerLaser is well-positioned to continue delivering and thriving as a successful, solution-driven business.
www.volkerlaser.co.uk