Essex Services Group is currently engaged with some of the most distinguished construction projects in London.
Setting the standard
Essex Services Group is currently engaged with some of the most distinguished construction projects in London. Adept at spottng emergng trends, the company launched two new business divisions in 2017 to guarantee its strong position in the future
Thanks to the hard work of its qualified people, the Essex Services Group has been able to diversify the nature of its projects significantly. Today, one of the UK's largest mechanical and electrical engineering service providers is involved in numerous sectors across the construction market, including high-spec residential, commercial fit-out, data centre delivery, modular engineering, and retail and specialist fit-out. Following a milestone year in 2016, when the Essex Services Group surpassed the £100 million mark in turnover, the family business continued on a high during 2017, as it launched two new brands – Modular Engineering and ESG Prime – to support its growth in the prefabrication and specialist fit-out markets.
"The use of prefabrication on new projects is not a new concept, but we have seen a steady rise in its use over the past few years," Managing Director, Mark Sampson begins. "As a forward-thinking business that embraces new ideas, innovation, and technology, the launch of our Modular Engineering brands meets this demand head on. Working from a 27,000 square foot assembly facility in Essex, this exciting new offering provides a safe, prefabricated solution to projects across the residential and commercial sectors."
Major projects
When you consider the major recently completed or still ongoing construction projects in London, there are few upon which the Essex Services Group has not left its mark. The company has delivered its services to landmark programmes, such as the Television Centre, Southbank Tower, and the Greenwich Peninsula. The latter is the capital's largest single regeneration project at the moment. "Overlooking the River Thames and the Emirates Air Line, the £8.4 billion transformation of the Peninsula will provide 15,720 homes across seven new neighbourhoods over the coming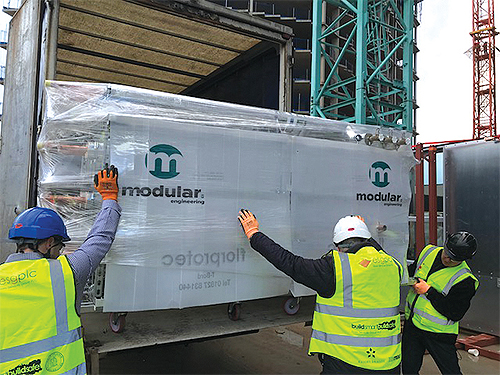 years. It will also be home to Central London's first major film studio, new schools, offices, and public spaces, and we are certainly proud to deliver our building services across the development. We have employed extensive fabrication techniques with over 1000 utility cupboard modules delivered so far across multiple sites, in addition to sectional risers, corridor distribution modules, and plant skids," Mark discusses.
Developing identity
Prefabricated and modular solutions were also used during the redevelopment of South Bank Tower (formerly known as King's Reach Tower). "We have also delivered a variety of mechanical and electrical packages for the project, including fan coil units, HIUs, mains water distribution, drainage, BMS, heat recovery ventilation, electrical distribution, small power lighting and lighting control, data, and small power," Mark details some of the capabilities his business has showcased.
"We are eager to develop Modular Engineering's own identity and build upon the success we had with the division in its first year," he adds. "We have fitted out two facilities of our own – an R&D centre, and a large-scale assembly facility complete with client meeting rooms and product showrooms. Furthermore, our nine production lines have been turning out multi-service corridor modules and utility cupboards for several projects. We are currently developing a range of standard products, with our aim being to evolve the principle of prefabricated delivery and stand out from a rapidly growing and competitive marketplace."
Exciting period
2017 also saw the birth of ESG Prime, as a result of the rebranding of the Essex Services Group's retail team. Mark comments on the early highlights for the division: "The brand has gone from strength to strength over the past 12 months, having successfully delivered the Halo Building in London's Kings Cross. It has won several design awards and we can see that it is now receiving the recognition it deserves, which is testament to the dedication and commitment of the ESG Prime team, too.
"Attention to logistics was essential when co-ordinating the project delivery, due to the close proximity of Euston, King's Cross, and St Pancras. Providing a fully co-ordinated CAT-A fit-out to the ten-storey, 8360 square metre building, we worked in close collaboration with the main contractor to achieve a high-quality, BIM-compliant delivery," he reveals.
The exciting period of growth at the Essex Services Group has also spurred logistical changes, as the company opened a larger working office in Aldgate to gain a better access to its clients, while its head office in Romford remains home to many of its key operational activities.
Having ventured into opportunities in Europe, the Essex Services Group has been included on a number of prestigious business lists that have recognised the company's successful inroads. "We were placed eighth in the Sunday Times HSBC International Track 200 in 2017, and we were also named one of the '1000 Companies to Inspire Europe' by the London Stock Exchange Group," Mark points out. "In addition, we were placed among the Top 50 Electrical Contractors of 2017, in association with the Electrical Times and Trimble Luckins.
"We continue to work heavily within the international community and also within the data centre sector. We have seen a dramatic rise in the latter in the past few years, as the use of technology continues to expand beyond the existing infrastructure. We work alongside some of the world's most well-known brands to help them meet the challenges they face within a sector that shows no signs of slowing down," Mark continues.
Asked about the company's plans for the remainder of 2018, he unambiguously states that it has to continue its hard work, in order to achieve its goals. "We have some great projects ongoing and for now, we are focused on aiming high and being the go-to building services contractor for the industry."
Essex Services Group
Services: Mechanical and electrical engineering services