Express Glazing Contractors
A clear view
With unrivalled levels of service and experience behind it, Express Glazing Contractors continues to deliver to complex and demanding contracts across London and the rest of the UK
Emerging in the late 1970s, Express Glazing Contractors (EGC) has grown to become one of the largest and most prominent glazing contractors in the country. Over this time the company has been successful at retaining many of its management and staff. It's a success that means that there now exists an extensive wealth of experience and knowledge in the business – perfectly suiting it to the high demands put upon it. With many of its operations taking place within the M25, but also serving regular clients across the country, EGC has become a leading contractor, often delivering its services under the most extraordinary circumstances.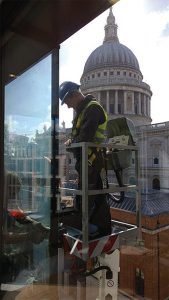 "It is this continuity of staff, combined with their extensive knowledge and experience of our products and services that really sets us apart in the market," explains Chairman, Paul Rogers. "This large pool of knowledge has been obtained over many years of trading and delivering through economic highs and lows, storms, civil disturbances, terrorist attacks, as well as providing services to blue-chip clients from the top of the highest buildings to underground facilities. This has continually allowed the team to provide a current, professional and rapid service installing glass, glazing and applied window film to such a diverse range of commercial clients."
With operatives ready to be deployed 24/7 throughout the year, EGC is able to respond to any demand whenever required. Notably, its services were called upon during the August 2011 London riots in order to board-up glazing for protection as well as to replace glass from violencestruck areas. The company's emergency response was carried out in parallel to normal operations, and was delivered to a range of properties from retail units to government buildings. Accompanying this flexible, 'express' service, EGC also has a range of competencies including associated traffic management works, the ability to work in high level, sensitive and secure locations with specialist access equipment and abseilers, and glaziers qualified to work both 'airside' and 'trackside'.
Over its long history, EGC has delivered to a range of high profile clients and projects including hotels like the Savoy and Connaught, government and embassy buildings, including the Houses of Parliament, retail units, transport hubs and a full variety of commercial and industrial facilities. Recent contracts that perfectly demonstrate the depth of capabilities that exist in the business include the replacement of 2800mm by 1500mm, insulated double-glazed units as part of the atrium roof of the Department of Health building in London. Following bird damage, the company was called to make-safe, survey, manufacture, supply and reglaze the 200kg panes, 120 feet above the ground.
In February this year the firm also completed an emergency job for one of its facility management to make safe a double-glazed unit. The job required the replacement of a panel that was 2000mm by 3650mm large and weighed over 250 kg, which was made particularly challenging by difficult access. Under tight time restrictions, EGC had a new unit manufactured by its supplier Pilkington Glass, whilst it put in place out-of-hours road management systems, specialist access scaffold and lifting equipment to carry out the work successfully.
As well as its commercial and industrial offerings, EGC has also amassed significant experience within the rail industry. "We have worked with this industry both on main rail and underground sites since the 1980s," says Paul. Over recent years the company has completed high security glass installations and large-scale window replacements for clients such as A. Edmonds, Vinci, Proteq and H A Marks at a number of key mainline and underground stations around London. This year EGC responded to an emergency problem to repair and replace a large tempered unit at Waterloo International Station. Highly experienced glaziers with the correct rail certifications successfully installed the unit under complex and limited access circumstances, which measured approximately 1500mm by 3900mm. In September, the company also completed a large job to reglaze over 100 obscure glass panes at Harrow on the Hill Tube.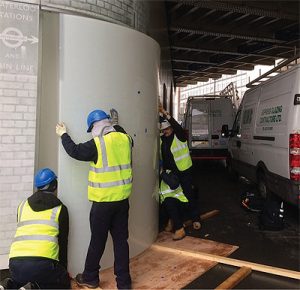 Working in such extreme and demanding environments, it is no surprise that health and safety features heavily in EGC's agenda. "This always has to be the highest priority for us," Paul emphasises. "In the early days of trading there was very little safety glass, so the company had to be very conscious of the need for safety in all its handling and glazing activities. This culture has developed continuously in line with modern advancements across all areas of the business as it interacts with clients and the wider public on a daily basis. Training, accreditation audits and trade networking at the GGF (Glass and Glazing Federation) make sure that we are continually conscious of the needs and developments in health and safety, as well as best practice."
As demand for its services grows, EGC is presently going through a programme of investment to secure its future with skilled tradesmen, despite a shortage in the industry, by actively participating with the GGF and supporting the foundation of GGF Training Ltd for flat glazing industry training. This will be accommodated by a move in 2016 to new larger and more modern premises, providing increased capacity for growth. As glass becomes increasingly technically complex and used more extensively in construction, the future for EGC, with its years of experience, will be positive. Paul notes that opportunities exist as competitors shy away from challenging inner-city logistics, and is confident that as long as its focus remains on delivering a quality service alongside superior health and safety consideration, EGC will continue to grow and develop with more new contracts and clients.
Express Glazing Contractors
Services: One of the oldest and largest glazing companies in the UK