Drone technology is increasingly being utilised across the construction arena, so CCE spoke to Graham Brown, CEO of ARPAS-UK, to get some real insight into the sector
The Association of Remotely Piloted Aircraft Systems UK (ARPAS-UK) was founded just over six years ago by a group of drone operators who foresaw the need to have representation and a voice with key stakeholders, including the UK government and the Regulator, the Civil Aviation Authority (CAA). "We work closely with these stakeholders and have now also added more links with the Department for Transport (DfT) and the Department for Business, Energy & Industrial Strategy (BEIS)," Graham Brown, CEO of ARPAS-UK, began by explaining. "ARPAS is also represented at the Drone Industry Action Group, the All-Party Parliamentary Group (APPG) on GA in the Drone and Model Aircraft Working Group, the National Counter-UAV Stakeholder Advisory Group with Police and a number of CAA and DfT working groups and committees."
In addition, ARPAS works to find opportunities for its members to promote not only its activities but also the wider industry and their own operations. These include speaking engagements and exhibition attendance, career opportunities, discounts on training, equipment and ancillary services. It also provides a forum for members businesses to share best practices, network and share their learning experiences.
Given that ARPAS-UK isn't called the Drone Association, it was important that Graham clarified the difference between RPAS and Drones – he highlighted that there are in fact many terms with sometimes subtle differences between them. "The commonly used terms include Remotely Piloted Aircraft System (RPAS); Unmanned Aerial Vehicle (UAV); Small Unmanned Aircraft (SUA); Small Unmanned Surveillance Aircraft (SUSA); Remotely Piloted Aircraft System (RPAS); Unmanned Aircraft System (UAS); and Drone. The CAA often uses SUA and SUSA, which describe aircraft with and without a camera.
"Otherwise these different terms are used to describe the aircraft and are used interchangeably depending on the user, as they broadly refer to the same thing which is 'An aircraft [or aircraft system] that is operated by a pilot who is not located in the aircraft itself.' The CAA further defines this as 'Small unmanned aircraft' which means any unmanned aircraft, other than a balloon or a kite, having a mass of not more than 20 kg without its fuel but including any articles or equipment installed in or attached to the aircraft at the commencement of its flight. Depending on the audience the word Drone is more commonly used particularly by the public."
Graham has been at the helm of ARPAS for two years, having previously served as a director of a wide range of international and British businesses in the technology, manufacturing, 13services, e-retail and financial services sectors. Given the drone sector is a relatively new industry, his experience in business development, marketing, acquisitions, turnarounds, and fund raising and investment in the UK, Europe, North America and Asia Pacific markets has proven highly relevant. "I am tasked with managing the organisation and there are members who can provide the detailed drone and aviation expertise and experience where it's needed," he explained. "What is important is that I am independent and only influenced by the needs of the Association and the members we represent."
Safer, faster, greener
The construction sector, one that traditionally has been slow to embrace the benefits of new technology, is waking up to the advantages that using drone technology can bring, and as Graham pointed out, these touch on a variety of different segments. "In simple terms, for many jobs the benefits can be summed up as Safer, Faster, and Cheaper than traditional methods. There is also a Greener argument in some activities, where drones can be used as an alternative to fossil fuelled traditional aviation or ground transportation.
"So specifically for construction, benefit number one would be reducing accidents and in particular falls from height, by decreasing the need for people to work at height or in dangerous environments. If you have staff working at height you should consider the alternatives and often drones can provide a solution. So, that's 'Safer'.
"Secondly, I would say there are economic arguments too, where survey jobs can be carried out more quickly at less cost. That is either because the drone can achieve the required geospatial accuracy in a fraction of the time or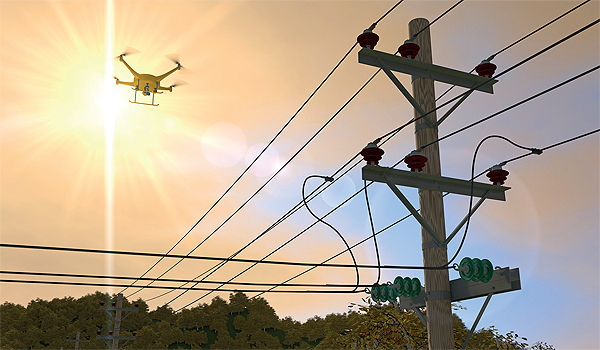 because using a drone negates the need for scaffolding or power-assisted lifting equipment or even helicopters or planes for some activities. So that covers 'Faster', 'Cheaper' and also an element of 'Greener'.
"The activities that are mentioned most frequently in construction are inspection and surveying. Only a short while ago there were issues of accuracy, but dramatic improvements mean this is no longer a constraint. Also, the addition of improved cameras, Lidar, Thermal and multispectral sensors mean that many more industry requirements can be met."
Drones have already been used on the A14, the M6, HS2, Network Rail and National Grid infrastructure projects to name a few, but Graham is keen for the sector to improve the public's knowledge about these. "As an industry we are not yet very good at getting customers' permission to publish our accomplishments, but they exist, and we must learn to shout louder about these successes," he asserted.
There are many ARPAS-UK members specialising in providing services to the construction industry, but as Graham highlighted, the wide range of tasks that can be undertaken necessitate not just the correct equipment but also a good understanding of the differing requirements of each individual operation. "For example, surveying land, improvements to infrastructure, providing progress/status updates immediately to remote or HQ staff, surveillance, inspection, working at height or hazardous environments are all areas that may require different equipment or solutions," he illustrated. "The good news is that the sector is developing rapidly and there are many existing drone solutions that are suitable.
"A point to remember, though, is it is not all about the drone. It is about the data requirement that dictates the equipment and the accessories required. For example, getting technical for a moment, if your initial accuracy requirement for survey data is equivalent to RICS accuracy band F then using RTK/PPK positioning can dramatically reduce the time required to collect the data. However, if higher accuracy is required then currently ground control will be necessary. Also, companies are expanding what they are doing and dramatically reducing the time taken by using Lidar."
Future opportunities
Looking into the future, Graham envisages that a multitude of further uses will be found for drones, as we progressively remove as many people as we can from working at height or in hazardous environments. "Accuracy and repeatability will be fundamental requirements," he predicted. "Having the accurate data from inspections, for example, will allow for developments in AI to automatically compare subsequent inspections and automate the next steps. I know this use of AI is not without its challenges, but it will happen. Next will come what I have termed 'Drones that Do'. These drones will spray, repair, clean and many more activities – only our current thinking limits the opportunity.
"Going forward, we expect to see solutions that are flown BVLOS (Beyond Visual Line of Sight). When this becomes a regular activity, it will bring with it a transport capability for drones, alongside their existing data capture functionality. From an aviation perspective we would see airspace management, detect and avoid, eConspicuity, remote ID and many more topics that will need solutions over the coming years. The continued miniaturisation of sensors and therefore drones will also provide for better accuracy, improved resolutions and improved cost performance of the solutions available. But for all of these it is vital to ensure that the UK can take advantage of the opportunities offered by drones.
"We will also see improved standards relating to both data and safety, and improvements in education, training and communication relevant to industry roles. In order to achieve progress ARPAS will continue to work with other organisations and trade associations to provide drone expertise where it is needed."
Exciting times
As Graham referred to standards, it brings our attention to the legislative and regulatory requirements surrounding the drone sector, as they continue to change and grow at pace, including stricter laws that allow the introduction of additional police powers to deal with illegal activity, such as what has been seen around UK airports. Regulatory change such as this is understandable in such a new industry, particularly where it impacts on more established activities in Aviation. "Change is a factor we have to cope with and in common with any new sector we will face many changes in Regulations going forward," agreed Graham. "Drones are increasingly used by industry as a tool that has a big impact on safety for carrying out multiple different roles, but with a combination of parameters we haven't seen before. The combination of Aviation Regulation plus Health & Safety, plus a very visible solution that generates a lot of public interest means that the change is not going to slow down."
The world may be distracted at the time of writing this piece by the dreadful impact of the coronavirus pandemic, but once we are through this difficult time, Graham believes that the potential for drone technology and the influence it could have on numerous industry sectors is more than significant. "I think only time, management buy-in to the opportunities, the right communication to ensure public acceptance and our own imaginations are what will limit what can be achieved over the next two to ten years," he stated. "Why do I say that? Well, I look back at history and the speed of change in weight, size and cost/performance in GPS receivers, digital cameras, Bluetooth, mobile phones, communication networks, batteries and computers. It has been dramatic, and drones leverage a lot of the work in these applications plus advances in AI and robotics. Therefore, I believe the future looks very exciting!"
If you are using drones ARPAS welcomes your feedback and stories. If you are not currently using drones, ARPAS can introduce you to a wide range of members with appropriate experience to provide you with the business benefits feedback first-hand. Membership enquiries also welcome.
For more information, please see: www.arpas.uk