Could robotic solutions become the construction workforce's new right hand? Max Pearson and Joana Palha take a look
Construction and civil engineering is one of the least automated industries. Rising labour costs and skills shortages are limiting the capacity of companies to take on and compete for projects. Yet contractors remain heavily reliant on manual labour.
Like other industries striving to produce more with less, the government and industry leaders have looked to car manufacturing for a solution. Carmakers pioneered the use of robots and lean thinking to streamline production, improve quality control and reduce costs.
Offsite manufacturing offers many significant advantages for construction. In a controlled environment, companies can more easily manage delivery of materials, precisely control the quality of building elements, and deliver them to site for rapid assembly to tighter tolerances.
The government has put its weight behind 'modern methods of construction' (MMC) to boost the industry's capacity and close the perennial gap between housing output and the more than 300,000 new homes needed annually. That would require an additional 195,000 workers by 2025, but MMC could reduce this to around 158,000.
Robotics can make these pre-manufacturing processes more efficient, while installation of standardised units should also lend itself to greater automation and the use of robots on site.
There have been several false dawns for the off-site revolution in more than two decades since Egan. However, the rise of the private build-for-rent market, and its faster lead times, could drive a more sustainable demand for offsite methods.
Insurer L&G entered the 5market in 2016 with Europe's biggest off-site factory to supply homes for its private rented development pipeline. Berkeley Homes, Swan Housing and others have also invested heavily. A pioneer of offsite construction, Laing O'Rourke launched its residential business in 2017 to disrupt the market on the back of its advanced manufacturing facility. In January 2019 the Weston Group opened a £12m centre in Braintree for storing, manufacturing and assembling home components. Chief executive Bob Weston predicted: "Within the next ten years,
"Within the next ten years, technology will allow for new homes to be fully manufactured off-site by robots and computer-assisted engineering tools; with factory-made components then built on-site using machines like a highly-advanced Lego-system."
3D printed solutions
Factory production of modular homes and buildings could also make better use of material resources and reduce waste. The most resource-efficient method is 3D printing, or additive manufacturing. Even the entire structure of a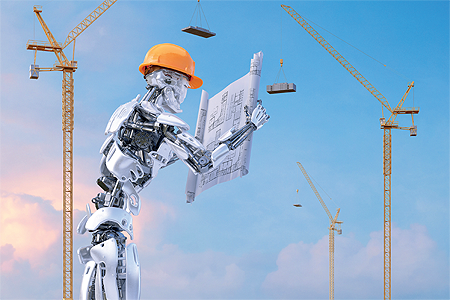 house or bridge can be laid down in this way, using concrete, metal or other materials.
A park in Madrid has a 12m-long footbridge printed with micro-refined concrete. Perhaps one of several contenders to be the world's first 3D-printed concrete bridge, it incorporates complex, nature-inspired forms rather than the simple geometries of traditional structures. Another 3D-printed bridge opened to cyclists in the Netherlands in October 2017. The designers of the 8m-long, reinforced, pre-stressed concrete structure hailed its sparing use of concrete compared with conventional mould-filled methods. Steel can also be 3D-printed. Last year, another Dutch robotics company, MX3D, produced a 6m structure from layers of molten steel. It was installed across a canal in Amsterdam.
What's promised to be the first 3D-printed concrete house was due to be completed in a technology and innovation park in the United Arab Emirates towards the end of 2019. Dubai has sets its sights on becoming the world's 3D printing hub by 2030. "The technology will restructure economies and labour markets, and redefine productivity," it predicts. By 2025, municipal regulations will require at least 25 per cent of every new building to be 3D-printed – starting from two per cent in 2019.
A French start-up pioneering large-scale 3D printing for construction has begun rolling out a worldwide network of concrete printers. Following a pilot plant in Paris, XtreeE sited its second production unit in Dubai in summer 2019. It aims to have 50 worldwide by 2025. Backed by Vinci Construction and Shibumi International, XtreeE now promises a 'printing as a service' digital platform from 2020, connecting clients and designers to its printers.
But can robots make the leap from the factory floor to the more challenging terrain of the typical construction site? An industry with an ageing workforce – 20 per cent may be nearing retirement by 2021 – and severe difficulties attracting and retaining young recruits, will increasingly need them.
Robot bricklayer
The British 'Motor Mason' bricklaying machine developed in the 1960s didn't catch on. SAM (Semi-Automated Mason) is a more advanced version, that also does the heavy lifting and places the bricks and mortar. A skilled tradesperson is still needed to smooth the finish, but output is multiplied six-fold to 3000 bricks a day. Developed by Construction Robotics of New York, SAM has a conveyor, mortar pump and robotic arm, and costs around $500,000. In early 2019, several UK construction companies were reported to be interested in hiring the robo-brickie.
Meanwhile, in Australia the Hadrian X robot was completing its first outdoor test build. FBR's truck mounted unit worked through the West Australian summer, high winds and at night, laying blocks for a three-bedroom home.
Announcing its financial results last summer, major contractor John Sisk & Son revealed its decision to invest in small-scale block-laying robots and in off-site manufacturing to push up productivity and support its fast-growing build-to-rent business.
Another innovation takes a bionic step on the way to robo-operatives by making manual labour more ergonomic. Eksovest is a high-tech exoskeleton harness developed by Ekso Bionics of the USA. It supports a worker's arms during heavy lifting and lightens the load of power tools. Willmott Dixon began trialling the £5650 vest on a Cardiff school building site in 2018.
Trenchless techniques already allow more utility works to be delivered without digging. Maintenance and repairs of underground pipes would be even less disruptive with micro-robots. Four British universities are using a £26m government grant to develop 1cm-long devices with sensors to navigate and inspect pipe networks and mend the cracks they find. Other robots will be designed for hazardous applications in offshore windfarms and decommissioning nuclear power plants.
Back above ground, Japanese contractor Shimizu Corporation is preparing to put its robots to work on high rise building projects, conveying materials, welding steel columns and installing ceiling boards.
In the short to medium term, robotics may take over tasks rather than jobs. This should enable staff to deliver more work, safely and to higher standards, as they become human overseers for a wider range of automated activities.
In the longer term, construction could be almost totally automated, according to industry giant Balfour Beatty. Its vision of the industry in 2050 is for largely human-free sites where: teams of robots 'build complex structures using dynamic new materials. Elements of the build will self-assemble. Drones flying overhead will scan the site constantly, inspecting the work and using the data collected to predict and solve problems before they arise, sending instructions to robotic cranes and diggers and automated builders with no need for human involvement.'
Recent advances in robotics design and software are generating investment by the construction industry in automation – on and off-site – and we see that trend accelerating in an increasingly tight labour market as contractors are forced to produce more with less. Even if robots make up to ten per cent of the workforce, the boost to productivity would be significant. Furthermore, advances in artificial intelligence and machine learning can strengthen the business case for robots in construction and civil engineering.
Max Pearson is Senior Manager: Innovation, and Joana Palha is Manager: R&D Incentives at Ayming. Ayming is a leading international Business Performance consultancy with a global footprint. In the UK, Ayming helps businesses to improve their financial and operational performance through innovation, tax and procurement, supply chain, working capital and operational efficiency services. The R&D team has claimed more than £300m of R&D tax benefits for its UK clients and, as a Group, analyses over 15,000 R&D and innovation projects each year.
For more information, please see: www.ayming.co.uk