GSD Lambert & Son Limited
Through continued investment, efficiency and pride in doing a job well, family-run business Lambert CE has maintained a solid reputation in the market
Deliberately different
Through continued investment, efficiency and pride in doing a job well, family-run business Lambert CE has maintained a solid reputation in the market
Founded in 1978 by Ga
ry Lambert, Lambert CE has steadily grown over the last 38 years by gaining each new contract on the quality of its previous successes. Operating as Managing Director, Gary originally established the business in Lowestoft where it became known as a hardworking, conscientious firm that provides a high quality service to its valuable customers.
Following ongoing growth, the base in Lowestoft became less attractive to Gary due to the locations of the company's contracts, which were based all around East Anglia. To be logistically closer to clients, Lambert CE relocated to Morley Hall, Wymondham; after converting one of the existing wings into new offices, the new location proved a beneficial strategic decision as the company wasn't only closer to customers but also boasted a grand architecture that reflected the way the company liked to conduct business.
Today the company, is under the helm of Gary & Jamie Lambert, continuing to be a strong family-run firm that places great importance in its appearance and maintains a hard-working reputation; the pair also ensure ongoing success through continuously reinvesting money back into the plant, equipment and labour. For example, in the final quarter of 2015, the company reinvested in excess of £1.5 million in new plant vehicles and equipment. With a view of 'if it's needed, buy it' this level of investment ensures that the company rarely has to hire equipment or machinery and is prepared for the demands of its customers.
Able to offer customers demolition, new housing groundworks, adoptable sewer construction, commercial, domestic, crushing and screening services, the business has recently seen an increase in demand for roads and sewers and groundworks packages to new housing developments, as Jamie comments: "We are currently working on eight housing developments for five of our most valued customers in Norfolk and Suffolk. These range from 30 houses up to what can only be described as the jewel in the crown for Norfolk, a phased 500 plot site with a single developer. On top of this we also carry out demolition/site clearance which is an added bonus to our clients as we ensure all underground obstructions are removed as we are going to be digging the new foundations and so on.
"With our mobile crushing permit we are also able to process any recyclable material on site for use in the measured works. During quieter times we have also completed various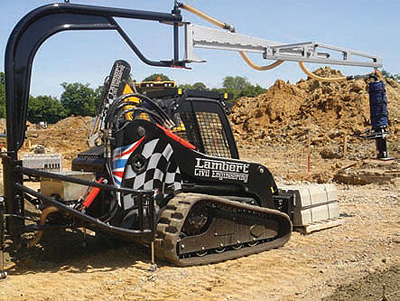 domestic driveways, self-builds and commercial developments. As with our employees and suppliers we like to view the relationships we have with our clients as long-term and beneficial to both parties. It's strange to think with some of these clients that although the original name remains the same, there are very few original staff remaining there in our up to 20 year relationships. Although new faces come and go we remain the same and continue to work with these companies or rebuild relationships as we go."
Indeed, as a company that is proud to be deliberately different, Lambert CE places a great deal of importance on maintaining strong relationships with its employees, which has resulted in solid, long-term loyalty from staff. "We employ in excess of 50 staff and don't rely on sub-contractors to use and abuse during busy times," says Jamie. "To us, if someone joins us, assuming they are able & keen, they have a job for life. Furthermore, thanks to our strong ability to diversify, we have never had to make a single redundancy during the three recessions since starting the business; we pride ourselves on this and it's rewarding when you hear staff remembering those times when a competitor tries to attract them for more money.
"There seems to be a lot of poaching going on at the moment and, with the high demand, people are attracted to our employees; this could be because of the image and reputation that we have in the market. One thing is for sure though, we never approach our competitors' staff and instead let them come to us; after a few weeks of working here it's frequently said they are the happiest they have been at work for many years."
With a turnover of £10 million and plans to expand in line with current market demand over the next five years, the future looks positive for Lambert CE as it remains true to its 'deliberately different' approach to business.
GSD Lambert & Son Limited (Lambert CE)
Services: Civil engineering, road & sewer construction & groundworks