Hackwood Homes Ltd has experienced four consecutive years of sustained growth, which has resulted in its first-ever appearance in the Sunday Times 'Virgin Fast Track 100'
Building its way up
Hackwood Homes Ltd has experienced four consecutive years of sustained growth, which has resulted in its first-ever appearance in the Sunday Times 'Virgin Fast Track 100'
The world is a tiny place, and this saying is confirmed by the story of Paul Williams and Chris Goddard – the founders of Hackwood Homes Ltd – a Basingstoke-based construction and property development business. Paul, who is the company's Construction Director, tells us the incredible story of the two meeting: "We were both apprentices at the same time in the early 80s at two linked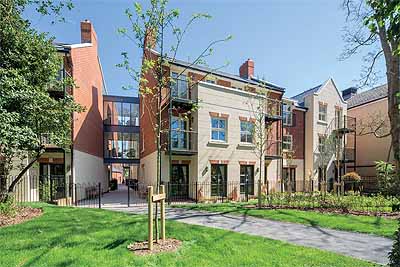 companies, within the same group. Amazingly, we did not come across each other until years later, when I was working as a Project Manager for a local building contractor, and Chris was property developing with another contractor. We met by chance one day, as we were using the same local joinery manufacturer. We were introduced to one another and it turned out that we were two likeminded people, so six months later, we met up for a coffee and a chat which laid the foundations of Hackwood Homes."
Today, 12 years on, the company has received nationwide recognition, by being placed at number 11 in the prestigious Sunday Times 'Virgin Fast Track 100'. "We are both extremely proud to have achieved this ranking. We feel it is a huge achievement, given our background as trades people, working our way up to the level of businessmen and company owners," Paul claims. "It is also a testament to the strength of our team. It feels like a validation of our business plan and the way we run the company."
The praise comes only a couple of months after the company moved into its new offices. "We really needed a nicer work environment, because we used to operate from portacabins, and every time we got a new member of staff, we had to accommodate a new cabin. Similarly, we had three or four storage yards, scattered across Basingstoke, because we tend to buy all of our own plant and equipment, this made us very disjointed. We were crammed in the office, and that was always playing on my mind, because we want to entice topquality members of staff, but were offering them a compromised working environment. And to me, the welfare facilities for staff is very important. This is why we bought a 12,000 square foot warehouse, which we converted into offices. Our team did a fantastic job, finishing the conversion in only three months. We bought the site in June, and moved in on the 1st September," Paul explains.
Loyal team
Paul is a firm believer that it is the company's human resources that sit behind Hackwood Homes' success. "Our people are our biggest strength. We have extremely loyal staff members, who are very good at what they do. Everybody is treated very well, and we have a very low staff turnover, which means that the people working for us have been around for a long time." This appears to be one of the reasons why developing its manpower is a staple of the company's long-term strategy. "What we find challenging in the industry at the moment, is finishing trades. We have invested a
lot of time and money in both employing and training finishing trade personnel. As a result, we now have two teams of decorators, as well as teams of tackers, borders and jointers. It is good for the business, because we now have the skillset to do various development tasks in-house, rather than outsource them."
Paul and Chris have also not forgotten where they, themselves, have come from. "We have also taken on four apprentices this year, which is happening for the first time. We intend to increase this number year-on-year, as we see investing in our workforce as a way to secure the future of the company," Paul adds.
He then turns to share with us some of Hackwood Homes' core values. "Both Chris and I are very focused on quality and detail. With my background as a carpenter and joiner, and Chris' as a decorator, we are used to showing great attention to detail. It is another of our mantras that there are no secondary locations to us. We treat every project equally, so clients get the same finish in a basement car park, as they do in a bedroom. It is the consistency of quality that we want to maintain throughout. Luckily, we have a very capable and likeminded middle and senior-management team, which understand this ethos."
It has been four consecutive years of sustained growth for Hackwood Homes, a period that has coincided with the company's involvement with Renaissance Retirement. "Chris took an equal shareholding in the company, so we could restructure the business. This allowed them to produce a lot of planning consents, on which we are still doing all the development work."
Having devoted all of its time in the past five years to Renaissance Retirement, Hackwood Homes is now looking to recommence its own property development. Paul clarifies: "It was a decision that we made in 2013 to postpone the Hackwood development, in order to support Renaissance both financially and intellectually, to the point when they were showing sustained growth. Now that we have achieved this, we are able to start developing the more traditional, Hackwood Homes-type of buildings, which are smaller, bespoke sites of open-market housing, rather than retirement homes."
When asked about the company's plans for 2018, he reiterates the necessity to stick to Hackwood Homes' philosophy. "We have to continue doing what we do best, and improve on the bits that we do not do so well. The one phrase you will never hear in my office is 'because we have always done it this way'. We are always looking to work the angles and bring in a different perspective. If we can build something cheaper and quicker, and achieve the same quality or better, then we should always strive to make these changes," Paul summarises.
Hackwood Homes Ltd
Services: Construction, design and property development