Providing consultation, design, supply and building services to the construction industry of the future, KLH UK Limited looks set to conquer new markets
Timber architecture
Providing consultation, design, supply and building services to the construction industry of the future, KLH UK Limited looks set to conquer new markets
KLH UK Limited has been operating as a subsidiary of Austrian KLH Massivholz GmBH since 2005, specialising in the full design, supply and installation services of cross-laminated timber (CLT) buildings. The Austrian head office was established in about 1996 and went into fullscale production in 1999. "We were established in the UK in 2005. We differ slightly from the plant in Austria that focuses solely on manufacturing, as KLH UK Ltd provides a full service to the construction industry. We are a one-stop shop," says Nic Clark, Managing Director of KLH UK Limited. Since inception the company has been involved in over 200 ground breaking and award winning projects such as the UEA student 520 bedroom residence buildings in Norwich, which have been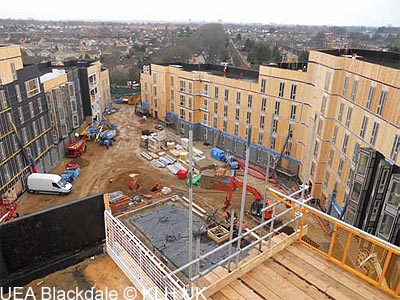 shortlisted for the 2017 RICS award, the Hastings Pier project, which has been was voted 7th in the Sunday Times Best Buildings List 2016, Ditchling Museum that won the Wood Award in 2014 along with awards for the Modern Art Museum in Oxford and the Chichester Festival Theatre. "We've delivered over 200 UK construction projects, for a mixture of private clients, main contractors, and developers, and we have a back catalogue that shows experience in educational, residential, leisure, retail and commercial markets," adds Nic.
Cross-laminated timber is an innovative and modern method of construction that offers an impressive range of benefits to customers including cost and time savings due to the speed of construction, design flexibility due to bi-axial structural performance, precision as panels are manufactured using CAD/CAM technology and state-of-the-art CNC manufacturing techniques. The different sized panels are great for building entire structures very quickly. The lightweight material means that foundations can be made smaller and cheaper, it is clean to use and maintain and made from renewable softwoods.
"Cross-laminated timber is a strong alternative to steel and concrete frames. When we leave the construction site the building is ready for the first fix M&E installation, ie it's relatively water tight & with all of the walls and floors are in place, there's nothing to fill in or patresses required and fixing to a timber substrate is much easier than fixing to other building materials. Effectively cross-laminated timber is a dry and lightweight product that is very fast to build, resulting in apartment and hotel constructors getting a return on their investment from the project much faster. It's 30 per cent quicker than concrete and steel, and therefore offers big savings on cost too," says Nic.
"Big trucks in the city of London are causing cyclists safety concerns as well as contributing to air pollution problem. We are tackling this by reducing the amount of trucks entering a construction site in the city by up to two thirds. This is achievable as cross-laminated timber reduces the amount of concrete that goes into the foundations. Every lorry we send to the capital delivers 40 cubic metres of cross-laminated timber, so if we compare that to a truck carrying concrete the difference in the amount of trucks visiting the capital is significant," he adds.
Another hot topic in London is the housing crisis. London and the southeast need to build 50,000 homes a year to meet the needs of its growing population, and figures suggest that it is systemically failing to meet this target. While there is no single solution to the housing crisis KLH UK Ltd is well positioned to respond to the need for residential projects. "We're currently increasing our factory capacity by circa 20 per cent which is ideal timing considering the UK's need for housing. We have seen the enquiries for multi-family housing significantly increase with some interesting projects in
the pipeline. We have also seen a number of enquiries for London roof top extensions. There's an obvious win in London for adding floors on to properties. We can build a lightweight frame, quickly and directly from the lorry if space on site is limited. We have delivered such a project in North London, but these projects are of a much larger scale.
"The housing crisis runs parallel to fears about labour shortages in the UK," explains Nic. "As we manufacture off-site our on-site labour requirements are at a minimum. Our crew sizes are only four or five per hook."
When Construction & Civil Engineering last featured KLH UK Ltd in May 2016 it was a good year for the company especially in the education sector, a trend that is continuing today. "Educational is still a major part of our business providing 60 per cent of the company's income. In 2017 we have a variety of projects that we're working on, including primary school extensions, secondary schools developments and we've recently submitted pricing for a number of student accommodation blocks," explains Nic. "In other sectors we've got a nice mix of residential, hotel and commercial projects that we're involved in.
"Our vision is to break down boundaries and misconceptions about cross-laminated timber and get it fully recognised as a mainstream construction material. We are also aware that the we are very much 'London centric' so it's time to focus more on other regions such as Birmingham and Manchester that are experiencing exciting times in terms of construction"
KLH UK
Services: One-stop-shop cross-laminated timber supplier