With typical construction sites decreasing in size, the Mecalac Ahlmann Group is committed to producing intricate solutions for an increasingly challenging industry
Moving the earth
With typical construction sites decreasing in size, the Mecalac Ahlmann Group is committed to producing intricate solutions for an increasingly challenging industry
The Mecalac Ahlmann Group offers a wide range of innovative equipment and services for today's urban construction sites and has built a reputation for business competence based on the fundamental values of innovation, attention to detail, and performance. The company's main objective is to guarantee its customers high quality products that provide work site profitability, comfort and safety, while complying with current regulations and standards. Boasting a skilled and knowledgeable workforce of approximately 400, its manufacturing facilities are based in France and Germany while three distribution subsidiaries in Paris, Büdelsdorf and Milan ensure close contact with customers.
The history of the Group dates back over half a decade to 1952 with the introduction of the first Ahlmann rotary arm loaders while Mecalac was established in 1974. The two companies achieved numerous technological breakthroughs and milestones as independent entities including the release of a multipurpose machine – the 11CX – in the 1980s, and a range of sophisticated front-loading machines in the 1990s. Ahlmann produced a landmark 20,000th loader in 1999 before the two industry heavyweights joined forces three years after. A joint legacy is currently being created with the introduction of railroad excavators, the Mecalac 700 series, which are multi-purpose wheeled and tracked machines and perhaps most impressively, the production of the 10,000 Mecalac excavator, just last year.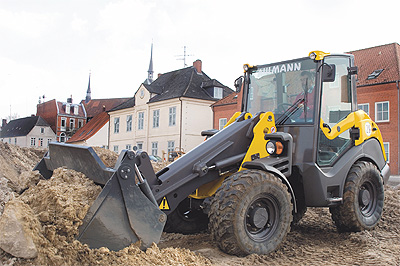 The company's machines best display their state-of-the-art technical and technological advantages in cities and work sites with limited space. The professional know-how that is displayed in an impressive product portfolio has been developed in accordance with a consistent decrease in workspace, while meeting stringent gas and noise emission standards. The two sides of the business complement each other perfectly with Ahlmann offering wheeled loaders, including front loaders and 180° rotary arm loaders. Meanwhile,
Mecalac offers multi-purpose, wheeled machines and multi-purpose, crawler or wheeled urban excavators. Innovation, compactness, versatility, comfort, safety, environmentalfriendliness and customer service are values that all Mecalac and Ahlmann products have in common. Mecalac Ahlmann customers include specialists in cable-laying, pipe-laying, road construction and maintenance, landscaping and local councils. They work in a variety of sectors and environments, such as industrial building sites, in tunnels, on railway tracks, in recycling plants and countryside management, as well as military applications. Products are designed and manufactured to be consistently innovative and to add value, quality and profitability to customers' work sites and operations.
One of the main strengths of the Group is the priority that is placed on those customers' needs and expectations. Concepts are put into production through a commitment to excellence, with checks at every stage of product design and development while products are regularly tested to ensure they comply fully with international standards, particularly concerning comfort, safety and the environment. Product excellence is proven daily as a result of Mecalac Ahlmann's dedication to the constant improvement of the industrial process. Further illustration of the organisation's commitment to customer satisfaction can be seen through its employee training programmes and the close management of work flow.
The service offering of the company is further enhanced by its far reaching technical assistance network, consisting of 150 dealerships and service outlets that are run by professionals dedicated to Mecalac Ahlmann products and the needs of its clients. When a product is sold, sales representatives carry out demonstrations to ensure that the customer is aware of the best working practice for any given machine. Advice is also given to provide efficient management of equipment. The organisation's own employees, as well as those of the customers' are provided with regular training to ensure the machinery is working to its optimum potential and to aid customer satisfaction and loyalty.
The Group's network is supplemented by a team of knowledgeable technicians who are specialists in Mecalac Ahlmann equipment that work closely with one of the numerous dealerships. The breadth of the operation means that on the rare occasion when a client experiences problems with its machinery, employees can be dispatched to construction sites all over Europe to minimise stoppages and avoid scheduling difficulties. The technicians, who are able to communicate in all major European languages, are also available around the clock to answer any questions to help clients optimise the use of their machinery.
Through a combination of Mecalac excavators and Ahlmann loaders, coupled with a far reaching customer assistance network, the company has certainly found a winning formula. However, what it offers goes much further than complex and innovative equipment. The real key to Mecalac Ahlmann's success is its ability to
provide solutions that pave the way for the building of vital infrastructure from road or rail systems to military installations and large scale recycling units. In doing so, it has established itself as a vital component of a buoyant European construction sector.