The bespoke light gauge frame and structural steelwork solutions provided by P.A.W. Structures have contributed to the successful construction of a host of the UK's more dynamic, innovative and complex buildings and developments
Men of steel
The bespoke light gauge frame and structural steelwork solutions provided by P.A.W. Structures have contributed to the successful construction of a host of the UK's more dynamic, innovative and complex buildings and developments
Having accumulated more than 40 years of experience in the construction industry, P. Alan Walker made the decision in 2001 to found P.A.W. Structures. Originally conceived as a lifestyle business that would deliver portal shed and small office block designs, the company would go on to bring Warren Mitchell into the fold in 2002 at Director level. Two years later, it gained approved installer status from an industry-leading structural frame supplier, to work on prestigious, large scale projects. Over the last four years PAW Structures has developed and launched its own Sigmat system ushering in the next generation of light gauged steel frame buildings.
"Today, we are acknowledged as being the UK's leading panelised light steel frame specialist," explains P.A.W.'s, James Walker (Commercial Director). "In addition to the design, supply and erection of light gauge steel frame structures, we also undertake hot rolled podium structures, giving us a unique position within the marketplace. The niche nature of our work has seen us through periods of uncertainty in the industry and given us a strong competitive edge."
P.A.W. possesses a comprehensive project capability, which allows it to offer a complete range of project services covering light gauge frame and structural steel solutions. Its ability to contribute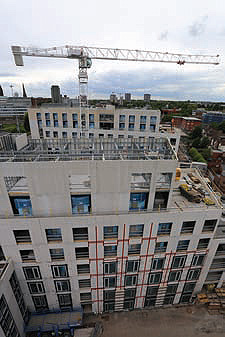 to all stages relating to the specification, manufacture, logistics, delivery and installation of frames and structural steel work makes it the only company within its field to offer a true 'source-to-site' solution. By contracting P.A.W. at an early stage of a project customers are able to expand the scope of their options, allowing P.A.W. to propose bespoke solutions that optimise quality, lifetime performance, cost and value, and programme efficiencies.
The company's aforementioned capabilities have resulted in it working with clients from a wide range of sectors. While the extent of P.A.W.'s involvement varies according to the needs of each client, in every case it aims to fulfil the client's goals of achieving the desired build quality, while completing its work on time and within budget. Clients of P.A.W. have included the likes of Berkeley Group, Oakapple, Orchard Care Homes, Premier Inn, Travelodge, University Partnership Programme and Tesco.
"The largest project we have been involved in, in terms of scale at least, was Byron House in Nottingham," James states. Located in the centre of Nottingham city centre, this award-winning accommodation scheme, with a contract value of approximately £4 million, incorporates a series of five interlinked buildings of between four and nine storeys, which provide a total of 911 beds for the city's students. "This was a particularly complex undertaking for P.A.W., during which time we worked closely with the main contractor, Vinci and Architect, Church Lukas, to deliver a successful scheme within a constricted urban site.
"A further pair of projects that we are particularly proud of are the IQ project in Bristol and the Anderson High School project. The former offers state-of-the-art private student accommodation, and with 11 floors sitting upon a first-floor podium we believe it represents the tallest light gauge steel structure in the country. Our understanding and knowledge of the parameters of such a project allowed us to complete this project in just 17 weeks. The Anderson project, meanwhile, was a logistically complex undertaking, which required all of the panels used to be built in Yorkshire, before being shipped up to Shetland. By making sure all of the components arrived safely and on time this project represented another enormous success for the company."
While P.A.W. was recently one of the businesses to be included within the London Stock Exchange Group's 1000 Companies to Inspire Britain 2017 report, this news was greeted in typically humble fashion by James. "Our inclusion came as something of shock, to be honest, but it is of course a fantastic achievement," he says. "We tend to keep our heads down and keep ourselves busy, but to receive such recognition for our work is always welcome."
P.A.W. most certainly has a strong, solid base to build upon as it looks ahead to the next few years of prospective growth. "In the student accommodation market, we continue to see opportunities, particularly in the bigger towns and cities that have more than one university," James adds. "In the wider scheme of things, we need to increase our level of expertise within the business, bringing in new talent. For a number of years now we have gone about our business fairly quietly, but we are now in the process of pushing ourselves forward from a marketing perspective as well, getting the P.A.W. name out there to a wider audience, publicising our previous successes and detailing how we are looking to build upon these as we enter the next phase of our own development."
P.A.W. Structures
Services: Light gauge frames and structural steelwork