PN Daly's strong relationship management has helped the company maintain constructive partnerships with the UK's leading utility companies and developers for over five decades
All about connectivity
PN Daly's strong relationship management has helped the company maintain constructive partnerships with the UK's leading utility companies and developers for over five decades
The privatisation of Britain's utility companies and the opening up of a contestable connections market in 1990 considerably extended the playing field for PN Daly. Having started as a term contractor for statutory undertakers (first gas, and then water, and electrical undertakers), the Milnrow-based company, which has now been around for 53 years, has over time expanded the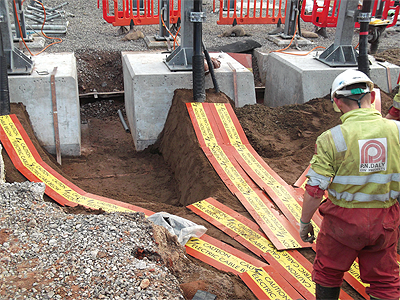 volume and the scope of its work. This has become so, thanks to the organisation delivering a number of high-quality projects that built its reputation as a trusted provider of a broad range of services.
Today, PN Daly specialises in supplying design, construction, connection, repair, maintenance, and support services to gas, water, electricity, and telecommunication networks, mainly in the aforementioned statutory undertakers sector and the construction industry. The company is now in a position to better serve the requirements of its customers, and it places strong emphasis on maintaining close working relationships with those utility companies it has been working with since its inception in 1966.
If the success of a business is to be measured in the repeat orders it achieves, then PN Daly can certainly be examined as a reference point in this regard. According to the company's Commercial Director, Patrick J Daly, honesty is the trait exhibited by the organisation that appeals to customers and keeps them coming back over and over again. "Not necessarily all news that we give our clients, is good. Nevertheless, we do not spare them the bad news or the possibility of something going wrong," he insists.
"Inevitably, there are people who do not want to hear the whole truth and instead choose to go to providers who only tell them good news, even if this might as well be fake news. When clients deal with us, they know that we will be completely transparent with them and they understand that this is what will work best for both parties in the long-term."
Family values
Employing this culture of openness and honesty has allowed PN Daly to work on multiple prestigious contracts over the years. One project the company is particularly proud of is the work it did for Bericote at Florida Farm in Haydock. There, PN Daly upgraded 4.2 kilometres of off-site infrastructure and delivered services to two medium-pressure gas units. Upon the completion of the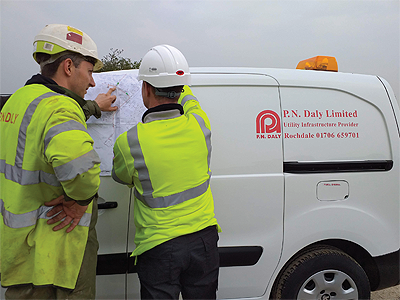 scheme, the company was lauded for its proactivity and efficiency by Bericote, with the latter expressing its strong desire to collaborate with PN Daly again in the near future.
The flatness of PN Daly's hierarchy is one of the prerequisites for the efficient internal communication that takes place within the business and, more importantly, the trust employees have in the company and the career growth opportunities it presents. Notably, the family-owned organisation takes pride in its exceptionally high staff retention rate.
"People want to work in an environment where the company cares about its customers, products, reputation, and, of course, the staff it employs. We have an in-house training team dedicated to keeping our people upskilled and to adhering to the latest health and safety regulations," Patrick maintains. "We also hold on to family values in the way we run the business and make sure that our senior managers are as approachable as possible. As a result, communication with them is often direct when required."
Commercial Manager, Danny Scholes, echoes this sentiment: "I have been here for over 15 years now and no two days are ever the same. I have established a strong relationship with our senior management team, which has contributed immensely to my successful development at the company."
Healthy competition
Maintaining this level of support to its employees will be key for PN Daly as the business takes on the task of revitalising its workforce within the next five years. "We are aiming to bring a lot of young people into the company, who are keen to learn and pursue a career in the utilities sector. Our role is to foster their development and offer them all they need to grow their capabilities, which, eventually, will result in the deepening of PN Daly's expertise, as a whole. This has been our philosophy all along – to increase individual skill for the benefit both of the worker and the company itself," Patrick discusses.
He adds an important clarification: "We are interested in attracting talented people to the industry regardless of their background and education. We are open to anyone who is ready to commit themselves and we firmly believe that no one should discount working in the utilities sector. If you are talented and willing to grow, it will surely make use of your skills and time."
At the end of our conversation, Patrick takes the time to share his views on prevailing market conditions and the challenges and opportunities they generate for PN Daly. "We are currently engaging a lot with the authorities ensuring healthy competition in connections, as we are concerned that the regulatory regime has not supported competition in recent years to the same degree as in the time before the Brexit vote. Therefore, we now find ourselves having to motivate statutory undertakers to fulfil their obligations under the regulations. This is becoming an increasingly important function of our business, which serves to benefit not just us, but also the wider market," he concludes.
PN Daly
Services: Utility design, engineering, construction, installation and technical services