With only nine per cent of plant machinery stolen in the UK being recovered, Andy Barrs asks: How does the construction and civil engineering industry address such poor recovery rates?
It is estimated that the theft of plant and agricultural machinery costs an estimated £1.5million every week in the UK1. As I write this article, working in conjunction with Kent Police, TRACKER has just recovered a stolen Atlas Copco AC 654 air compressor that had been stolen from a building site in Canterbury only two hours earlier – a great result for our client who is a major civil engineering company operating predominantly in London and the Home Counties. With margins in the building industry being squeezed ever tighter, the loss of an important piece of machinery like this can often result in costly delays to our client's contract schedules, so getting this piece of plant back in such a short space of time was a real bonus, not to mention the potential losses/inconvenience associated with non-recoveries, e.g. lost productivity, increased insurance premiums and sourcing replacement machinery.
Unfortunately, according the Plant & Agricultural National Intelligence Unit (PANIU), run by the Met Police, the national recovery rate for plant machinery currently stands at nine per cent, whilst installing Datatag's secure marking system 'Caeser' increases this to 28 per cent.
Demand for machinery abroad
Plant thieves are usually highly organised and employ a broad range of tactics to steal valuable items of machinery, many of which are destined for export via any one of the major ports in the UK. Rapid building expansion in the Far East, Africa and Eastern Europe has created unprecedented demand for such machinery that frequently end up in containers on their way to ports such as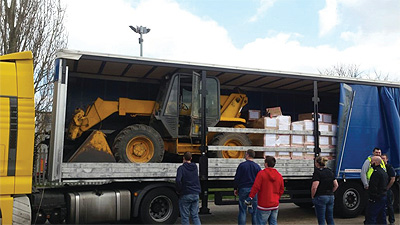 Tilbury and Southampton. Fortunately, a combination of TRACKER's longstanding relationship with the Ports Police and our unique VHF tracking technology, means that a significant amount of stolen plant is recovered before it is shipped out of the country.
Certainly in terms of the more valuable pieces of plant machinery like Telehandlers, there is currently a global market ready and waiting, particularly in the Far East and Africa. For example, a Telehandler was recently returned to Felixstowe Port by Saudi Customs and was found to have been originally stolen from a farm in South Yorkshire. Indeed, thefts of JCB and Manitou Telehandlers are currently on the increase.
Common techniques for stealing machinery
We are no longer surprised by the speed at which items of plant are stolen, for example, a TRACKER fitted JCB Telehandler was stolen in Lincolnshire and recovered in under two hours by Hertfordshire Police at South Mimms Services on the M25 – the driver of the Telehandler had just taken a 15 minute lunchbreak and was absolutely gobsmacked to discover it had been stolen whilst he enjoyed a bacon sandwich! The HGV containing the Telehandler was destined for Lithuania via the port of Tilbury but its driver is now languishing in police custody.
Unfortunately, our experience as a stolen vehicle tracking and recovery company suggests that many construction sites still lack even the most basic physical security measures, meaning that determined thieves are able to walk on to site and steal equipment quite easily. A common trend is for thieves to turn up on sites at weekends and/ or out-of-hours, purporting to be maintenance engineers, who then go on to compromise ignition systems and either drive or tow items of plant away without being challenged. In this respect, we often talk to witnesses who report seeing what they believed to be mechanics working on a machine, when in actual fact they were in the process of stealing it.
A further frustration is the 'single-key' approach previously adopted by plant manufacturers, basically a 'one key fits all' approach, whereby the ignition key will fit any model of the same make. Whilst significant improvements have been made in recent years (largely due to work by PANIU), this in turn has fuelled the theft of older plant machinery, again due to the sheer demand created by overseas markets.
Tampering with identification numbers
Additionally, it is well known that criminals prefer to steal property where they can easily remove or change the original manufacturer's identification numbers or marks. Tampering with these important identification numbers makes the stolen property less likely to be identified and hinders the police in tracing the real owner. This is why the Caesar marking system used by our partners at Datatag is such a good means of deterring thieves. The Datatag security system comprises a range of methods for identifying a stolen vehicle and its components, including: an ultraviolet 'microdot' fluid which uniquely identifies the vehicle and can be applied to any surface, an acid etching kit with a security number, and two microchips (like those used to track a pet).
From a security point of view I would always encourage operators to fit a TRACKER to their plant equipment. However, there are a number of simple steps that can be taken to reduce potential theft opportunities and improve chances of being reunited with stolen equipment, including; secure marking, conducting thorough audits of site security and working in partnership with the police to deter thefts.
It is clear that plant theft in the construction and civil engineering industry is a problematic issue. With valuable equipment being stolen and shipped abroad by criminals, a change in the way these assets are protected is essential. By taking the appropriate security measures to safeguard machinery in the event of theft, operators – and the industry – will see positive financial and operational benefits.
1 HSB Engineering Insurance publication 'Plant Theft – A Major Risk to UK Businesses' July 2014
Andy Barrs is Head of Police Liaison at TRACKER, (part of the Tantalum Corporation). TRACKER is the largest and most established stolen vehicle recovery business in the UK, with over 1.2 million tracking devices currently deployed. Combined Industries Theft Solutions (CITS) is a not-for-profit body with unpaid members from across the construction and plant industry. CITS aims to reduce theft by encouraging the adoption of common industry standards and seeks to engage with all sectors of the industry to make plant theft more difficult and unattractive to criminals.
For more information, please see www.tracker.co.uk