A capable partner
For over a decade, Red7Marine has assembled a world-leading fleet of jack-up barges, and is now ideally positioned to deliver major construction projects across the UK
Nick Offord founded Red7Marine in 2008, following the decision to merge his pre-existing marine construction company with a partner diving business, owned and run by one of his good friends. Nick had purchased his first jack-up two years prior, in 2006, but the new company quickly set about expanding its fleet, adding three modular Haven Sea Jacks from UK-based energy company Carillion in 2009. A fourth Sea Jack arrived a year later, followed by the addition of four Haven Searisers between 2011–2014, before a Haven Seaseven in 2015. Needless to say, business at Red7Marine was thriving.
Today, the company has established itself as the UK market leader in marine access solutions, and operates its 12-strong fleet of jack-up, stabilised, and flat-top barges around Europe, along with modular floats and equipment. Red7Marine is the largest jack-up supplier to the UK construction industry, offering a blend of project work and contract barge hire. Despite the unsettling impact of Brexit, the company regularly delivers multi-million-pound projects across the UK, work that it continued throughout the pandemic.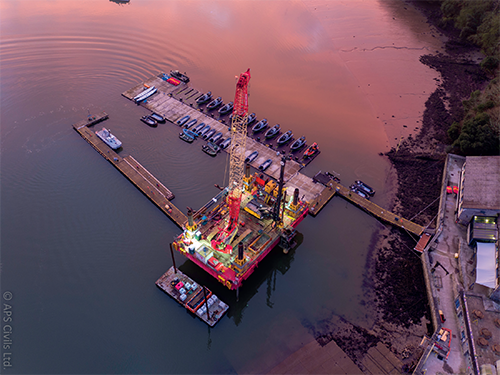 The most recent addition to Red7Marine's jack-up fleet came in 2021, with the company's purchase of the Haven SeaChallenger, a 1000-tonne monohull jack-up. Built by Japanese manufacturer Nippon, and formerly known as the Fugro 1200, it's more than double the size of Red7Marine's previous largest jack-up. Ahead of its purchase, Red7Marine had worked alongside the Haven Sea Challenger during the construction of a jetty at Hinkley Point C nuclear power station back in 2017.
"The Haven SeaChallenger incorporates a number of exciting features," explains Nick, now Founder and CEO of Red7Marine. "With a conventional jacking system, the legs have to be lowered onto the bed, which requires you to hold the barge on station. This new barge utilises a DeLong jacking system, which allows you to free-fall the legs, even while moving slowly. Added to that, it gives us a 1000-tonne capacity, on which you can place a 600-tonne crane, providing us with the capability to work on even greater projects in the UK, Europe, and around the world."
One such project, is the £3.8m port construction at Portland Harbour, located on the Isle of Portland, in the English Channel – Red7Marine's biggest job to-date. "The SeaChallenger has a job to do at Ramsgate first, before we head down to Portland," Nick says. "We're putting in a series of tubes there to build the new quay, so we plan to use the jack-up's bull rail as a gating system. The barge itself can provide accommodation for 24 people, with all the water-making and sewage systems necessary. The cabins will be installed, should we wish to take it to a wind farm or offshore renewable energy project, as is our plan for January 2023."
The Portland project is Red7Marine's most significant contract, but it's by no means the only job currently underway. Working with Belgian contractor Jan De Nul Group, the company is installing a set of four cables at the port city of Ijmuiden, situated close to Amsterdam. The purpose of the cables is to deliver power to the Dutch mainland from the North Sea offshore wind farms Hollandse Kust Noord and West Alpha.
"We've created a full cantilever platform down one side of the barge, enabling Jan De Nul to install the relevant cable tensioning equipment," Nick indicates. "To achieve that, the cables are pulled to the barge from the cable lay ship, and then the barge sits on station as a tensioner as the cable is pulled through to shore." Red7Marine is not new to these projects: the company is the largest jack-up supplier to the UK nearshore industry, but securing work in the competitive Dutch market is nonetheless a significant step.
In the UK, work is also underway at the harbour town of Ipswich, where Red7Marine has completed a number of small cabling and transfer projects for ABP, along with further refurbishment projects in nearby Lowestoft. "Two of our Searisers will shortly be on their way to Uig, a port on Scotland's Isle of Skye," Nick adds. "That's a nine-month hire for the first barge, and a six-month hire for the second, to facilitate the new port construction."
Despite the challenges of the last few years, business at Red7Marine is going strong, with an order book of around £8m. For Nick, a key contributor to this is the company's broad set of capabilities. "We do everything in-house," he says. "We design, we perform fabrication at our yard in Ipswich, and we build whatever's needed for our jobs, always to a very high standard. We have our own operators and dedicated mobilisation teams. In addition we have our own emergency response team, so should an accident or incident occur somewhere in the industry, people can contact us, and we'll take charge of the situation."
Providing the foundation for this breadth is a rigorous emphasis on training, and a culture that prioritises health and safety. "We train our own barge masters – a rarity among companies in the UK, and something of which we're very proud. Where employees have issues, we're also very supportive. All those who join the company receive a dedicated mentor, distinct from their line manager, with whom they can discuss anything they need."
Such initiatives go a long way in the construction industry, which has a rate of employee suicide over three times the national average. "We recently partnered with a charity called Mates in Mind, through which we've provided six people within the business with training to identify mental health issues," Nick reveals. "If we can pick up any early signs, it will help us to get vital help and treatment to those who need it. To reinforce that, we've developed two slogans: 'Your 7 Mentor', and 'Safer 7 Minds', through which we're hoping to lower those numbers."
Beyond his role at Red7Marine, Nick also plays an important role as Chairman of the International Jack-Up Barge Operators Association (IJUBOA). Formed in 2008, the association emerged out of the lack of regulatory body for the operation of jack-up barges. The IJUBOA has since introduced a number of certificated training courses, which are now seen as the international standard in the training of operators and managers for work on jack-ups and barges.
The association was unfortunate to lose its founding Chairman, John Howard, in September 2020. As a founding member of the IJUBOA, Nick assumed the role later that year. "Since appointment, my strategy has been to widen our membership base," he tells us. "We've expanded our membership categories, and introduced a tiering system to indicate which members are working to which standards.
"In order to provide a proper road map for training, we've also introduced an online app capable of taking new trainees through all the steps you need to get on a barge and start learning: working at heights, first aid, and more," he continues. "That's evolved into a three-year programme, which we've registered with the Institute of Apprentices. The Nautical Institute has also become involved, offering training courses ahead of an exam, through which trainees can qualify as a Barge Master."
For Red7Marine, the focus moving forward is to continue exploring new opportunities. "I see our capability as a contracting business continuing to grow," Nick concludes. "There's the potential for more work in Europe, along the French coast and into the Mediterranean. We'll also certainly be doing more work in the renewable energy sector, building on our great track record of working on Sizewell, Bradwell, Oldbury, Hinkley and other nuclear power stations. Our key is our management team. We'll keep that strong, not over chase, not over pitch, and slowly we'll build into a bigger and stronger organisation."
Red7Marine
https://red7marine.co.uk
Services: Jack-up barge rental and construction