Aiming for a considerable expansion in size, Stanton Bonna has stepped into a number of new markets in the last three years
Precast is the answer
Aiming for a considerable expansion in size, Stanton Bonna has stepped into a number of new markets in the last three years
Diversification has been the name of the game for Stanton Bonna in the three years since we were last updated on the activities of the manufacturer of precast concrete drainage solutions. Part of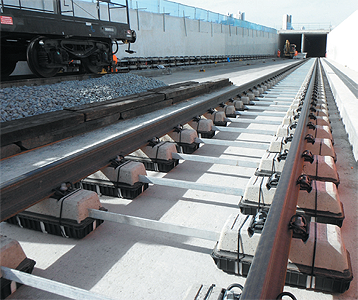 the wider Consolis Group, the Ilkeston-based company had an initial success in the highways sector, courtesy of its partnership with Saint-Gobain PAM UK. Following up on its initial ventures, Stanton Bonna has gone deeper in this particular market with the development of its new Aqua-Slot™ Drain product.
"We started integrating some of Saint-Gobain PAM's cast iron drain grates and covers and that met with success with a couple of customers, which was our introduction to the highways sector. Having established contacts with certain players within this field, we decided to launch the Aqua-Slot™ Drain system, which was designed to help remove surface water from carriageways quickly and effectively and that is ideal for use along verges, central reservations, and junctions," comments Stanton Bonna's Managing Director, Colin Richardson.
The first major project where the Aqua-Slot™ Drain is being utilised is the Highways England M6 J13-J15 scheme, where Stanton Bonna is supporting Kier Highways. "The client was looking for an offsite solution, which is a common trend at the moment, and as Kier is by no means the only customer we are supplying with this product, we are confident that the demand for it will continue to grow," Colin remarks. "We are also monitoring the development of the Smart Motorways Alliance (SMA). We believe that a number of contracts will be awarded either by the end of this year or early in 2020, and we are hopeful that we will succeed in picking up some of the work that will result from that."
Going back to Stanton Bonna's core capabilities, which lie in providing precast concrete pipes and manholes, the business has of late taken it upon itself to popularise one of its products that has historically enjoyed great success in Europe, but is little known in the UK. "Our Pressure Pipes have some unique properties that differentiate them from existing products," Colin states. "Most importantly, the pipe can be used in the potable water sector and as well as acting as the conduit for the water to flow in, it can be designed to act as a jacking pipe, overcoming the need to jack a regular concrete jacking pipe before then installing one of the other pressure pipe materials inside.
"We are focused on applying this product to the drinking water sector and we have just recently secured an approval from the Drinking Water Inspectorate (DWI) that will allow us to seek expansion within the area. It is encouraging that we have been approached by interested parties for this type of solution and now that we have all the necessary approvals to use the product in the UK, we are ready to start addressing their issues," he continues.
Being part of an international group like Consolis (Europe's largest precast concrete manufacturer) gives Stanton Bonna a competitive edge over its peers in the UK, with the company being able to leverage the knowledge and resources provided by its parent organisation to bring new solutions to the UK marketplace. A few examples can be picked to illustrate this claim and Colin draws our attention to some of these: "One area where we are transferring the experience of Consolis, is the rail sector. We have been involved in the implementation of many of the recent light rail schemes in places such as Manchester, Nottingham, and, currently, Birmingham, as well as supplying noise and vibration mitigation solutions to prestigious projects like the High Speed 1 and Crossrail. We have also had a number of discussions with HS2 contractors to see if we can help them tackle some of their challenges by harnessing our expertise on a European level and adapting it to UK conditions. I am mainly thinking about solutions for tunnel segments, but there are lots of other applications where, we feel, precast will be the answer, going forward."
Factory upgrades
While at the moment, it is still unclear whether the HS2 scheme will go ahead, Stanton Bonna has taken the necessary steps to increase the capacity of its factory in Ilkeston, in order to meet a future spike in demand. "We have recently received permission for a large extension at the back of our facility, which will allow us to build two large sheds. Capacity will be key in handling the requirements of HS2 and we believe that the manufacturing space we have at our disposal gives us a bit of additional comfort that we can serve our customers efficiently," says Colin.
"In fact, we have spent in excess of £10 million on upgrading the factory in the last four years," he points out. "These investments were made to serve two purposes, in particular. The first one was to modernise our equipment, as some of it was getting quite old and not running as efficiently as we would have liked it to. The other goal we were pursuing had to do with our willingness to increase the quality of the products and enrich our product range with some new items.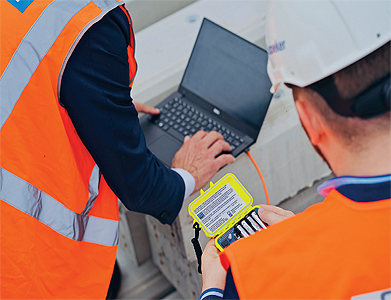 "One major investment was in a concrete batching plant, which, together with its distribution system, cost us £2.2 million and its impact has been felt on various fronts since its completion," Colin adds. "Not only have we been able to improve the quality of the concrete, but the new plant has also made it possible for us to increase our output by 40 per cent. This year, we have also built a new production shed for our wet cast needs and depending on how many bids we win for some of the projects in the rail sector we have applied for, we will know how much work there will be for it."
There is not a shadow of doubt, as Colin puts it, that HS2 has the potential to transform Stanton Bonna and significantly accelerate the growth of the company. Even if the project is scrapped, though, there are plenty of opportunities for the business to expand. It is for this reason that the Managing Director is optimistic that the company's future endeavours will meet with success. "As discussed earlier, the highways sector promises to be buoyant for us in the coming years. We have also tried our hand at the electric vehicle charging market where we are making some plinths for a Dutch company that is installing charging points at Newcastle University."
Forward plans
In further strengthening its offering, Stanton Bonna will also continue to work closely with its parent company. "Consolis Connect was set up about a year ago to look at the opportunities presented by the Internet of Things (IoT) while using digital technology to help us capture some of the data from the products that we manufacture. This will enable us to access vital information regarding the production process, but also monitor our products when they are in situ. For instance, we have embedded strain gauges within railway sleepers to track their lifecycle.
"Last but not least, we aim to create a circular economy system for some of our products. We have been involved in the building of a circular viaduct in the Netherlands using precast concrete components that were later dismantled and ready to be reassembled on a future project. This was our first project of this kind. As precast manufacturers, we are aware of the environmental impact of the products, so we are looking for viable environmentally-friendly solutions we can execute together with our customer base," Colin maintains in conclusion.
Stanton Bonna
Services: Precast concrete production