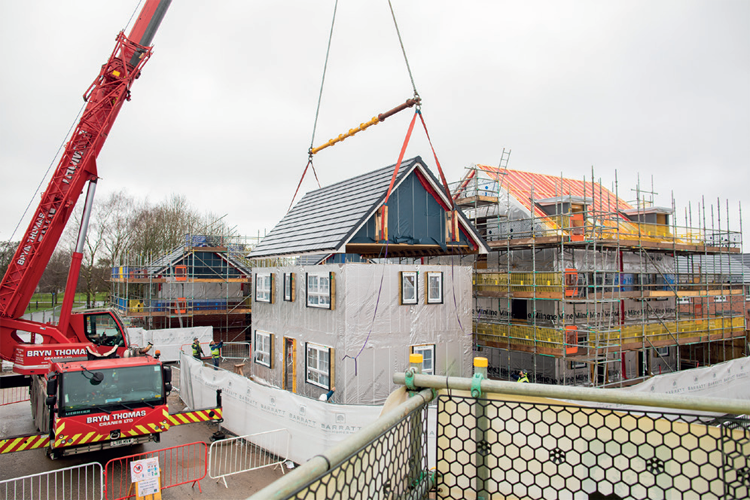 Stewart Milne Timber Systems Ltd
The wood for the trees
At Stewart Milne Timber Systems Ltd, the team is choosing to focus on the details of how timber frame-based housing can pioneer the sustainability drive that is sweeping through the construction sector
Stewart Milne Timber Systems Ltd (Stewart Milne) is a leading off-site specialist that provides timber frame structures to accommodate builders, developers, contractors and housing associations across the UK. It is one of the most recognised brands in its sector, with a heritage of innovation and offering customers a portfolio of build systems including a market-leading closed panel build solution: Sigma® II. We speak with Rod Allan, the company's Managing Director, to learn about how Stewart Milne has sustained unrivalled expertise in lowering carbon emissions in the construction sector since its inception in 1975, when it began with just six employees.
"We provide three core building systems, which can be tailored to suit a range of performance needs and price points. Our Alpha system is our open panel solution, and as our most cost-effective system, it provides a tested and approved, flexible approach to on-site specifications. Following that, we have our Delta system. This is our factory insulated panel system and offers a higher level of thermal performance and quality and reduces on-site activities. Finally, there's the third system, our award-winning closed panel Sigma® II system, which provides a higher level of prefabrication and offers improved levels of assured performance," he begins. According to Rod, the services that accompany these systems are highly comprehensive for ease of customer use. "We offer a supply-only, or a supply-and-install service for the timber frame systems. We also provide technical support, cost advice, and manufacturing and build solutions tailored to a client's build requirements. But I believe what sets us apart from our competition is our heritage, our capacity, our accreditation and our people. Since our establishment, we have developed a deep understanding of housebuilding, which gives us a unique insight into the requirements of our clients," he continues.
A particular facet that the company is proud to have in its portfolio is its active contribution to making a positive change to the construction industry. Partnering with the UK-funded Advanced Industrialised Methods for the Construction of Homes (AIMCH) project, Stewart Milne aims to tackle all the challenges the housing sector currently faces; skills shortages, an ageing workforce, poor productivity, low output and low affordability. The ultimate goal of the AIMCH project is to support the construction sector by delivering the 120,000-unit target for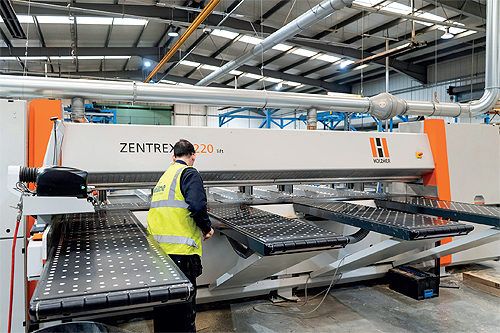 the same price or less than traditional craft methods, which are built 30 percent quicker with half the defects. The project has the potential to impact 35,000 homes being delivered by AIMCH partners across the UK, each year.
"We also have many local projects with particular challenges where our consultative approach helps them meet their specific needs. We're focused on helping our clients with the challenges the market faces at the moment. Where there are labour shortages, our off-site construction method can help meet their build demands on site. The current environmental crisis means we can help clients reach their carbon targets as well," Rod shares.
Being able to take on projects of this extent is owed significantly to its impressive facilities, which are able to accommodate contracts of this scale. "We are in the process of renewing and upgrading our factories beyond the current capacity of 10,000 units per annum. Although this stalled slightly during the pandemic, we are progressing major investments in new machinery based on tried and tested robotic technology from the automotive sector and a new ERP computer system across the whole company," Rod shares.
On the note of the consequences of Covid-19, throughout the pandemic, the business remained in top shape to provide regular communication with staff across the board using new technology to facilitate this. "We held a monthly director's brief to keep staff updated; individual teams hosted monthly sessions, we had virtual office meetings, and we have introduced a working party to focus on our hybrid working solutions so our business remained ready for the next chapter.
"Since the start of the pandemic, we implemented the appropriate steps regarding the health and safety of all employees, adhering to the 'work from home' policy where possible and implementing advised safety measures throughout the factories,offices and sites," Rod says.
In both the factories and on-site, it has implemented safety measures across all of its facilities, where sanitising stations were built, social distancing measures were implemented, and staff were communicated with regularly regarding restrictions. "One of the key changes that we made was to adopt virtual communication tools to deliver a seamless service for our customers, especially with regards to the open days, factory tours and training modules that we provide. Our Technical Development Manager, Simon Horn, delivered a series of training modules via webinars to clients including Taylor Wimpey, London & Quadrant Housing Association, Countryside Properties, and a consortium of Hertfordshire housing providers, using the Microsoft Teams online platform with great success. We created a virtual factory tour and a product gallery presentation to recreate all elements of an in-house open day.
"Feedback from attendees has been overwhelmingly positive, so much so that plans are now in place for our online training sessions to continue in the months and years to come, in tandem with on-site training for those visiting the Witney facility. It has opened the doors to people from all areas of construction; from site managers and business development managers, to administration staff and construction workers, to access new learning tools further developing their knowledge of the industry they work in and the myriad benefits of timber frames," he adds.
Of course, one of these advantages to timber includes its positive contribution to the environment. With a sustainability mission to lead a greener, faster housebuilding revolution, Stewart Milne aspires to be a net zero carbon business. The focus is to develop a culture of sustainability across its business to ensure that its employees become ambassadors for doing the right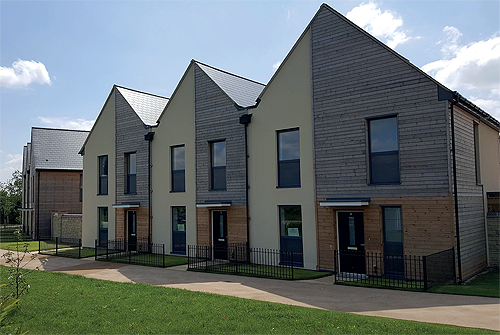 thing for the planet and the company's products. "Our ambition is to minimise our use of materials and energy, reduce waste generation and maximise low carbon opportunities through our own activities and those of our clients where we can influence them," he explains. In the same vein, the business's ambition is also to work in partnership with its supply chain and installation partners to operate responsibly and resource its materials efficiently. This is to ensure that its use of timber to provide build systems allows customers to build with a greater environmental awareness.
"We actually have a decent sustainability track record. Working with timber frame for over 45 years means that we have been contributing positively to the low carbon targets of the UK for some time now. For example, we have worked on building low-energy housing with the AIMCH award winning project. We built the Sigma Home, the UK's first near zero-carbon home in 2007, we have a library of case study examples such as building a zero-carbon community with the Eco Village build in Bicester, and in 2020, we won the HBF's 'Best Building Fabric Energy Efficiency Product' with our Sigma® II build system," he informs us. As we know, low carbon housing will help meet future energy needs and have a positive impact on addressing climate change issues, which is why the company believes that building with timber is the only way forward.
Given the continued challenges of carbon use, a shrinking labour force, and a need for an improvement in housing quality, Stewart Milne believes that there is the opportunity for its business to grow in both size and coverage across the UK, and take advantage of an increasing number of housebuilders who are seeking a solution to the challenges ahead of them. "Housebuilders are turning more frequently to the use of offsite methods of construction, and we have seen a great deal of repeat business with the major housebuilders that we have worked with over many years. We can build at a pace that suits our clients – whether to a tight deadline or over a longer period – and we have the capacity to match their needs whilst solving their build challenges," he expresses. All of this has been facilitated by creating the right conditions for growth for the people that deliver for its customers on a daily basis. Stewart Milne has also introduced easier tools for data analysis in order to cope with unforeseen circumstances, and in doing so, the company has successfully reduced the amount of paper and rekeying of information, which has allowed for more time to plan critically and carefully.
Rod then emphasizes that above its impressive achievements to instil sustainability into its practices, these achievements would not be possible without its devoted and dedicated team. "We have a really good balance of staff and there are many who have a long tenure with us. Together with our newer staff, who bring in ideas for different ways of working, ambition and innovative suggestions are helping us to lead a dynamic company culture and higher staff retention," he praises.
As it strives to continually improve its infrastructure, looking ahead, Stewart Milne is proposing to create a new manufacturing facility in the Abbotsford area of Falkirk, Scotland, to produce approximately 5000 units per annum for Scotland and the north of England. "Our planning application is currently going through the Planning System so we have a bit to go before it is certain. The factory is designed to accommodate two phases of product development. Firstly, we produce our current product for the Scottish market and in phase two, we produce the Sigma® II closed panel system with an upgraded machinery. Our ability to forecast and predict demand has been developed over the last few years to make sure we deliver as smoothly as possible in what is a difficult sector to get date certainty," he says. With a robust and strategic plan to double the size of its business in the next five years, Rod is both excited to be part of the company's ongoing success and proud of the team with whom the success is shared.
Stewart Milne Timber Systems Ltd
www.stewartmilnetimbersystems.com
Services: Timber frame manufacturer