LED lighting – is it worth the investment? Ken Eddleston explains why more businesses are implementing these solutions
The importance of lighting strategies is often underestimated. They can have a major impact on a business' bottom line, eco-credentials, health and safety and much more. What many people don't appreciate is that LED lighting plays a crucial role within these strategies, boasting benefits far and wide.
Sustainable thinking
LED lighting is energy efficient. This is a big asset to businesses, especially at a time when the majority are striving to be more environmentally friendly.
LEDs use far less energy compared to the fluorescent alternatives. In fact, our latest luminaire, the Protecta X, is 50 per cent more energy efficient than the average fluorescent light and allows businesses to get the same performance for half the power consumption, reducing costs in the process.
For luminaires, the input wattage and lumens are documented, and a calculation of lumens per watt acts as the efficiency metric. The most efficient lights will perform with a power factor (PF) above 95 per cent and a total harmonic distortion (THD) below 15 per cent. The drivers used to power LEDs have very high PF and low THD values.
In addition to this, decision makers and consumers are increasingly making their final purchasing decisions based on an organisation's sustainability credentials. Buyers look at the quality of the product, the level of service, and then a company's moral compass, using this as the deciding factor. It therefore makes good business sense to be 'green'.
Health and safety
Following on from this, staff health and safety also benefits from the implementation of LEDs. The most effective lighting systems enhance safety through reducing the load it's asked to endure, lessening the risk to workers.
LED lights remain cool as a result of heat sinking, which wicks and dissipates any heat generated into the air. This is important because when the maximum surface temperature of a light exceeds certain limits, the risk is that it could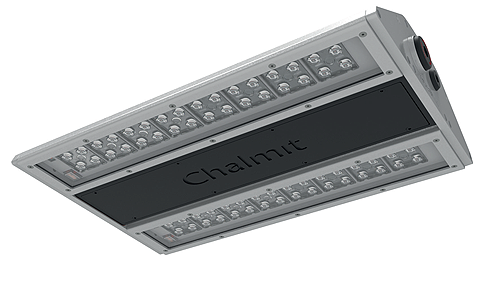 ignite any combustible gases that might be surrounding it. This is a genuine possibility when operating in hazardous environments. Lighting in such areas also needs to be able to operate spark free, otherwise workers are put in danger of accidents or even fatalities.
It is unsafe to perform high precision tasks in heavy industrial environments in dimly lit conditions. Workplace safety can be improved with highly directional and uniform LED lighting that has good colour rendering credentials. Colour rendering indicates the degree to which a light source shows the true colours of the object it illuminates. Indeed, LED lighting has specialised optics, which can deliver the output of a much larger linear light, generating a bright, white output over a desired area.
I believe that the safety of workers should always be the number one priority, especially those operating in hazardous environments, no matter the financial impact. This is particularly important to remember when working in fast-paced industries because the focus is so often on the product (or service). With up to 40 per cent of businesses never recovering from major interruptions or disaster, it is clear to see the importance health and safety plays within any organisation.
LED longevity
LED lighting can also have a major impact on the amount of time and money a business spends on ineffective systems. When it comes to the lifetime of lights, having a long-term LED system in place dramatically reduces the need for products to be regularly replaced and for workers to maintain ineffective systems.
In fact, fluorescent and incandescent light bulbs often fail to reach their predicted lifespan, mainly because of their moving parts, which include unstable filaments that are vulnerable to damage. As a practical example, the Protecta X has a system life of over 120,000 hours at 25°C, whereas a fluorescent luminaire will need relamping every 18,000-20,000 hours. Installing the LED option, opposed to the latter, creates five fewer maintenance visits, meaning that workers can be redeployed more effectively to other areas of a business and less money is spent on replacing the lights themselves.
Business precision
LEDs can reduce light pollution through the use of primary and secondary optics, delivering light with minimal spill. They also minimise the number of luminaires required to illuminate a workplace effectively, due to their efficient output and focused distribution. Combined with impressive colour rendering, employees are provided with more accurate lighting, which eases precision tasks such as quality checks and reading gauge measurements.
In its most simplistic form, and thanks to its notable colour rendering, LED lighting also reduces the risk of slips, trips and falls. At the opposite end of the spectrum, it can be more effective in alerting passing shippers and guiding in helicopters. When comparing the performance of luminaires across both traditional and LED lighting, the focus should be on the usable light on the work plane determined by the lux reading. People shouldn't simply compare different lumen scores as, given its more directional nature, LED lighting requires less lumens than traditional light sources to achieve the same performance.
Greater control
My final area of concentration is control. LED lighting provides decision makers with the ability to incorporate a variety of controls, including motion sensors. This not only prolongs the life of the luminaire but also significantly reduces the amount of energy being used, only exploiting the light when people need it.
In a similar vein, when used with photocells, LEDs are able to detect the conditions outside. So when it is daytime, the system will dim or turn off, and do the reciprocal action when it is dark, turning the lights on or increasing the brightness to maintain sufficient levels for workers. This is not only effective from an employee point of view, but also highly efficient from both an environmental and monetary impact.
Conclusion
With competition fiercer than ever, businesses need to make sure they are doing all they can to stand out above the crowd. Implementing LED lighting is one way of allowing the business to be better from a financial and moral standpoint, particularly when decision makers are increasingly basing their decisions on these factors.
Ken Eddleston is Lighting Product Manager at Chalmit, the leading manufacturer of lighting for industrial, harsh and hazardous environments. Chalmit has a deserved reputation for producing luminaires of the highest quality and with technical innovation always in evidence.
For more information, please see: www.hubbell.com/chalmit/en/