Ollie Plastow takes a look at creating Covid-ready workspaces
As the UK government urged us all to head back to work in city centres, there were mixed feelings amongst employees and managers alike. Almost 50 per cent of UK employees have been working from home either full or part-time over the last few months according to ONS – and many large companies have announced that they have no immediate plans to bring their teams back, with the likes of Google and RBS instead planning for a return in Summer 2021.
For many, the return to a central HQ is a welcome development – both for business development and staff morale. The key is to do it right: those offices reopening will need to refer to government guidelines and plan thoroughly, to ensure that everyone is aware of the rules and knows how they are being followed.
In recent years, the 'office' has changed quite a bit – but we were already prioritising staff wellbeing through design; Covid has just made it all the more essential. Changes will need to be made but that doesn't mean that style or good design needs to be scaled back, and it doesn't mean you have to plan a complete recalibration. With some simple adjustments, your office interior can be fitted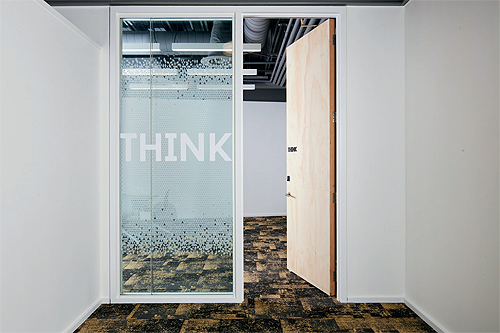 out to perform effectively and efficiently in time to welcome in the next era.
Kitchens
It's the number one communal area for most organisations – and whether your kitchen is a bench with a kettle or a full canteen, there are ways to make it more Covid friendly. If there is space, consider creating a one-way system: in simple terms, this means duplicating everything. Two sinks, two microwaves, two kettles, two fridges. Create a flow with a barrier down the middle, that way people can still socialise and engage safely. If your kitchen is smaller, a one in one out system will need to be managed, with clear signage communicating the rules. If you operate a larger canteen, then the creation of shifts and zoned areas will minimise the number of employees using the space at any one time. Floor queue points will need to be created, cashless systems put in place and increased cleaning after every use.
Bathrooms
The same rules apply for your bathrooms – you will need to apply the one in one out rule if your bathrooms are small. If they are larger, look to create a one-way system. Signage will be key. Existing cleaning products will need to be supplemented with easy touch antibacterial dispensers and more waste disposal options and increased rubbish collection – and it will be vital to increase the frequency of everyday and deep cleaning.
Meeting areas
We don't know whether there will be more waves which could all impact on our ability to socialise or meet indoors, so it may be worth reducing your general meeting and communal spaces for now, and encouraging your staff to head outside. If you have the option, create a more attractive outdoor area or challenge your team to have walking breaks and meetings.
Increase ventilation
Consider knocking walls through: many offices / workspace interiors have stud walls anyway and even if not, it's actually quite simple to knock a wall down to open up a space.
Fresh air has always been healthier than air conditioning so if you have outside walls in your buildings, consaider adding more windows.
Materials and details
Think about anything that will be touched – keypads, grab-rails, lift buttons, light switches, door handles, chairs – and adapt. Enforce clear desk policies – IT equipment only – and fit vinyl flooring over carpets. Have hardwood chairs instead of fabric. Fit push-open cupboards instead of using handles. These changes may feel a bit of an outlay, but in the long run, they are way more cost-effective to clean and maintain and will encourage a new hygiene-aware way of working that will soon become the norm.
There is no denying that post-Covid, things are looking a little different – but this doesn't mean you have to plan a complete recalibration. With some simple adjustments, your interiors can be planned to perform effectively and efficiently in time to welcome in the next era.
It could actually make the workspace a more healthy, pleasant place to be for the long-term, which can only be a good thing.
Ollie Plastow is project director at Consensus Workspace, an interior fit out company with offices in Greater Manchester and London. Working across the UK, the team offers a full dedicated and expertly crafted solution to workspace needs and goals. Clients include infrastructure, transport and real estate conglomerate The Peel Group, commercial real estate services company CBRE, national top end serviced office provider Orega and accounting giant Deloitte.
For more information, please see https://consensusworkspace.co.uk