Established in 1947, and passionate about quality engineering, Thomasons is committed to the creation of safe, efficient and sustainable environments that draw on the latest design techniques
Exceptional engineering
Established in 1947, and passionate about quality engineering, Thomasons is committed to the creation of safe, efficient and sustainable environments that draw on the latest design techniques
Professionalism, integrity, reliability and independence, that is our mantra and it has served us extremely well over the years." Those are the words of Thomasons' Director Nick Russell, and with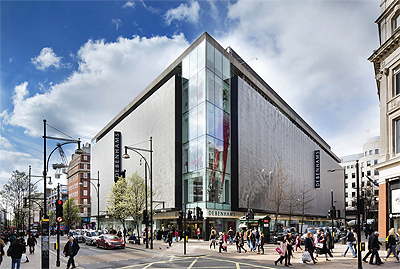 the company having celebrated its 70th birthday in 2017 there is clearly much truth in them. With nine offices strategically located across the UK, providing employment to approximately 125 supremely talented men and women, it has grown into one of the most established independently owned consulting engineering firms in the UK.
Having carved out a deserved reputation for engineering excellence, innovation, creativity and customer service, Thomasons undertakes commissions in many areas of civil, structural and glass engineering, including major town centre redevelopments, residential, retail, healthcare, education and leisure projects.
For his part, Nick, a chartered structural and civil engineer with several decades of experience, has been with the business for the past 33 years and has witnessed its growth and success first hand. "An important contributor to our success is not only the fact that we have spread our activities across a diverse range of sectors, but that in each project we undertake we look to identify all the ways that we can exceed our client's expectations," he explains. "We believe that what sets us apart is that we are very responsive, always identifying ways to work more cost effectively and operate creatively. We have some extremely bright minds under our roof, both young and older, and it is our people who really help to drive the business forward."
Nick believes that a number of the unique skills and qualities of the company have their roots in Thomasons' activities within the fast-moving retail environment. It is here that the company's long-standing relationships with numerous high street names have helped shape their respective developments over the years. "Our longest established client is Debenhams, for whom we have worked on a large number of its high-street stores over the years, delivering engineering and building surveying services," he continues. "In the case of Harvey Nichols, we have worked with them since the 1970s, and more recently we have worked closely with Selfridges for the past ten years, investing a great deal of time and effort to become embedded in what they do and playing a key role in how each brand wants to grow."
The healthcare industry is another area in which Thomasons has an important role, contributing significantly to numerous high profile projects over the years. One of the more recent examples of its work can be seen in the soon to be completed Chase Farm Hospital, a £150 million project in Enfield, the largest contract ever secured by the company's London office. The project has involved the replacing of existing, outdated buildings with a new build hospital, complete with wards, theatres, urgent care and day surgery facilities, a new energy centre and an extended car park.
Industry expertise
"In the meantime," Nick adds, "we have also continued to make strong headway in other sectors such as private and tertiary education, and residential housing, as well as in the field of glass engineering. We are also beginning to make moves into industrial work by expanding our civil engineering department. This will allow us to take on projects such as those involving roads and drainage systems, as well as pre-planning activities including feasibility studies, flood risk assessments and soil engineering, to name just a few."
As Nick goes on to detail, the expertise that Thomasons has built up over the years means that to many of its clients, it is much more than just a service provider, helping to channel ideas and best practices to create a profitable outcome for all parties."In the case of one project based in Gloucester, the client was looking to transform seven and a half hectares of undeveloped, unused railway sidings into a residential scheme," he recalls. "We were asked to put together a plan for remediating the ground, and after much investigating we helped the team conclude that a residential
development wouldbe prohibitively expensive, and that a retail park would be a much more viable option. As a result of our investigations and the evidence we gathered over a number of months, we managed to prove the case for a change in approach and this was ultimately able to allow the site to deliver value to the client."
Raising awareness
In addition to his work with Thomasons, Nick also has strong ties with the Institution of Structural Engineers, becoming the organisation's 94th President in 2014, and is currently Chair of the Joint Board of Moderators, which accredits civil engineering degrees. Much of Nick's efforts in both roles have centred on shaping the education landscape of the industry. In the case of the former, he was part of efforts to extend comparability exams into parts of the world including China, Singapore and the United States, while his current remit has been to work towards the revision of guidelines for civil engineering degrees.
"One of the other things that I am promoting at the Joint Board of Moderators is to challenge the universities about the criteria they set out in terms of which A Levels they expect civil engineering degree candidates to havewhen enrolling," Nick enthuses. "At the moment, much of the emphasis is on maths, physics and technology qualifications. What we don't see at the moment isan appreciation of subjects such as art, economics and sociology, for example. Engineering is, after all, not only about nuts and bolts, but about the Built Environment, and I believe that by changing traditional attitudes universities can access a much wider pool of potential talent."
As Nick tells us, somebody once said to him that they considered Thomasons to be one of the industry's best kept secrets. While this was a compliment, it also spurred him on to want tocreate a greater awareness of the company's fantastic engineeringcapabilities, a goal that continues to be a part of its continuing five-year business plan. "Achieving this aim requires us to build even greater links with our clients, expand the civil engineering services we offer and maintain the high level of quality that we possess," he adds.
"We always take a long-term view of where we want to take the company, trying to best identify where we are going to be in five or ten years time," Nick concludes. "When it comes to succession planning, we want to retain the fact that Thomasons is a company that is relevant to both the people within it and those it works on behalf of, and this is done by creating an organisation where anybody can succeed to the level that they want to. That is the kind of company I want to look back on in ten years time myself, one that is thriving and going places."
Thomasons
Services: Independent civil and structural engineering consultancy