Lawsons (Whetstone) Limited
Operating throughout London and the South East of England, Lawsons prides itself on its hard-earned reputation for being a professional, responsive and knowledgeable one-stop timber, building and fencing merchant
People before profits
Operating throughout London and the South East of England, Lawsons prides itself on its hard-earned reputation for being a professional, responsive and knowledgeable one-stop timber, building and fencing merchant
Putting people first'. Rather than being some kind of marketing slogan or gimmick, this is a phrase that repeatedly comes up when discussing the work and success of Lawsons (Whetstone) Limited. Established in North London in 1921, this one-stop timber, building and fencing merchant, and loft conversion materials supplier is today owned by John Lawson, the thirdgeneration owner of the company, a man for whom regard for people is a guiding principle. The reason he gives for this is simple, it is because it is people who are the driving force behind every good business.
"The strap line of the business is 'Family Values – Professional Service', and this encapsulates what Lawsons is all about," explains Managing Director, Paul Sexton. "We are a customerfocused, family business with a professional attitude, and this is underpinned by our Trading Charter and our Lawson's Family Values document. The Charter publicises the values we hold dear in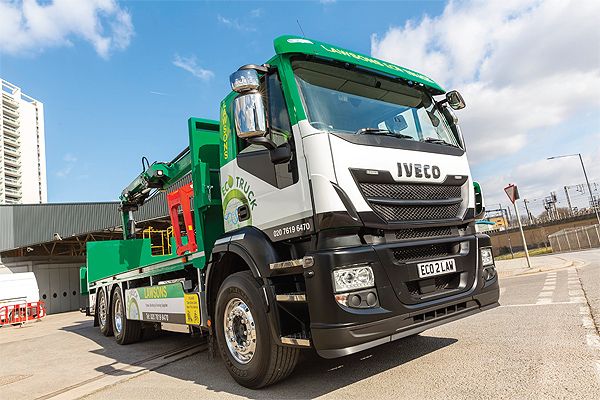 everything we do, including adopting a personal approach, striving to supply everything a customer needs to complete their job, delivering to site on time, responding to all enquiries promptly and serving our customers in the right way."
The latter document, meanwhile, sets out the many ways in which the company aims to provide the best possible working environment by promoting job security and honesty, empowerment, a sense of belonging, a fair job package, promotion prospects and excellent working conditions. "We take huge pride in the fact that we are sincere when we say that we put people before pound notes, as it were," Paul enthuses. "The results we achieve as a company come as a direct result of the hard work of our employees, so it is only right that we put them and their needs first."
The welfare package offered by the company is certainly one of the most generous that this writer can remember discussing, and includes providing every member of staff with salary protection insurance against critical illness for five years, annual health checks that it has dubbed 'Know Your Numbers', and an employee assistance programme to provide any type of counselling or support that may be required. In addition, Lawsons also hosts a number of company-wide activities and events throughout the year, including its annual Family Fun Day, a Black and White Ball in aid of various charities, and its Kids Christmas Party, which sees John Lawson donning Santa's trademark costume and beard.
It is hard to overstate the role played by Lawsons' employees over the years, helping to energise a business that Paul himself admits came out of the recession of 2008 close to insolvency. "We, like many others around us, were hit by the financial crisis that took hold a decade ago and, in the time that followed, we really had to work hard to get back on our feet," he states. "One of the things we identified was that we already had the required skills and tools in place to truly establish ourselves as a key player in the loft and basement markets, specifically in the field of repair, maintenance and improvement (RMI), in the London and M25 corridor area.
"In London, in particular, the sheer volume of homes means that for many people, when they need to extend their properties they look to do so through the addition of a loft or a basement. A basement can be especially beneficially as it provides owners with the opportunity to expand out under their above ground premises, creating more space and ultimately greater property value. The end result for us, as a business, has been a significant contribution to the last seven years of record breaking turnover we have achieved."
Manpower drive
This increase in business understandably required investment in both equipment and manpower, the former including the expansion of Lawsons' fleet. These vehicles are often replaced every seven years, keeping them in line with the latest emissions targets, and the newest addition to the line-up is its first IVECO natural gas-powered Eco Truck. Fitted with a fully electric Hiab crane, it is also the first vehicle of its kind in the UK to offer ultralow emissions deliveries to the building industry. The custom-built 26 tonne truck is powered by compressed natural gas (CNG) and omits 70 per cent less NOx, 99 per cent less particulate matter, and up to 95 per cent less CO2 when using biomethane. Combining the vehicle technology with the Hiab electronic power take off system (ePTO) also allows for the engine to be switched off during unloading, reducing truck emissions to zero at the point of delivery.
Meanwhile, when it comes to the company's manpower drive, Paul channels a message that he looks to share with his team whenever possible and that is that Lawsons 'employs attitude and teaches skills'. "We are proud to be recognised as a market leader when it comes to our training and development programme, which is supported by a substantial training budget," he adds. "At a grassroots level, we are also a part of a nationwide team working to develop standardised apprentice training for our industry. For our own part, we have a target to recruit a total of 16 apprentices this year, and we can also take pride in the success of our graduate programme and the work that we are also now doing to develop the skills of people not currently in employment or education."
When our discussions turn to the issue of what the future holds, Paul has an optimistic response and that is, 'more of the same, but on a bigger scale'. "We are always looking at ways in which we can grow, albeit not to the detriment of our existing staff, targeting niche markets such as the loft and basement arena, but also landscaping, which is an area of potential for us going forward," he reveals. "We like to think of ourselves as a tug boat within our industry, as opposed to an oil tanker, by which I mean we have the flexibility to adaptquickly to changes in the financial environment. At the same time, we continue to strive to achieve best-in-class results, which we do by remaining grounded. This has no doubt helped immeasurably in making Lawsons the third most financially successful independent business of its kind in the UK."
Lawsons (Whetstone) Limited
Services: Timber, building and fencing suppliers