Vitalo Global Thermoforming
With a history that dates back to 1936, Vitalo Global Thermoforming has grown to become a leading name in the fabrication of plastic parts and systems for industry
Top form
With a history that dates back to 1936, Vitalo Global Thermoforming has grown to become a leading name in the fabrication of plastic parts and systems for industry
Today the company employs more than 700 people and boasts a turnover of €70 million. It carries full ISO 9001 and 14001 certification and through more than 75 years of experience it has developed a comprehensive knowledge base of expertise in plastic processing technologies including, thick and thin gauge thermoforming, insulation materials processing and thermo-compression of natural and synthetic fibere. This has allowed Vitalo to enter into a diverse portfolio of markets including electronics, medical, industrial applications and mass transport.
With manufacturing facilities throughout the world, Vitalo is able to expertly serve its customers both promptly and efficiently. Its manufacturing facilities are located in China, the Philippines, Thailand, India, Slovakia and Belgium. In addition to its manufacturing base, the company is headquartered in Belgium, where it maintains a competence centre, which is complemented by further centres in China and the Philippines. Within these locations, Vitalo serves its varied markets, with applications ranging from protective packaging to heavy gauge machine panels, as global innovation project leader Steven Meyns observes: "Our electronics market is currently focused in the east, in countries like China, India, the Philippines and Thailand. In the Philippines for example, we are currently doing a lot of work for hard disk drives and in China we are doing a lot of work for the telecom industry.
"Moreover, in Belgium we are currently very strong in agricultural machines. These are the larger machines such as harvesting equipment, where the materials used in the market are generally the same as those used in construction equipment. For every market segment our customers are the market leaders."
A key part of the success of Vitalo and its use of thermoform technology is that it has an in depth understanding of the process and the advantages that its finished products are able to offer. "Our strength is that we know about thermoforming, we know the market and we also produce for all of the major customers within our markets," says Steven. "We have a strong knowledge base in design, so when our customers have a design on paper, we can help them make it in real time. We produce cabin roofs by twin-sheet thermoforming for example; this is typical in industrial vehicles and construction equipment, where if you have a metal roof there is no design freedom. However, we can make a plastic roof that is durable and has good design freedom and does not need to be lacquered, has very good gloss properties, so it's a very different mindset."
The company's success is further powered by its use of varied production methods and technologies. Its foam processing applications date back to its inception and today are commonly employed within its thermal and sound insulation market, where it is also able to offer consultancy services to offer customers the very best in performance. Later, during the 1950s, Vitalo diversified into processing with plastic and began on the path that would see it take its market leading position today. Its thin-gauge applications allow it to work with material at a maximum thickness of 1.5mm in a wide variety of materials and techniques, including thin-gauge thermoforming and high-pressure thermoforming of complex components assemblies. Typically, products produced via thin-gauge thermoforming are trays, blister or clamshells and often more cost-effective than standard injection molded parts. Other key advantages of this style of fabrication are the introduction of multilayer solutions and the ability to create thicknesses  less than 0.5mm, which is the minimum for injection molding.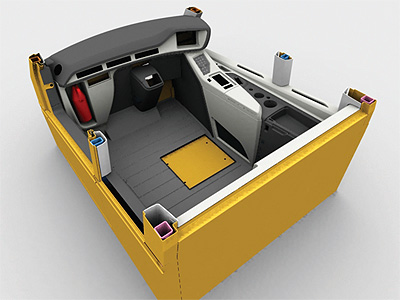 Heavy-gauge forming employs the same basic process as continuous thin-gauge sheet forming; this typically involves draping a heated plastic sheet over a chosen mold. Often, heavy-gauge applications rely solely on vacuum in the form process, however some employ two halves of mating form tooling and apply air pressure as an aid to form. In comparison to thin-gauge forming, heavy-gauge parts are often hand-worked after forming for trimming to the final intended shape or additional drilling, cutting or finishing. Heavy-gauge protects tend to meet the requirements of the 'permanent' sector of the market, while thin-gauge products are more often used as disposable or recyclable items, such as packaging for food or other products. Production quantities of heavy-gauge thermoforming are averaged between 250 and 3000 units annually, while the process tends entail lower tooling costs and faster product development than competing plastic technologies.
As the company moves into 2014 it is readying itself for the challenges of a relatively fluid market and the demand for larger products, as Steven concludes: "The challenge at the moment is that everything is getting bigger and bigger, however we are looking into investing into larger machines to follow the market. The machines we use are custom made. For thermoforming, if a company is designing a machine with a very large side panel, for example and it is too large for our machines we offer solutions to split it into several parts. However, if the design absolutely needs such a large part then we would look to invest into a new machine to produce the panel. Of course we would have to look at volumes before we invest in a new machine, to ensure it is sustainable.
"We have four main markets at the moment, which are electronics, industrial applications, railway and medical. As we have seen in 2008, with the global economic crisis, the industrial market can decrease a lot, as much as 60-70 per cent. We offer a diverse range of products so have remained strong, but have decided to increase our market share in railway and medical equipment."
Vitalo Global Thermoforming
Services: Thermoform fabrication