From the Shard to Windsor Castle, Aggregate Industries has been involved in some of the most prestigious projects in the UK. What unites them all, from large to small, is a dedication to the customer, and the environment
At the heart of construction
From the Shard to Windsor Castle, Aggregate Industries has been involved in some of the most prestigious projects in the UK. What unites them all, from large to small, is a dedication to the customer, and the environment
Aggregate Industries' history stretches back to 1858, and its early beginnings at Bardon Hill Quarries in Leicestershire. One hundred and sixty years later, and the company is positioned at the frontline of the construction and infrastructure industries, producing and supplying an array of construction materials.
As François Pétry, who has been the company's CEO since 2015, began by explaining, Aggregate Industries is now a total resource for its clients, and is able to supply everything they may need, ranging from aggregates, asphalt, and ready-mixed concrete, to precast concrete products. "This includes domestic and commercial landscaping products such as concrete paving, walling and edging, asphalt, masonry, walling blocks, roofing tiles and ready mix concrete, along with paving and kerbs, just to name a few," he stated. "On top of that, we produce, import and supply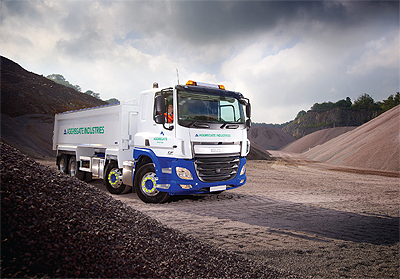 construction materials, export aggregates and offer national road surfacing and contracting services. Overall, we offer a full range of products, which help our clients work sustainably, safely, professionally and profitably."
Furthermore, Aggregate Industries offers a range of technical and design support services. These include providing computer-aided design, project co-ordination and technical and design advice from product specification to installation procedures.
"We have grown through a series of acquisitions over the last 30 years, and will continue to grow in that way," François continued, by way of explaining the multitude of services Aggregate Industries now offers. "Each of the businesses that have joined us has its own history and experiences and we think it is important to capture and preserve those, both for our benefit now and for the benefit of future generations."
The most recent of these transactions occurred earlier in 2018, when Aggregate Industries acquired the Kendall Group, allowing it to expand operations in the South of England. "The region where Kendall is active is expected to benefit from above national average growth, especially in the housing segment. It will also enable us to enter the dredging business and secure a long-term position in this attractive market segment," explained François. "The Kendall Group perfectly complements our existing activities, both in the geography of its operations and its product offering. The company has a great track record, employs great people and shares our dedication to providing our customers with high quality products and services."
Clearly, Aggregate Industries is no stranger to company integrations, with the business itself part of industry giant LafargeHolcim, which was created through the merger of Holcim and Lafarge. "We have seen a number of benefits from the merger, which include building synergies and realising the benefits of our global position by increasing profit. We also benefit from LafargeHolcim's leading R&D facility based in Lyon, making adaptations for the varying from large construction companies to DIY consumers, each having different needs and expectations," François clarified. "Knowing our customers requires us to thoroughly understand their needs and expectations in an ever more challenging construction industry. Through this, we can better identify and subsequently offer tailored and innovative solutions to their demands. Placing our customers front and centre, is how we can differentiate ourselves from our competitors."
To give an illustration of both an Aggregate Industries customer and the high-profile projects in which its products are utilised, let us look at a very recent commercial build in Edinburgh city centre. The £24m 2 Semple Street development has been designed to help alleviate the Scottish Capital's chronic shortage of Grade A office accommodation. With an onus on energy efficiency and superb design, the newly-opened building boasts 45,000 sq ft of cutting-edge office and retail space, over five storeys. Innovative product
In terms of the flooring specification the challenge for awarded concrete and screed specialists, Advance Flooring Solutions, was to procure a concrete solution, which would enable minimal size slabs and help reduce the overall dead load of the building.
The obvious choice was Lytag from Aggregate Industries; a highly innovative lightweight concrete, which is incidentally celebrating its 60th anniversary in 2018. Lytag can effectively reduce the dead load of approximately 25 per cent over normal weight control, while offering the same level of structural performance. In total, 744m3 of Lytag was supplied for the completion of the five floors over the course of eight months at Semple Street.
Best practice
Indeed, such are the benefits of Lytag that London's skyline could look very different today if this particular product didn't exist; having been used at Heron Tower, the Cheese Grater, Tower 42, the Gherkin, the Walkie-Talkie, London's tallest icon of all, the Shard, and even 70 St Mary Axe – the latest skyscraper set to transform London's skyline.
The organisation is incredibly proud of being at the heart of construction projects such as these, and furthermore, Lytag is also a perfect illustration of how Aggregate Industries is contributing to the transformation of the industry to a more sustainable future (Lytag is made from the fly ash generated by coal fired power stations). "We pride ourselves on best practice in sustainability -having become the first company to be certificated to BES 6001, The Framework Standard for the Responsible Sourcing of Construction Products, developed by the BRE (Building Research Establishment) and a founding member of the UK Green Building Council," noted François. As a part of this it has been addressing a variety of issues, such as health and safety, quality control, ethical trading, carbon and water management, biodiversity, and social responsibility, so that it can offer customers only the very best sustainable solutions.
Not just a green product but also highly inventive in its nature, Lytag can also be used as an allegory of the dedication to innovation that permeates the whole of Aggregate Industries, as François acknowledged: "We are always pushing to create innovative solutions which have a positive impact on the world and communities we live in," he stated. Further proof of this was announced earlier in 2018, when Aggregate Industries launched its Innovation Strategy for 2018. François explained its purpose: "This sets out our priorities for the year and beyond. In the past, without a formal structure, innovation was harder to define and it was tough to filter ideas. Using our six focus areas, we are now proactively and working more closely with our innovation partners to further our developments."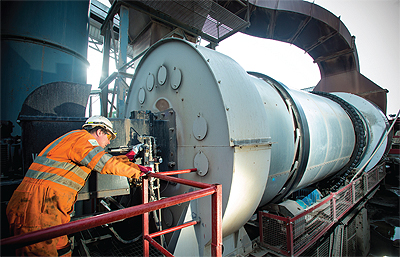 The six key areas of focus highlighted by Aggregate Industries include Robotics and Artificial Intelligence, Virtual and Augmented Reality (VR & AR), Digital Engineering, Smart Materials, Offsite Construction and Blockchain. "We chose to focus our energies on these innovations due to their potential to positively impact our sector. For example, smart materials could be revolutionary, especially for construction, as they will enable companies to look beyond just functionality and into a world where materials can provide a range of additional benefits.
"What's clear, is that our innovation journey will be underpinned by digital transformation; supported by technology and empowered by data, as we and our customers operate in an increasingly digital environment."
This dedication to innovation is also a feature of all Aggregate Industries' sites -from its Glensanda super quarry on the west coast of Scotland, to its facilities on the south coast of England. The network of facilities is the powerhouse of the business, not only through providing valuable materials and services, but also through their contributions to the wider community. As recently as June and July 2018, three of Aggregate Industries' sites were visited by their local MPs, in recognition of their hard work and the influence they have on the building and maintenance of roads and local infrastructure. Royston Smith, MP praised the 'invaluable contribution' of Aggregate Industries' Eastleigh depot, a sentiment also echoed in June by Gareth Snell, MP when he acknowledged Aggregate Industries' Express Asphalt site in Stoke for its 'vital role'. In the same month, Gavin Shuker, MP visited the Luton Express Asphalt Plant to learn about its activities, and again highlighted the importance of its contribution.
£80m investment
Aggregate Industries is continuously working to improve these sites, and this year it is developing a quarry extension at Bardon Hill. "This is a very exciting project in which we are investing £80m," commented François. "It will allow us to operate in the Midlands for the next 25 years -adding value to Leicestershire and stimulating the local economy. We are also creating employment opportunities – more than 200 contractors will be employed to work on the project during its peak, nearly all local operators. This project also ensures sustainable employment for the long-term."
Across all its 330 sites Aggregate Industries employs a team of 4100 dedicated staff, and as François noted, they are involved 'in all phases throughout the construction process from conception to build'. He then moved on to highlight how Aggregate Industries is addressing a very important human resources issue, that is currently under the spotlight in the industry but one which the business has been looking at for a while, and where it has been seeing great results: "We pride ourselves on being a forerunner when it comes to tackling the very prevalent issue of mental health in our sector," he said. "Our 'Healthy You' programme, which was set up four years ago, focuses on helping employees in all aspects of health – including mental health and mindfulness. Key activities include a mental health awareness course, run in partnership with Mental Health First Aid England, the provision of training at management level to help identify and help support employees affected by mental health issues and various awareness campaigns. This commitment has reaped rewards – tellingly, the number of referral counselling cases that were made decreased by 18 per cent in 2017 when compared to the year before, with the number of counselling sessions also seeing a reduction."
Future growth
In a market facing a range of future challenges, Aggregate Industries' willingness to embrace change is both reassuring and impressive, and as François concluded, the company is confident that the UK will remain strong, and he believes the coming years will offer promising new options for growth. "There is a clear long-term requirement for housing and large-scale infrastructure projects and a clear commitment from the government to deliver these. In turn, we will continue to bring our best construction solutions and services to the market to help deliver these projects and this is where we see potential growth for our business," he said. "Looking further ahead, once these requirements are met, there will still be an obligation within these markets to improve the sustainability and durability of housing and infrastructure, which will create ongoing opportunities for our sector."
Aggregate Industries
Services: Produces and supplies everything from aggregates, asphalt, ready-mixed concrete and precast concrete products to highways contracting