Balloo Hire Centres is investing heavily in its six depots on the Island of Ireland, as the plant, equipment, welfare and tool hire provider looks to grow its business, targeting future development in the rest of the UK and Ireland
The right equipment
Balloo Hire Centres is investing heavily in its six depots on the Island of Ireland, as the plant, equipment, welfare and tool hire provider looks to grow its business, targeting future development in the rest of the UK and Ireland
There are no large or small jobs for Balloo Hire Centres. Every customer request is treated with the utmost attention to ensure that the right solution is found at all times – a trait that has enabled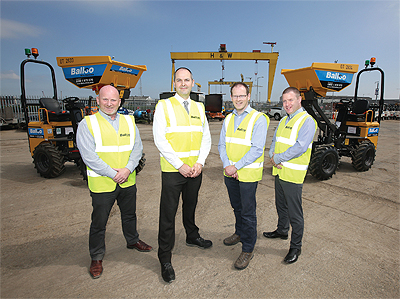 the plant and tool hire provider to grow into a trusted nationwide company, both sides of the border. Balloo Hire has been serving the country's business and domestic markets since 1987. During its over 30 years of existence, its hire fleet has grown to well over 9500 units across a product range of more than 650 items, making it one of the industry's largest and most versatile ranges.
Due to its continued growth, Balloo Hire has succeeded in creating a comprehensive network of five locations across Northern Ireland – Belfast, Bangor, Lisburn, Ballyclare, and Glenavy, and Dublin in the Republic of Ireland to ensure seamless delivery to every nook and cranny of the country. Recently, the company announced its plans to invest a total of £10 million across these facilities, which will also lead to the creation of 20 new jobs. The recruitment process is already underway for a vast array of roles in administration, management, engineering, mechanics, finance, and sales.
In addition to increasing staff numbers, Balloo Hire will also enrich the range of new machinery available for hire by adding cabbed dumpers, generators, site accommodation, event VIP toilets, and specialist fit out equipment to its offering. "We have experienced significant growth in the construction industry, which is still in recovery from the recession. This has resulted in the company winning new contracts across a broad range of sectors," commented General Manager Mark Grundy.
"Together with this, Northern Ireland's burgeoning events and entertainment sector has also increased the demand for our products and services. Our prediction is that these sectors combined will see further growth over the next three to five years, which has motivated us to invest in key staff and machinery to meet the needs of our customers and stay ahead of the competition. On top of the changes in the commercial landscape of our business, there has also been an increase in demand for domestic use hire," he added. Complementing this investment plan, Balloo Hire is now also looking at its growth potential into other sectors and markets throughout the island of Ireland and the UK.
Balloo Hire is a great believer in teamwork, with staff development and education at the core of everything it does. Training in IPAF, CSR, IOSH, COSHH, first aid, harness and business intelligence workshops are just some of the areas addressed. It also believes that the industry needs to be bringing through 'new blood' who can take the company on well into the future. To this end there is a healthy apprenticeship programme aimed at passing on the skills and experience the staff have learned over the years to a new generation.
It has already been hinted at the beginning of the article that the notion of delivering quality products that add tangible value to its customers, is at the heart of everything Balloo Hire does. The company has built a team of highly-trained, dedicated, customer-focused experts, capable of providing sound professional knowledge and advice. Coupled with the second-to-none breadth of its product offering and the commitment to providing outstanding customer service, the business has elevated its proposition to a first-class standard, satisfying clients at all times.
Extensive fleet
Balloo Hire's plant hire range covers compaction machinery, as well as a large number of compressors, dumpers, excavators, powered access, forklifts, lifting and handling equipment, telescopic handlers, and trailers. On the tool hire side, the provider can serve its customers with an extensive selection of building and decorating gear, cleaning and maintenance and concrete preparation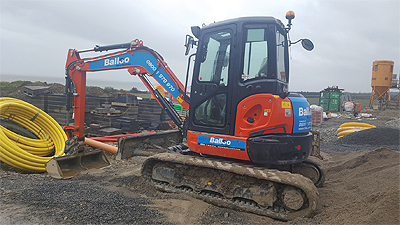 pieces of equipment, as well as drilling and breaking, welding and lighting, surveying and measurement, and woodworking tools.
The company also has a host of additional services to support its hire fleet. Its team is specialist in repairing the majority of the plant and tools it offers, carrying wide range of common parts for most market leading brands. Furthermore, Balloo Hire operates a young high spec delivery fleet comprising of different types of vehicles that allows it to respond quickly to its customers' requirements. Prioritising safety, it conducts mechanical testing and inspections on its machinery to ensure that the clients are compliant with the various legislative requirements they need to meet.
Plans for expansion
Last but not least, Balloo Hire can conduct free temporary power, powered access, and accommodation and welfare site surveys for its customers to advise clients on several aspects of their project, including the correct product, logistics, and the most cost-effective solution to temporary power or access problems.
In an attempt to further boost the variety of its services, Balloo Hire also stocks a respectable range of consumable items for sale across its depots. For the successful completion of a given job, the business boasts a huge assortment of hand tools, and for maintaining safety on site, it offers all the safety equipment and personal protective equipment (PPE) that might be required.
Clearly, Balloo Hire has gone a long way since its inception as 'one man with a van and some tools' business more than three decades ago. Regularly refreshing its fleet with the most sought-after and functional machines, the organisation's ambitions in the last few years have outgrown the territory of Northern Ireland. As new opportunities emerge on the horizon, the prospects for an even quicker growth seem more promising than ever.
Balloo Hire Centres
Services: Plant and tool hire