Chandler Material Supplies
Renowned for stock reliability and customer service, Chandler Material Supplies is an Essex-based, independent builder's merchant with traditional family values at the heart of its culture
Building a family legacy
Renowned for stock reliability and customer service, Chandler Material Supplies is an Essex-based, independent builder's merchant with traditional family values at the heart of its culture
The Chandler family name is one that is synonymous with the construction and civil engineering sector in the county of Essex. It is here that, since the 1950s, multiple generations of the family have served its residents with builder's merchant services. Julie Chandler represents the third generation of this dynasty and today holds the position of Managing Director of Chandler Material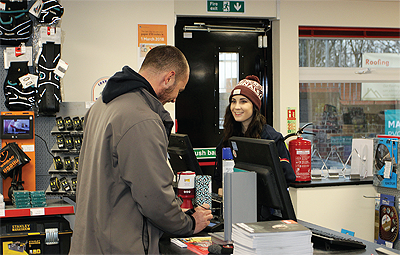 Supplies. The limited company that bears the family name was established in 1980, and today operates out of a three-acre site in Widford, Chelmsford. From here, the company provides building, plumbing and bathroom supplies to the trade and general public.
"The foundations of the business were laid when my grandfather moved to the site in the 1950s to operate his building business," Julie begins. "The large yard that he acquired meant that, in addition to storing his excess building materials, he could also rent out garages to smaller builders. It was in turn their interest in buying the extra materials he had available that led him to start selling."
It was Julie's uncle who set up the limited company, and she would first join its ranks in 1981, initially as a typist. "In those early days, the company was made up of one lorry and a driver, one forklift truck and an operator, and my uncle," she recalls. "From there, it was very much a case of gradual progression, adding a new member of staff as we grew at a steady, controlled pace, predominantly through strong word-of-mouth."
That progression continued to gain momentum over the subsequent years, taking in Julie's ascension to the position of Managing Director in late 2006 with her brother Charlie and cousin Simon as co-directors, and has resulted in a company that today employs more than 50 knowledgeable, approachable staff, with over 400 years combined experience, who are always willing to go that extra mile for their customers. However, while Chandler Material Supplies may have grown in size, the traditional family values at its heart have remained the same, as too has the pride it takes in its stock reliability and service levels.
"One thing that grandad absolutely knew to be true was that the customer is always right, and this is a fact that he made sure to instil in the minds of his children. They in turn passed this down to my generation and we are doing the same with not only our own children, who are now making their own way through the business, but every one of our employees," Julie enthuses. "Our customers, and the service we provide them with, are always at the forefront of what we do on a daily basis. We understand the way they operate and how, in the building industry, time wasted is money lost. That is why we strive to always have to hand an extensive range of materials from major manufacturers, together with advice and product information, and to deliver the highest levels of attention to detail, from quote level to collection or delivery."
Industry recognition
Reflecting on the impressive growth of the company, Julie also pinpoints a couple of vital points in its recent history that she considers to have been fundamental. "The first catalyst for our success in the last decade came in 2011, when we joined the National Buying Group, taking our place alongside a consortium of merchants working together to buy from manufacturers at better rates. This has certainly helped us to become more competitive and allowed us to grow at a faster rate than before," she states. "The other key event came when my cousin Ben came on-board in 2013 as Finance Director. As a fully qualified management accountant, he was not only tasked with overseeing our expanding balance sheet, but also making the company fully computerised, all of which has helped to take Chandler Material Supplies to where it is today."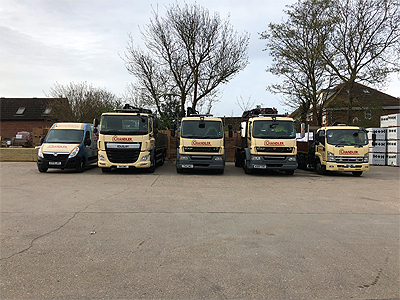 Another good gauge of the strength of the company is the successful year it has had in 2019 when it comes to receiving industry recognition. The high point of this arguably came back in May of this year at the Builders Merchants Journal (BMJ) Industry Awards. It was here that Chandler Material Supplies picked up three coveted awards in the merchant categories, namely Independent Merchant of the Year, Merchant Marketing Campaign of the Year and Merchant Showroom of the Year.
"This past year has been brilliant from this particular perspective," Julie adds. "The thing is that, we have always known that we have a really good company here and one that serves its customers so well, but what we have never really done before is shout about it. Today, we have someone within the business who works on our marketing full time – my daughter in fact – and she is doing an excellent job in spreading the word about our work and getting us recognised accordingly. The added positive of such recognition is that we can then advertise it to our customers and give them the renewed confidence that they are purchasing from the right company in what is an ever-more competitive environment."
Reinforcing customer loyalty is one of Julie's prime objectives for the coming year, and she and the rest of her team know that said loyalty can never be taken for granted. In the meantime, her thoughts can also turn to the possibility of future expansion, with the addition of a second depot site being very much on the company's radar. "I like to think of my current generation within the company as being the custodians of Chandler Material Supplies, and a massive responsibility associated with that role is making sure that when the time is right for the next generation to come forward and take the reins that what they inherit is a strong, healthy business," Julie declares. "What we have here is a family legacy that has been built up over the past 40 years and I would love to see that continue for another 40, and more!"
Chandler Material Supplies
Services: Builder's merchant