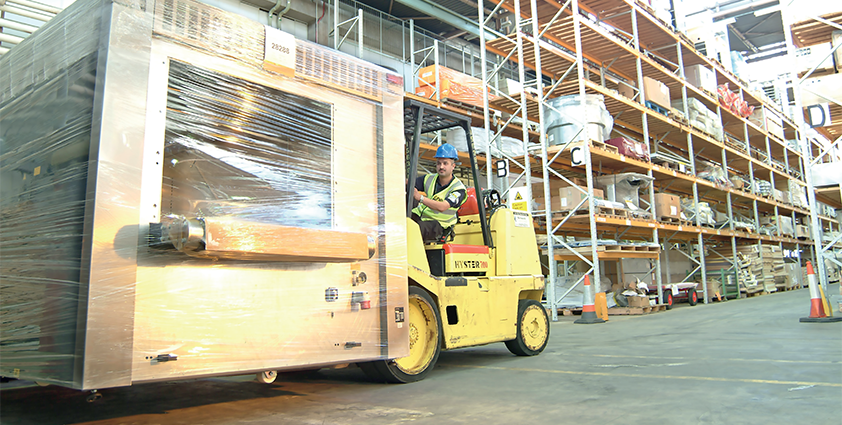 The need to reduce carbon emissions within construction has come into sharp focus in recent years and action taken by the sector will make a real difference to whether or not the UK is able to bring greenhouse gas emissions to net zero by 2050. The scale of the task is immense as, according to the UK Green Building Council, around ten per cent of the nation's carbon emissions are directly associated with construction.
Deep impact
Sustainability is now a key objective for many construction companies and infrastructure developers. They are both actively seeking innovative ways to ensure that it is not just the end product that is sustainable but that the building process itself is carried out in a way that has minimal impact on the environment. This means looking at smarter ways of working, pushing the boundaries of productivity and driving greater efficiencies through process.
According to the European Commission, construction materials account for 30-40 per cent of goods moved around modern cities. This leads to massively increased levels of traffic and congestion, which has a negative impact on air quality, boosts noise levels, increases wear and tear on road surfaces, and compromises the safety of vulnerable road users such as pedestrians and cyclists. Meanwhile, vehicles often travel half empty to site and empty from site, leading to carbon emissions out of proportion to goods handled.
In addition, localised problems can occur where inappropriately large vehicles are used, or inconsiderate loading blocks roads or pavements, which is why there is a realisation of the need to streamline logistics related activity through the use of specialist consolidation centres. It should come as little surprise that a growing number of local authorities are stipulating their use as a prerequisite when giving projects approval.
Defining moment
A consolidation centre is a strategically located distribution facility through which material deliveries from various parts of the supply chain are channelled to construction sites using as few journeys as possible. They are a proven solution to the freight and delivery challenges of new developments within busy cities, and help companies meet their sustainability based commitments.
After receiving deliveries from different suppliers on behalf of a client to a dedicated consolidation facility, the operator makes up consolidated loads and delivers them on a just-in-time basis using environmentally friendly modes of transport such as electric vehicles or, where possible, rail or waterways. The environmental benefits of reducing construction traffic are obvious and the utilisation of reverse logistics ensures that once the consolidated delivery has been made to a site, the return journey can be used for waste removal, as well as the return of excess material and packaging for reuse and recycling; facilitating a closed loop approach and helping to move towards a circular economy.
Bringing it all together
The consolidation process provides a seamless logistics experience that ensures the right items get delivered to the right place at the right time. As well as environmental advantages, users of consolidation centres are able to reduce delivery costs and enjoy greater buying power through collective or collaborative procurement.
Through the use of its own state-of-the-art consolidation centres, Wilson James estimates that it is able to provide a reduction of CO2 emissions by up to 75 percent, while decreasing supplier journey times by an average of two hours. Delivery performance is also highly accurate, with 97 percent of goods delivered right first time, with a waste reduction of 40 percent. This also has a knock-on effect throughout the entire construction process, with on-site logistics teams increasing productivity by up to 47 percent.
Knowledge is power
It is widely accepted that achieving economic prosperity requires a flexible, reliable and robust supply chain. This can be enhanced through the use of environmental data and reporting that, in turn, can be used to further improve sustainability efforts and lower Scope 3 emissions.
Combining a consolidation centre with data captured on a cloud-based software platform enables more effective planning, control and coordination of a supply chain, with all deliveries linked and cross-referenced to ensure the process runs smoothly by allocating delivery slots. This not only provides materials as part of a just in time service, but means that vehicles can be tracked on their way to site, providing an extra layer of insight. It can also be used to track onsite material movements to make sure they get to the right locations as efficiently as possible, report where waste originates from, and identify ways to eliminate it.
Single point of contact
As the construction sector remains under pressure, with no quick fix solution to current global supply chain issues, consolidation centres are now being co-located with medium-term storage facilities. This enables orders for materials to be made well in advance, collated and delivered to site all at once, thus avoiding delays to complex build programmes. In addition, some leading consolidation centre operators offer facilities for off-site prefabrication, enabling elements of building infrastructure such as electrical and heating and ventilation to be assembled and commissioned prior to delivery.
Although primarily used during the construction phase, consolidation centres are also increasingly being utilised post-completion to co-ordinate logistics during the on-going operation of a building. For example, in a city centre multi-tenant building comprising retail and office space, deliveries such as stationery and reprographics orders, stock and equipment are sent to a consolidation centre to be collated and delivered at once, offering a fully integrated and efficient delivery system that helps to achieve a development's sustainability objectives.
Role-play
As the construction industry takes greater steps to reduce the carbon emissions and waste it generates, consolidation centres offer a sustainable way to ensure that materials get to where they need to be. Through sustainable logistics, users also benefit from greater delivery certainty, reduced complexity, lower journey miles and, ultimately, reduced costs, increased efficiency, and a route to a greener future.

Meg Reed is Client Development Manager at Construction at Wilson James. For over 30 years, Wilson James has been a leading provider across three core service lines: Security, Construction Logistics and Aviation. As one of the UK's leading construction logistics providers, it provides flexible solutions and support services that enable its clients to concentrate on their core project objectives.
For more information please see: https://wilsonjames.co.uk/construction-logistics