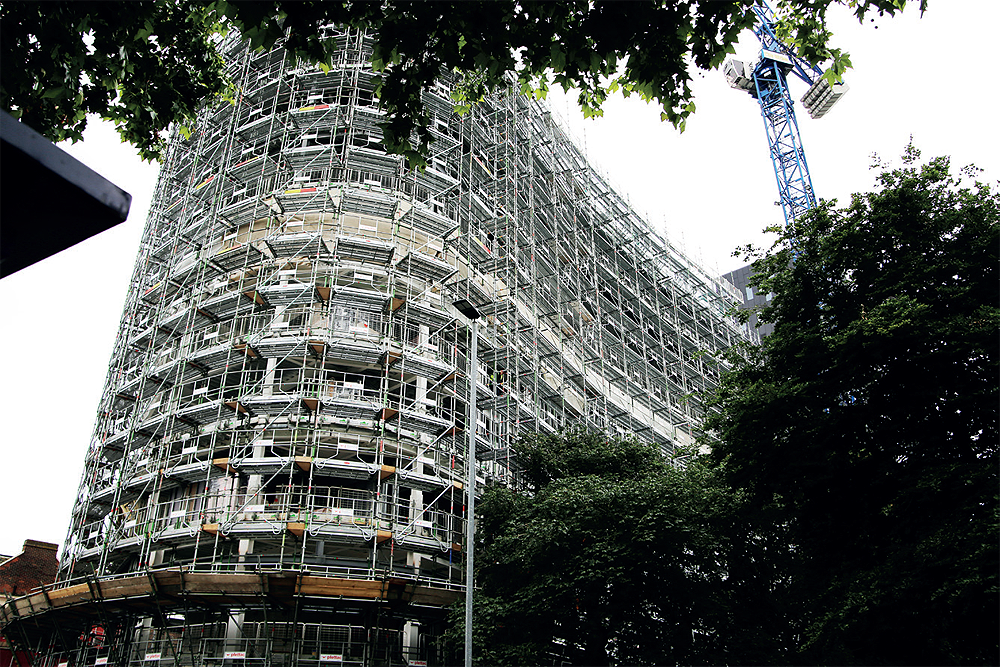 Denholm Industrial Services
In safe hands
Operating from a number of strategically located centres around the UK, Denholm Industrial Services has developed, over the years, into a true multidisciplinary organisation. Part of Denholm Industrial Group, one of the four divisions of diversified family-owned parent company, J. & J. Denholm, Denholm Industrial Services is a respected provider of scaffolding and access, protective coating, industrial cleaning, containment, and surface preparation services with more than 35 years' industry experience.
Founded in 1983, Denholm Industrial Services' roots stretch back to a history of industrial painting and cleaning contracting in the North Sea oil and gas sector. After successfully transferring this experience in tough conditions to land and sea infrastructures, the company now delivers its services across a wide range of industries, including construction and demolition, defence, energy,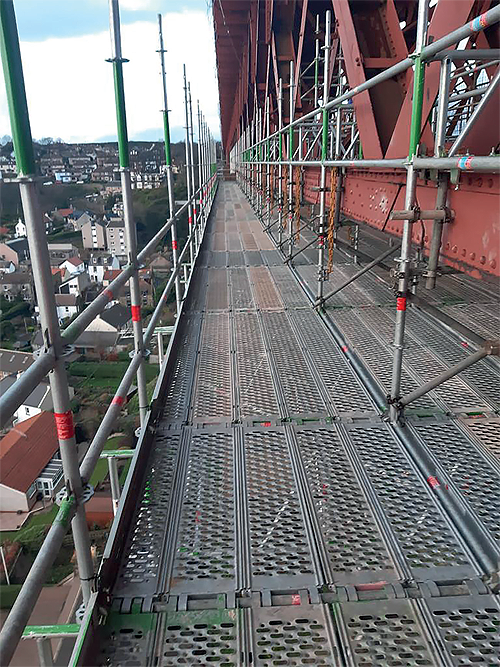 historic buildings, nuclear infrastructure and the marine sector.
"At Denholm Industrial Services, we have created a diverse platform that allows us to operate in specialised teams across each sector, giving the sector its specific needs, while sharing information and best practice across industries," explains Managing Director Steve Hill. "We sometimes come across the opinion that a scaffolder or painter is the same in every sector, but there's quite a difference between someone working on a building site and a nuclear plant, or an offshore oil and gas installation and a high-rise building. Each setting is unique and requires that element of specialty, which we have fostered within the group."
Expanding year on year, Denholm's growth has been fuelled by major long-term projects with clients such as Balfour Beatty, Babcock and BAE Systems. The company received its first shipbuilding contract with the latter in 1997, racking up more than two million multi-discipline man-hours over the course of five years. A more recent milestone contract was a large scaffolding project for Kier Construction at Beckley Court, a 78-metre-tall student accommodation building in Plymouth that marked a departure from Denholm's more traditional market offering
"Another notable project is the complex engineering we performed at Bidston Moss Viaduct, working with Costain to provide 65,000 square metres of protective coatings and 2,000 tonnes of scaffolding," Steve says. "We remain a highly collaborative business and we are set up to work in close partnerships. We do that by being honest and transparent and we are strong enough to have difficult and honest conversations if need be. We see the end project goal as being ours, not just the clients, and we work together on that."
Focus on safety
At present, Denholm is in the fourth year of a long-term new-build submarine programme in Barrow-in-Furness and is also working with Cammell Laird. Encompassing extremely complex delivery scopes, the submarine projects are pushing the envelope of modern engineering, to which Denholm is responding by continuously developing its people to deliver these more complex industrial services.
Work also continues for Denholm at the iconic Forth Rail Bridge, where the company is supplying a complex access, containment, blasting and coatings project. A true turnkey package provider, the vastly different contracts Denholm is able to take on is testament to the diverse and multidisciplinary nature of its offering and the strength of its team.
Alongside the ongoing process of diversification, Denholm's focus on innovation has been ever-present throughout its history and has helped to drive the company forward across the decades. Boasting long-established experience in the scaffolding industry, Denholm continues to find ways to develop its offering and improve the services it provides. One way the company does this is through investment – much of which has been geared towards the Plettac Metrix system of late. Acquired in 2018, the Plettac Metrix system replaced an older technology and Denholm now makes use of more than 6000 tonnes of it onsite. "Investing in Plettac Metrix has resulted in significant productivity gains for our customers, but also, more importantly, the safety features of the system mean that our people and those around us are safer," Steve reveals. "Plettac Metrix's advanced guardrail (AGR) system allows the scaffolder to build edge protection on the lift before they get to where work is being carried out, so that the scaffolder is always away from the leading edge and always supported by a guard rail. It allows risk to be engineered out and that is a really important part of our focus – keeping our people safe."
Another key investment for Denholm has seen the company acquire an ultra-high-pressure (UHP) water blasting machine for its marine activities. One of a kind in the UK, the UHP technology not only delivers significantly faster service for vessels and oil and gas installations, but the equipment also drastically reduces the environmental impact of Denholm's operation as the machine does not require abrasives that can only be disposed of in specialist landfills. Additionally, the design of the machine removes the need for additional containment associated with blast medium. Crucially, the UHP blasting technology allows operators to work a safe distance away from any high risk zones, illustrating, once again, Denholm's commitment to investing in apparatus that keep its workforce safe and gives its customers the edge.
The fact that Denholm's newest equipment and technologies carry impressive safety credentials is no surprise considering the company recently received the RoSPA President's Award for achieving its Gold Award ten years running. Denholm's unwavering emphasis on protecting its employees from harm continued in 2020 when the company achieved an accident frequency rate (AFR) of zero.
"I have to commend our teams for bringing home another award and locking down an AFR of zero in what is a live risk industry and a challenging line of work," Steve declares. "The goal now is to stay head of the game and to do that we have brought in the DuPont Behavioral-Based Safety System, which is designed to motivate and aid in behavioural changes through discussion, understanding and respect. We run it centrally through a database and through apps and devices, so we are able to collate trending data really quickly and efficiently, which helps to inform discussion and future training. All our people understand why the business cares so much. It's not about statistics, it's about keeping them safe."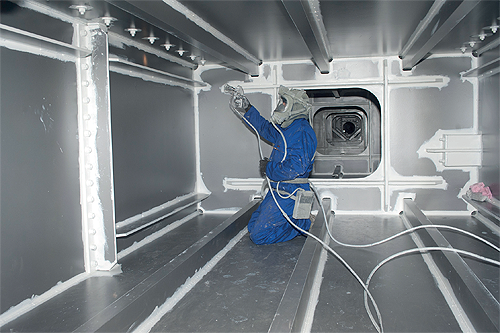 2021 vision
In the coming months, Denholm's valued workforce is set to expand further, with the company increasing investment in the future of its people. Fifteen apprentices are already at work in the business and that number is expected to grow in 2021.
"As our apprentices come in, we have a company-designed career pathway scheme, which supports young and more seasoned workers in their desire to have a long and full career," Steve states. "As well as offering our apprentices a product-based course, we also have an excellent syllabus delivered in-house, covering life skills like mental health and managing diversity and inclusion. We get young people in, give them the industry knowledge they need, but also try to develop young adults for the future."
In many ways, Steve regards the year ahead as an opportunity for Denholm to bounce back following the challenges of the Covid-19 pandemic. As such, he expects to see the company grow across all sectors in 2021, while maintaining high safety standards and operational excellence. "We will be looking to develop additional longer- term relationships with our key customers throughout the UK over the next 12 months, offering a collaborative approach to national agreements and long-term contracts that give continuity and cost certainty for our clients," Steve remarks. "The Denholm Group will be 155 years old this year. It's a highly secure, diverse, financially healthy organisation, so we are in a really safe pair of hands for the future."
Core services
As part of the company's long-term strategy, Denholm plans to improve sustainability across all sectors by 2025, and this will take place through a number of key channels. One of these channels involves increasing the company's service offering, and consequently, Denholm will be looking to its customers and adding core services that best align with client needs, while
maintaining the highest safety standards, service levels and operational excellence.
"These core services will be generated organically and through more acquisition, so I have no doubt the company is on a growth path," Steve asserts. "We see our expansion continuing indefinitely and on the same trajectory of the last four years. The process will include bringing on new businesses and moving into new sectors. We are already looking at a couple of potential industries, and are certainly serving our customers in the sectors we are in, so really, the next three to five years are going to be extremely exciting for the entire Denholm Industrial Group."
Denholm Industrial Services
www.denholm-industrial.com
Services: Industrial services, including scaffolding, protective coatings and access solutions