KW Bell nurtures a strong reputation for quality and service, and living up to this will be key to the group to continuing levels of growth unprecedented in its history
A ringing success
KW Bell nurtures a strong reputation for quality and service, and living up to this will be key to the group to continuing levels of growth unprecedented in its history
Nearly half a century ago Keith Bell started out working as a solo bricklayer in the western counties of England. Operating from a strong family base the company steadily grew in an organisation encompassing four distinct businesses: Bell Contracting, Bell Homes, Bell Partnerships and Bell Plant. Today, working across Gloucestershire, Herefordshire, Worcestershire and South Wales and with many close members of the Bell family playing vital roles in the company's management, KW Bell Group turns over close to £50 million courtesy of a 400-strong workforce.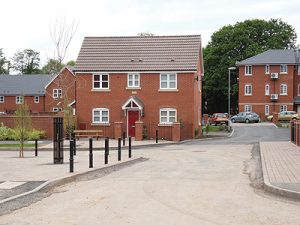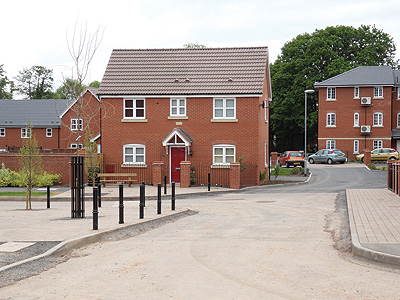 The largest business in the group by far, Bell Contracting accounts for £36 million in annual sales and generally has up to 30 contracts on the go at any one time. Formed in 1993, Bell Contracting Ltd demonstrates the impressive levels of growth achieved by the group in recent years as its sales and client base are close to double their pre-recession rates. Sitting alongside this business is Bell Homes, the group's own development segment, which built and sold between 70 and 80 private homes in 2015 with sales reaching £12 million.
Keen to focus on its own development and sales growth, the firm's partnership business, which delivers high quality and affordable housing schemes in collaboration with housing associations, local authorities and investment groups is quieter at present. Supplementing these, the group's plant business is set up to meet the majority of required heavy machinery and scaffolding needs and following a recent £1 million investment to bring the machine count to over 120 units, sales for this division currently sit at £2 million.
"The strengths of the business are the people, their retained skills and the dovetailing of its operations," begins current MD, Peter Bell. "Staff turnover rate is very low and we pride ourselves on creating a great place to work with an ethic to match. Some of our employees across all levels of the business from ground workers to management have been here for more than 40 years and this culminated in winning the Gloucestershire Family business of the Year in 2007. This tells its own story."
Working within a 60-mile radius of the Forest of Dean, market conditions for KW Bell are buoyant with enquiries aplenty despite competitive land pricing. Demonstrating the success of its work throughout the region in recent years the group has achieved some new additions to its trophy cabinet with a number of awards from the NHBC (National House Building Council). "The first project of note is the Persimmon Homes South Midlands site in Ross-on-Wye, where we carried out the civils, groundworks, brickwork and scaffolding and which recently won an NHBC Top 100 award," highlights Peter. "Topping this, the Redrow Homes South Wales site in Mon Bank, Newport has just won the NHBC Best Site in Wales award. Here we carried out the groundwork with production levels at 2.5 homes a week.
"We have also won the Redrow Contractor of the Year award for 2015, complementing the same award that we won in 2013," he continues. With the National Awards once again approaching in 2016, KW Bell is keeping its fingers crossed for more recognition to come its way as it continues to ride its current wave of growth and success.
One key area of the group that marks its excellence at present is its commitment to health and safety. Becoming Health and Safety Officer in 2011 Peter's daughter, Nicola Bird, has successfully grown the group's continuous training programme to become the face of safety and environmental responsibility at KW Bell. In 2015 Bell Contracting was awarded the Platinum Certificate of Excellence from CITB for carding over 90 per cent of its 360 employees in all operations, following a £40,000 investment and 2016 looks to build on this success with more safe workplace programmes coming to fruition.
"In January we launched the 'My DAD' safety campaign across the group," explains Peter. "This scheme has been evolving over the last six months and has been developed with 'our' guys in mind, playing on the idea that a child is waiting for his/her father to come home from work that evening. The child is appealing to all other members on site in the hope that they keep an eye out for her dad and work safely around him at all times. We have captured this message in a drawing, which will become iconic for our campaign, and will be printed on every hi-vis vest worn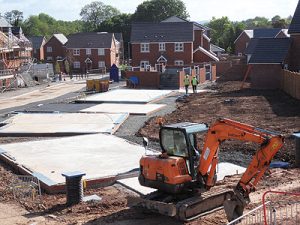 with pride by all the men on site as a constant reminder of why they are working and why it is important to stay safe."
In addition to this, the new year will see the introduction of 'Bellnet', an intranet portal allowing all employees to remotely and anonymously report near misses, find SSOW/RAs and site documents and keep up-to-date with all alerts and memos. This will be accompanied by Bell 'Keynotes', which will ensure that two A4 files detailing all SSOW will be present on every site. "This is being launched to improve consistency across the board and to establish uniform procedures," notes Peter.
As far as the future is concerned, success for KW Bell looks set to continue following recent land purchases in the region of £3 million bolstering stock through to 2017, amounting to almost 100 plots. "Our main focus over the next 12 months is to ensure the quality is correct in our Contracting Order Book and to continue the never ending search for the supply of quality sites to build homes. Both of these are strong at present but it is a continuous process," says Peter. "Wherever possible we are also up-skilling people to take the next challenge on well prepared."
However, it is clear that KW Bell harbours some frustration over the current political state of house building as well as skills shortages in the industry that will both pose big challenges as it looks to move forward. "The planning system and its continuously protracted set of conditions and hurdles are strangling our industry's efforts to increase volume," Peter expresses, noting that in 2015 the industry only built 140,000 out of the minimum required 250,000 homes and that house price inflation is arguably unsustainable in the long run. "The falling popularity of apprenticeships in construction since 2006 is also adding pressures for many firms struggling to fill vacancies," he adds.
Despite this, Peter remains confident about KW Bell's future as the company remains committed to delivering its best possible service to the market: "I am a great believer in consistency and organic growth coming from being very good at what you do," he says. "Your reputation goes before you and it's up to you to maintain service and quality at all times to meet this. This is the foundation of our strategy. I would also like to extend my thanks to our loyal clients and staff as without them we would be nowhere."
KW Bell Group Ltd
Services: Housing development and construction