Brick by brick
Specialising in large-scale, high quality residential, commercial and public sector projects, Lee Marley is an award-winning brickwork and scaffolding subcontractor with a growing presence across the UK
The speedy ascent of Lee Marley Brickwork is probably no surprise to those who know the company's ambitious Founder. Just five years after completing his apprenticeship, Lee Marley was only 24 years old when he established the bricklaying firm in 1997. After assembling a strong team around him, Lee's business grew tremendously across the subsequent decade and added scaffolding services to its offering in the mid-2000s.
In 2010, Lee was ready to launch the company into its next stage of development and consequently, Dan Clarkson was invited to invest in the firm as part of plans to help grow the scaffolding side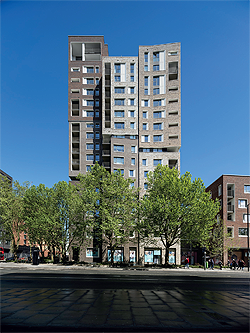 of the business. As we move into a new year, Dan, Joint Managing Director at Lee Marley, is proud to look back on another decade of success for what is now one of the UK's major integrated brickwork, scaffolding and stone subcontractors.
"Back when I joined the fold in 2011, we were turning over around £17 million. Today, that has grown to £47 million," Dan states. "In part, it's due to the changing nature of construction in London, especially residential construction, where there has been a move towards concrete frame towers. We partnered with Berkeley Homes back in 2013 who were at the front of the market for tall masonry towers. No other developers had really gone down that route, but when you travel around London and other regional cities, you can see that it is the way residential construction is going.
"As a company, we have built up a good reputation over the years as a one-stop shop that can take responsibility for the whole shell of a building. We install everything ourselves, including masonry support, insulation and fire stopping, which has won us a lot of trust from our key clients and has enabled us to grow. We now have offices in London, Reading, Glasgow, and in 2020 we opened a new office up in Leeds."
Office launch
With a growing market in the North of England, Lee Marley's new Leeds-based team will be focusing on the large-scale schemes that have become the company's hallmark in southern England and Scotland. New Commercial Director Mike Hampton, a former Business Development Director at Marlborough Brickwork, will be the man tasked with successfully implementing the Lee Marley model in West Yorkshire.
"We are very much a people organization, and as more and more clients have requested us to look at work up in the North, we have been studying the opportunities and waiting for the right people to become available," Dan reveals. "Once Mike Hampton joined us it was an easy decision for us to go ahead and launch the new office.
"There are some very good companies that operate in our space up there, but they will obviously be going through a learning curve, whereas we have essentially done that already," Dan adds. "The Government is currently looking to boost spending in northern England, but it is clear that the natural level of growth there is already accelerating. Given the size of our business, opening in Leeds is the right thing to do to make us more diverse.
"The new office will benefit from significant crossover with our client base from Scotland and down in the Southeast. There are lots of big schemes becoming available to us and we will be choosing our work up there carefully, in partnership with our clients, to make sure we do the job correctly."
As the UK market continues to change, Lee Marley has transformed from a company working on around 50 contracts a year worth £200,000 to £400,000, to a firm completing 30 annual projects at the much higher value range of £1 million to £8 million. Over the course of the last decade, the business has seen its average contract value rise from £300,000 to £2.5 million – a consistent trend across London, Manchester, Leeds, Sheffield, Glasgow and Edinburgh.
Among the key projects Lee Marley has worked on in recent times is Regency Heights, a Fairview New Homes development in Park Royal, London. Part of a £26 billion regeneration initiative providing two new railway stations and 25,500 new homes, Regency Heights saw Lee Marley execute 28 stories of traditional masonry, as well as working with offsite manufacturers to produce brick arches and lintels to help speed up completion.
Specialist project
One of the company's more specialist projects within the last five years came in the shape of the Defence and National Rehabilitation Centre (DNRC) at Stanford Hall, Nottinghamshire. A large-scale military rehabilitation hospital for the severely wounded, the DNRC was completed in 2018 and is a fitting example of how Lee Marley is able to work in close collaboration with a supply chain, from design to construction, in order to create buildings that make people proud.
"We had over 180 workers onsite at the peak of construction to ensure we could deliver the level of detail required," Dan says. "There was a lot of interaction with our supply chain and we transported key staff members up there, as well as building local teams of bricklayers and stonemasons.
"The DNRC is a particularly memorable project because it is not the type of building you see very much today. There was a lot of detail more reminiscent of Victorian builds. It required a combination of modern construction methods and traditional architecture that made for a unique building constructed for a special purpose, passionately backed and championed by the late Duke of Westminster."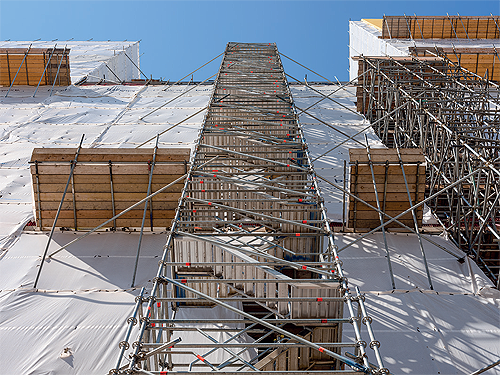 Training programme
Having completed prestigious projects over the years for Eton College, Chelsea Wharf, London's Olympic Park, Crossrail, Kings College and the Prince and Princess of Wales Hospice, Lee Marley has earnt a wide variety of accolades and awards, including Specialist Brickwork Contractor of the Year for three of the last six years, ROSPA Silver 2020, and the Housebuilder Awards' Subcontractor of the Year 2020. Though Dan is grateful for all industry praise directed towards the business, he suggests that awards for the company's focus on training and staff development are particularly special considering Lee Marley's history.
"As Lee was an apprentice bricklayer himself, he has always had a passion for investing in people, bringing them through apprenticeships and into the business," Dan remarks. "It can be quite difficult finding colleges with good apprenticeship programmes, so we set up a scheme with Brooklands College four or five years ago now that blends our requirements with the apprenticeship curriculum. In 2019, the scheme won Apprenticeship Initiative of the Year at the Constructing Excellence SECBE Awards. Our commitment to that programme continues and we currently have around 40 apprentices in both brickwork and scaffolding on our books."
Strong pipeline
Not solely focused on attracting those new to the trade, Lee Marley also invests heavily in its existing workforce, funding higher NVQ qualifications and helping team members to further their technical skills and personal growth. "A lot of our projects last between nine and 18 months, so staff know that there are secure job opportunities here," Dan asserts. "The courses we fund and training we offer has been a chance for a lot of them to progress to the next levels of their careers."
With a pipeline of £44 million worth of work already secured for 2021, Lee Marley is hoping that its new site in Leeds, and the continued success of its Glasgow location, can help the company achieve a turnover exceeding £50 million by the year's end. Based in Reading, Lee Marley's scaffolding business is now starting to experience the benefits of the upcoming Crossrail connection and Dan expects to see a similar impact in other areas where Government-focused investment is driving further private development.
"There is a lot of work out there. I think, for the industry, there is a good strong pipeline for the next couple of years," Dan notes. "Although Coronavirus has had an impact on the sector that has certainly been felt on the commercial side of the market, there are a lot of regeneration projects and residential schemes that are driving a significant workload. It is not all about building more houses either but about a focus on improving social housing too.
"As a business, we are excited about the possibilities the future holds," he concludes. "We have a desire for growth and we have the capacity management-wise to achieve turnover circa £60 million."
Lee Marley Brickwork
www.leemarley.com
Products / Services : Brickwork, scaffolding and stonework subcontractor