Seeing the light
A UK leader in the delivery of design and build solutions to the telecommunications industry, Light Source is also pioneer when it comes to facilitating the growth of FTTP (fibre to the premises) infrastructure
Incorporated in 2000 – primarily as a design house serving the telecommunications sector – Light Source quickly transformed into an organisation offering a full range of design and build solutions to the industry from 2008. Today, the business specialises in the delivery of robust, cost effective, design and build solutions.
"We believe that networks need to be easy to build, manage and maintain, providing the ultimate experience for the end user and significant reductions in operating expenditure for our clients," explains Light Source's Managing Director, Steve Hill. "We combine our wealth of network planning knowledge, cabling and commissioning skills with effective, efficient project management to provide full end-to-end solutions."
Light Source designs and builds major telecommunication network infrastructure for the UK's major cities, in addition to focusing on rural broadband to connect outlying communities, schools and businesses. This could be with an existing underground duct network, or a completely new network that requires the company to install a new duct/tubing infrastructure. Once a city or town is connected to fibre, Light Source provides an installation service to connect the customer to the network and set up any internal WIFI devices. As one can imagine, said networks also need to be maintained and upgraded, which is why Light Source also delivers ongoing maintenance to its partners.
Striving for excellence
"Our core focus," Steve continues, "is to deliver quality networks with exemplary health and safety standards. Light Source delivers and maintains some of the most progressive fibre networks in the UK, while our teams are adept at providing solutions regardless of geographical or engineering challenges posed. In addition – where practical – we use a high percentage of direct labour, which encourages a positive working environment and increases our local investment in the areas where we are delivering networks.
"Our SMT are striving to create a working environment that improves quality of service, reduces any operational stresses and has increased productivity for our partners. We are continually challenging our resource to differentiate our deployment in a competitive market. Light Source endeavours to find ways to do more for our clients than others, and our employees are encouraged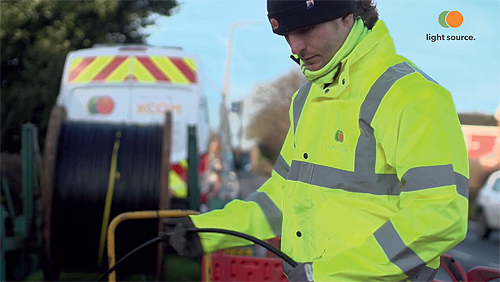 to do more, give more, be more and serve more. Striving for excellence has become habitual for our business. We take our competition very seriously, but not ourselves. This has given our employees a fluid mentality to not only develop their talent, but increase their inquisitive nature to explore new concepts and ways of working."
Over its 20-plus years of trading, Light Source has experienced a number of successes, however it is particularly proud of its delivery to one of the pioneering cities, Hull, in the form of a true FTTP network for KCOM in East Yorkshire. "The project commenced in 2012, and Light Source was the sole partner to design, build and commission circa 250,000 premises and businesses, and we continue to partner with KCOM to deliver the fibre expansion to the network," Steve declares. "Light Source is also incredibly gratified to partner Openreach with its own FTTP build, and we are undertaking successful deployments in the North West, Yorkshire and Scotland."
Inspiring approach
Whoever the client may be, Light Source understands that they are the 'parent' in all of its engagements, and that it is the company's job to serve. "Our culture is one of honesty, genuineness and sincerity, and this runs right through the backbone of our company," Steve continues. "The message we deliver to our 'Light Source Community' of employees is to 'find a way to do more for our clients than others, to become more valuable, to do more, give more, serve more and to inspire communities by connecting people'."
Having employees who boast the right attitude, charisma, drive and ambition has clearly paid dividends for the company over the years, and in the last 12 months alone it has brought an additional 100-plus people into Light Source in order to continue furthering its efforts. The success of Light Source is also one that needs to be shared with its supply chain. "We have around six main suppliers, who employ up 400 sub contractors who work in partnership with Light Source. These businesses should take great credit for our joint successes, and we will continue to help build and promote their companies as well," Steve says.
Light Source has experienced what Steve calls 'expediential' growth, particularly since 2015, which has partly been as a result of the increased demand the telecommunications sector has been witnessing. "With more people using intelligent home devices – in addition to increased 'e-business' – communities need greater broadband bandwidth, and the most efficient way to deliver this is through a full fibre network," he adds. "The UK Government has set ambitious fibre delivery targets to the industry, and we are reaping the benefit from being one of the UK's leading suppliers in the sector."
The company growth is also boosted by the inquisitive qualities of its engineers, who have helped lead Light Source to deliver some excellent innovations. "From an operational point of view, we are seeing huge innovation through the increased use of IT," Steve confirms. "When it comes to ourselves, we have invested heavily over the last two years to almost become a paper free business where practically possible, and we have developed our own 'works operating platform', which is also in APP format. This portal manages workflow, governs HSQE inspections/audits, and updates clients network records.
"Meanwhile, our operational innovation has also seen our teams conduct ground-breaking work, such as the use of drones to fly cable across rivers, and we are developing a pneumatic rocket launcher that will 'fire' cable over 150 meters over terrain that is difficult to access."
Building networks
For 2021, the company's key focus is to improve its customer concentration. "In January alone, we began mobilizing with two new clients, which has also assisted in broadening our UK footprint. We envisage, at minimum, an additional four new clients in this calendar year," Steve reveals. "Our success will continue as long as our Light Source Community safeguards our positive health and safety culture, and underpins this with increased governance, integrity and trust. We need to continue to deliver innovation and environmental diversity, whilst seeking to maintain our legacy of building networks that are at the forefront of future technology.
"Looking further ahead, I would like to see further diversity in what we deliver. This may see Light Source enter the multi utility sector, or perhaps have a greater involvement in the mobile sector or facilities management," Steve concludes.
Light Source
www.lightsourceuk.net
Services: Telecommunications infrastructure partner