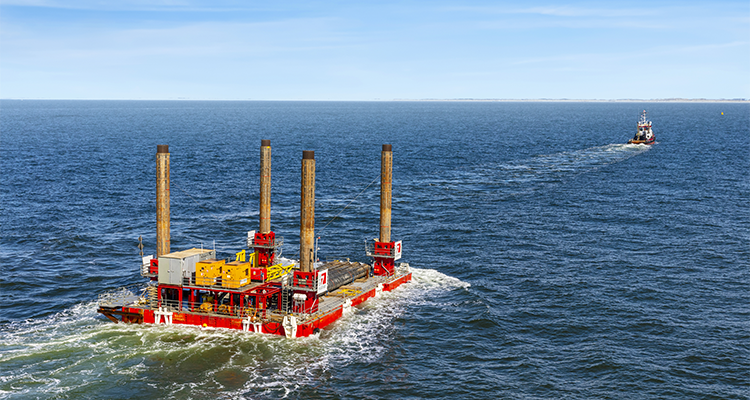 Red7Marine is an industry leading example and primary partner for many
Nick Offord, CEO and Co-founder, established Haven Ports in 1999, which would go on to become half of Red7Marine, as the result of a merger in 2008. "I came back from a five-year stint of working in Hong Kong, and took a position with Laing O'Rourke," he begins. "I was project managing a refurbishment of the Orwell Bridge, which involved resurfacing and concrete repairs to the structure. To achieve this, we developed a gantry system to get from one side to the other across both land based and marine piers. Finding somebody to talk to about hiring such marine equipment turned out to be a real struggle, and that was when I realised there was a gap in the market."
Red7Marine, today, still fulfils this need for a number of different sectors that operate in the marine access and construction, and energy and renewables industries. The company's fleet features a collection of jack-up barges that range from 80-tonnes-to-1000-tonnes deck capacity, as well as flat top barges and modular floats.
Partner of choice
"We can work in waters that are up to 40 meters in depth, depending on the seabed profiles and geotechnical conditions," Nick explains. "If the job requires deeper leg penetration, then this is obviously reduced, but if we're set on rock, 40 is our top end. Our capabilities are still very much a blend of marine plant hire solutions, and we are the leading supplier of jack-up barges to the construction industry, and support overwater piling among other activities.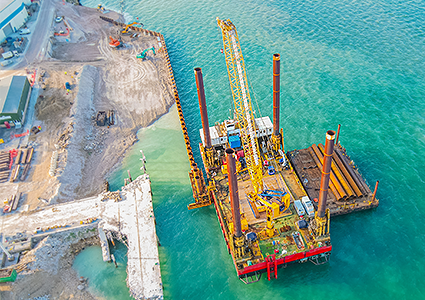 "We are badged as the marine partner of choice, and well known to be a one-stop shop for our customers," he continues. "Companies must source operators and barge masters, and conduct their own environmental checks and engineering stability counts, before work can begin. This is a great deal of effort for a lot of companies, who aren't well versed in these practices, which is why we provide everything, and don't go out-of-house for any of our services. We are in charge of our own destiny, with our own barge masters, operations teams, engineers, mobilisation gangs, and logistics experts. Red7Marine also has a fabrication plant and storage facility at the docks in Ipswich, because every jack-up job comes with some sort of fabrication work, whether it's a piling gate, a tensioning station, or a cantilever, we can fabricate it all ourselves."
With decades of industry experience, highly-skilled teams, and a range of bespoke plant, the business also offers marine construction services, even in the most hostile of environments. This includes different piling services, such as tubular driven, rock socket, and marine rotary bored piling. Additionally, it installs sheet piled cofferdams, which were used to reclaim land at Brighton Marina, for example.
Red7Marine also boasts the necessary technical expertise, combined with operational experience, to offer full-package marine consultancy for near-shore construction projects. Its engineering team can conceptualise, design, plan, procure, and execute all marine projects in challenging environments that suit its jack-up capabilities.
Dominating the nearshore
Nick and Sophie Willcock, Head of Business Development, are both directors of the International Jack-Up Barge Operators Association (IJUBOA). Nick was a founding member of the organisation, which strives to promote industry good practice across the globe, with members across Europe, the Middle East, Kazakhstan, Australia, and New Zealand.
"It's IJUBOA's mission to raise the cultural bar for health and safety in our sector," Nick elaborates, "and we were actually encouraged by the Maritime and Coastguard Agency, and Health and Safety Executives to get it established. Back in 2008, they didn't have the resources to regulate the industry, so we orchestrated the code of practice, and adopted the British Wind Energy Association's guidelines, which were written by London Offshore Consulting, for the safe use of jack-up barges. It was around the time that the wind farms started to come online, and there had been a couple of high-profile punch throughs, which occur when the jack-up essentially drops as one of the legs works its way through the hard ground into an unexpected soft layer.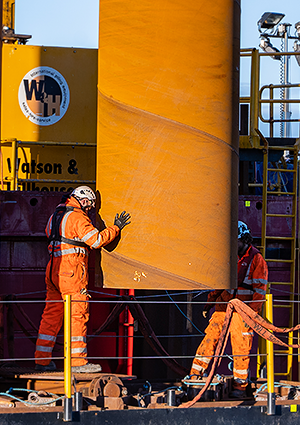 "We offer a self-assessment tool, which allows companies to perform checks and answer questions about their procedures and practices to receive a score. If they fail to reach a certain level, then we provide an introductory class to facilitate their necessary improvements. Really what we're aiming for is to have everybody hitting at least 85 per cent or higher, which is the gold standard. This is the certification I would advise anybody to look for when they're searching for a jack-up barge operator, as it means their systems have been successfully vetted by a third party. We have also introduced the online logbook system to give operators an opportunity to upload all of their experience and qualifications to an app, to create a roadmap to better training across the industry. Once this is complete, and they have adopted a mentor and assessor, they can apply to IJUBOA to sit an exam that's invigilated by the Nautical Institute and ourselves, to become a barge master. Sophie has been working hard to establish an apprenticeship scheme too, which relies on government funding to the value of £27,000 per candidate, to train people properly, and set them up with a solid career for life. On top of this, we run around six managers courses a year, which we encourage people who intend to hire jack-up barges to familiarise themselves with.
"Looking ahead," he concludes, "although we are currently the leading hirer of units in the UK, I believe in five years' time, we could easily be the lead marine contractor in the country. We don't chase turnover, we chase difficult, quality projects for high-quality clients. I think if we continue our journey in the same way, that we will inevitably keep on improving our skillset, and really dominate the nearshore."