With a string of successful projects bolstering its reputation, Ship Shape Construction has become renowned for its unparalleled levels of service, flawless finishes and absolute integrity
A neat order
With a string of successful projects bolstering its reputation, Ship Shape Construction has become renowned for its unparalleled levels of service, flawless finishes and absolute integrity
As a trading division of Ship Shape Resources, the practical construction arm benefits from a bloodline that is well established within the construction industry. "We started trading in 2005, from very humble beginnings, with our first project a £5000 bathroom refurbishment. Now we are doing anything up to £6 million grade II listed property refurbishments and restorations. It has been ten years of really good business," begins Paul Longega, managing director. "During that time we have expanded rapidly, obtaining The Sunday Times 'Fast Track 100' status for two years running, as well as being accredited with the London Stock Exchange 1000 companies to inspire Britain," he adds.
Whilst portraying a professional attitude, it combines a client friendly, personal approach, working collaboratively to embrace change and ensure that clients' demanding requirements are more
than catered for. "Market conditions remain fairly tough at the moment, with a lot of inflationary pressures in terms of labour and material costs. This combined with a very competitive tender environment is resulting in margin pressure. It is a competitive market, architects and clients have become more savvy, pushing down contract prices with tactics such as two stage tendering, and with many businesses competing for the contracts the market can be challenging," explains Paul.
Belonging to part of a larger company equips the business with a robustness, and financial strength that inspires confidence in its clients. It also allows it to provide quality training and more sophisticated operations, which helps it to attract and recruit good people. Commenting on the focus that has ensured the company's success, even when faced with the difficulties of the economic downturn, Paul points out: "We have a strong, three-strand mantra; keeping our end product flawless to provide an exemplary finish, providing an unparalleled service in our sector, and operating with utmost integrity."
Working within the high-end residential sector inevitably equipped the business with an experience and knowledge that encouraged the evolutionary transition into the commercial sector, as Paul explains: "It really prepared us for the quality levels that were needed to step into the commercial arena. The commercial sector can be even more challenging because the time frames are often shorter and there are higher requirements in terms of health and safety, particularly when working in very public spaces. We are very proud to hold both the SAFE Constructor and CHAS health and safety accreditations, and hold an unblemished health and safety record. As well as being NICEIC commercially accredited we also belong to Constructionline, the 'procurement framework' for many public sector and commercial projects. Both commercially and within residential, we have had some fantastic projects that we are very proud of."
A recent project completed in Hampstead, London won the Daily Telegraph 'Home Building and Renovation Award for Residential Design', an award which represents the quality and magnitude of the contracts in which Ship Shape is involved. Discussing the company's strong public profile, Paul highlights: "When one of our projects wins an important architectural award, it provides us with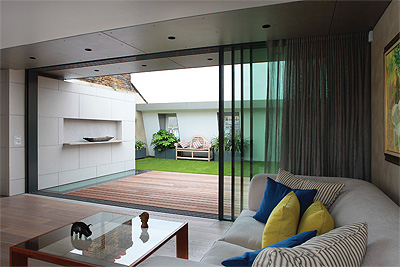 halo credibility and instils confidence in the architects and designers. Not only those we currently work with but also those that we would like to work with in the future. We are very proud of the positive media coverage that we have received throughout our history."
Working with a number of very talented architects and interior designers, projects invariably involve some high quality, premium materials, equipping the workforce with the skill of working with expensive resources. "Because of the material expense, you can't afford to make mistakes. We have very high standards so that we achieve a flawless end product. When you're working with architects and designers that are putting together very challenging designs, they need to have the confidence in their construction partner that they are able to realise their ideas and vision," says Paul.
Through its experience as a main contractor, it became apparent that the intricate nature of AV installation led to a number of companies over-speccing solutions to clients. "We found that by providing an honest spec and demystifying the area, we could provide a lot of value to our clients," points out Paul, adding: "Today we provide a turnkey AV solution; we can do most things outside of purely basic audio visual, such as CCTV and security, data networks and fire alarms. Another advantage beyond cost is that we are in control of everything, from electrical all the way through to AV installation. It means that we can provide a seamless solution."
With a busy schedule of work lined up as the company moves forward, it looks to continue expansion within the commercial sector, as well as concentrating on interior design focused projects in the near future. "We are certainly looking to become more of a property developer in our own right too. We love buildings and turning them into something special. From a financial point of view we feel that this quite a profitable area to be in, where we are less susceptible to the margin squeeze which the industry has experienced over the last few years," concludes Paul.
Ship Shape Construction
Services: Residential and commercial construction solutions