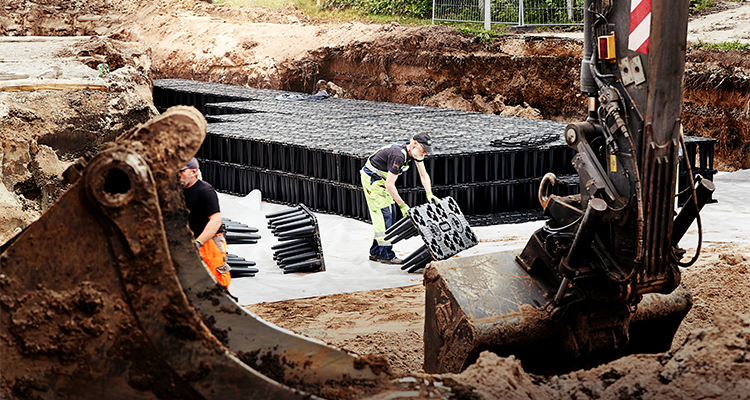 Sustainable drainage. Closing the loop: getting urban water management right.
As UK weather continues to become more unpredictable due to climate change, there is an increasing focus on the critical role of effective surface water management systems in new and existing developments. At the same time, urbanisation and a growing population means that many projects often need to be delivered in tightly-spaced locations, without much room for manoeuvre – presenting project teams with a pressurised situation.
It's no secret that our urban areas are continuing to expand in both size and density, at a far quicker rate than supporting infrastructure. This is especially true in the case of water management, where much of the infrastructure in the UK dates to the Victorian era. Clearly, the challenges we face now differ drastically from over a century ago, highlighting the urgent need to upgrade water management systems in our towns and cities.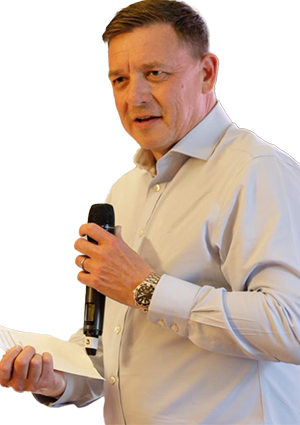 Being at one with nature  
The conventional approach has often been to remove excess surface water from urban areas as quickly as possible, with little consideration for what the natural drainage process looks like, which places an unmanageable strain on our sewer network. Now, developers are turning to sustainable drainage systems (SuDS) that mimic the natural water cycle, to mitigate flood risk in their projects.
The most effective SuDS combine natural elements, such as ponds, soakaways and swales, with artificial below ground systems like attenuation tanks. These are essentially large tanks that sit below the ground to prevent systems from becoming overwhelmed during periods of extreme rainfall and can offer the robust protection that we're likely to need in years ahead. However, their capacity to store large amounts of water also means they are often big and bulky, which can prove tricky to install and lead to delays in the projects where they are needed most.
Small in size, big on results  
The latest technology has been designed to address this challenge, offering a range of features that help to keep projects running on time. Wavin's AquaCell NG attenuation tank has been specifically created with smaller installation spaces in mind, benefitting from a nested design that allows it to be stacked and stored on site in a quarter of the space required when compared with traditional tanks.
This helps to keep sites clutter-free, which is crucial from a health and safety perspective, but it also has added project management advantages. A more compact footprint means fewer deliveries to site, which can prove invaluable in urban centre builds that have restricted site access arrangements, sometimes requiring road closures – thereby, causing significant disruption to the surrounding community. It also helps to reduce the overall emissions impact of a project, which continues to be an important consideration in the sector.
Improved installation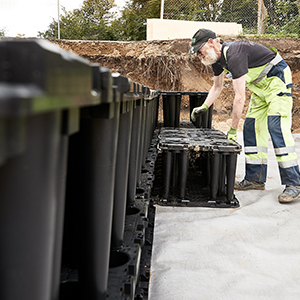 As below ground drainage is often one of the first things to be installed on site, it is vital that attenuation tanks are straightforward to handle to prevent potentially costly delays. With construction workflows looking further ahead than ever, the impact on schedules for deliveries and the work of other contractors goes beyond a couple of wasted days.
Efficient installation is therefore crucial, which has resulted in the increasing popularity of push-fit technology and modular design. Attenuation tanks made from smaller modules provide flexibility to adapt to whatever conditions they find on site and ensure that these reliable solutions are still an option, no matter the size or shape of the space available. Tanks such as the AquaCell NG utilise this to allow the system to be assembled without the need for clips and pegs, making it three times faster to install than the previous generation.
Building for a better future  
With Schedule 3 set to be introduced next year, the onus on delivering fit-for-purpose water management systems is set to continue. It is a clause within the Flood and Water Management Act 2010 that requires all developments over 100 square metres to include sustainable drainage systems for planning approval to be granted, reinforcing the importance of SuDS across all new projects.
Sustainable drainage will never be a one-size-fits-all solution, which is why manufacturers are working closely with developers to make sure they are aware of their regulatory obligations in-line with Schedule 3. In turn, it will ultimately ensure surface water management systems are effective long into the future – in urban areas and beyond.
For a list of the sources used in this article, please contact the editor.
Martin Lambley
Martin Lambley is Product Manager for Urban Climate Resilience at Wavin. Wavin is an innovative solution provider for the building and infrastructure industry across multiple continents. Backed by 60-plus years of expertise, it is geared to tackle some of the world's biggest challenges around water supply, sanitation, climate-resilient cities and building performance.    
With a focus on creating positive change in the world, its passion is building liveable and loveable places, engaging and collaborating with city leaders, engineers, planners and installers to help make cities future-proof and buildings comfortable and energy-efficient.    
Wavin is part of Orbia, a community of companies bound together by a shared purpose: to advance life around the world. Wavin has more than 12,000 employees in over 40 countries around the world.