With current global trends favouring original design, material longevity and sustainability, Swisspearl® is well placed to achieve world wide success
Designed to last
With current global trends favouring original design, material longevity and sustainability, Swisspearl® is well placed to achieve world wide success
Part of the one billion CHF turnover Swisspor Group, Swisspearl® manufactures through-coloured cementitious panels for façade cladding. Founded in 1903, the company established itself to be the first to move into producing throughcoloured panels and has a leading position in the market. Located in Niederurnen, Switzerland the company distributes through a global network of more than 60 distributors in over 50 countries, with its main target customers being high profile architects.
The major product lines for the company are LARGO and LINEARIS. LARGO are largeformat cement composite panels that come with a choice of surface textures, joints and fastenings, giving a vast range of possibilities for any façade. LINEARIS are ready-made LARGO strips that can be used to cover a range of façade shapes. LARGO panels also have available customisation options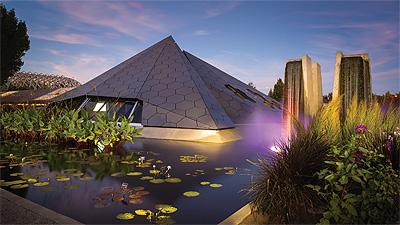 including perforations and engravings. To accompany the two lines are three major colour families, CARAT, XPRESSIV and REFLEX, all possessing individual aesthetic characteristics and offering 170 standard and more than 2100 customised colours. With such a vast range of choices available the company employs a team of experienced technical advisors to assist in choosing the best and most practical solutions. Along side the modern and distinctive character awarded to any building cladded with Swisspearl® panels, Robert Wirichs, head of exports, explains why the panels are well suited to current market demands: "There is an increasing need for long lasting building and energy saving," he explains. "These are both fulfilled with a Swisspearl® panel in combination with the rear ventilated façade."
Swisspearl® is a highly innovative company with quality, sustainability and design sitting as central pillars to the business plan. Regarding quality, the panels are designed to last over 40 years without fading in colour or texture, providing long term protection to the façades they cover. They also offer high resistance against fire and UV, and the option of the company's HR coating can enhance this protection. "HR stands for High Resistance," highlights Robert. "They are more resistant against scratches and graffiti can be removed easily numerous times with a standard acetone product without leaving stains." In terms of design, Swisspearl® prides itself on providing inspiration to great designers and firms such as Max Bill, Le Corbusier, Haefeli Moser Steiger, Herzog and de Meuron, Rafael Viñoly and Morphosis. By working with such designers, the high-end quality and flexibility of the company's panels is exemplified.
The panels therefore provide both aesthetic and functional advantages, yet it is sustainability that comes across as the most important factor for the company. Ninety-five per cent of a Swisspearl® panel is made up of natural raw materials from the Swiss mountains. With environmental awareness ensuring all resources have effective protection, the panels are mainly made from cement, pulverised limestone, water and air. The manufacturing process is based on a closed water cycle and a slow natural 28-day curing time requiring very little energy, and the company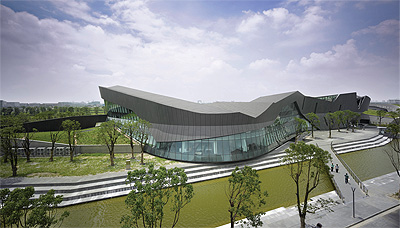 adheres to tight environmental restrictions with high levels of recycling. The result is a 100 per cent environmentally friendly panel since neither the raw materials used, nor the production process contains any harmful substances, and far less energy is consumed compared to the manufacture of most other building materials.
Even more significant is the fact that this sustainable focus continues beyond the manufacturing process and is passed onto the customer, as all of Swisspearl's® panels are rear ventilated. Robert explains: "The panels are not fastened directly onto the façade. A subframe made from aluminium, stainless steel or wood, is used in between the structural wall and the panels. As a result you have an air gap between the two layers and air is able to circulate freely. The major effects of this are: substantial cooling down of the building, no moisture, better interior climate and lower energy consumption. With energy saving and sustainability a major global trend at the moment, we are providing the right solution at the right time."
Swisspearl® has been involved in a number of striking building projects across the world, where sustainability and architectural innovation have been central. The Wallis Annenberg Center for performing arts in Beverly Hills, USA, required 2320 square metres of the company's panels for both internal and external cladding. The contemporary style of the panels helps the design pull together the 21st Century architecture and the original 1930's building that still stands as part of the new construction. Representing the first project in China, Swisspearl®worked with US architects Morphosis to build the stunning corporate headquarters for Giant Interactive Group in Shanghai. Eight thousand square metres of dark grey, black and white panels were required to cover external, internal and roof façades. Testament to the panel's design versatility is its ability to modernise ageing buildings. The company's most recent project has involved cladding an existing CERN building built in the seventies.
Sustainability has been at the heart of two other projects in the US. The 'Science Pyramid' at Denver Botanic Gardensis becoming well known for its incredibly green design, a recognition achieved partly due to the use of Swisspearl's® four foot wide hexagonal rear ventilated panels. Similarly, installation of panels at the recently completed STAR Center in Tacoma helped the center to achieve LEED Gold certification of sustainability.
Looking forward, Swisspearl® appears confident, yet remain the company in the current market. "The strong Swiss Franc is making products more expensive," Robert outlines. "The ongoing financial crisis has put many projects on hold, and the crisis in Ukraine has lead to a collapse of business in CIS countries." However, despite these challenges, the opportunities are still in the company's favour; by sticking to its core values of design, quality and sustainability it is in a strong position to serve current global trends concerning all three. The next years for Swisspearl® are defined by further expansion of the distribution network and the launch of further product innovations facilitated by participation in leading tradeshows like AIA Atlanta and Big5 Dubai. By continuing this strong approach to the market, Swisspearl® looks set to achieve its goal of being the global leader of premium façade panels.
Swisspearl®
Services: Manufacture cement composite panels for exterior and interior cladding