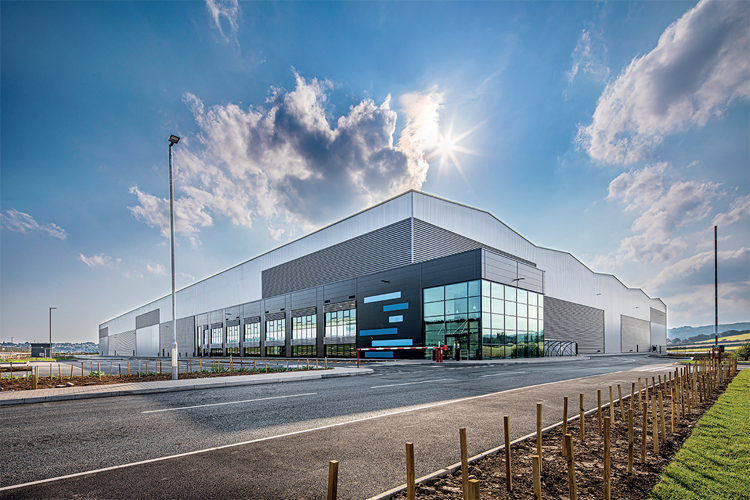 UK Waterproofing Solutions Ltd
Getting it right
UKWS is a leading roofing and cladding contractor specialising in the industrial, retail and commercial sectors
Founded in 1986 as a specialist in the water linings sector, UK Waterproofing Solutions Ltd (UKWS) has diversified and grown over the last ten years and established a strong reputation within the roofing and cladding industry. Its passion to build long-term business relationships with both employees and clients has led the company to become a leading specialist in this sector with a track record for delivering large scale projects.
Since 2015, the company has covered over two million square meters of industrial and manufacturing space for many leading contractors and developers, making it a crucial contributor to the functionality and aesthetics of buildings across the country.
By incorporating the latest technology into its operations, UKWS is able to ensure quality products and world-class service delivery are at the forefront of the roof and cladding industry. This has allowed it to master a wide range of capabilities in the roofing system services, each of which are designed to match the requirements of the building type, sector and construction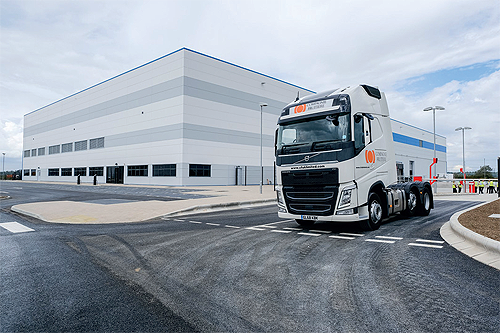 programme. The company offers composite, built-up and low-pitch roof systems, as well as standing seams and flat roofing.
Exceptional service
On the cladding side, the business specializes in a variety of systems to suit either budget or design needs. Amongst this spectrum are composite wall systems including the Kingspan architectural wall panel range and Rockwool panels such as Trimo or Eurobond, built-up wall systems which include Euroclad Elite and CA Twinherm systems and rainscreen cladding.
The trust given to the UKWS name and its services is partly owed to the number of certifications that the company has achieved, which act as double surety of its promises to provide leading services. One such certification is with Constructionline, a standardising organisation that demonstrates a company's compliance with a high level of health, safety, corporate and ethical policies and procedures and UKWS recently reached its gold membership. Other certifications include the National Federation of Roofing Contractors, which the business has been partnered with since 2009, as well as Single Ply Roofing Association Safety Management Advisory Service, which proves the robustness of the company's health and safety management and procedures. To complement these, UKWS additionally registered with the QMS International regulations and received certification in quality and environment management health and safety.
Most notably, in March of this year, the company received the bronze award from the Defence Employer Recognition Scheme (DERS) for its partnership with Project RECCE, the resettlement, education, construction, community and employment group. This initiative aims to assist with improving perceptions of veterans across development-based industries, and together with UKWS, it has been able to offer fantastic opportunities for ex-military candidates to build a career in construction.
However, despite these impressive accreditations, it is not only on paper where UKWS is able to prove its exceptional service delivery. The business also boasts a broad portfolio of projects such as the BET 365 Stadium for Stoke City Football Club. Here, the company was recruited to provide a package for the stadium's expansion works that included the completion of cladding for the new south-east corner infill, which added 1,800 more seats to the venue. The team was also commissioned to clad the new wheelchair platform in the north-east corner, as well as the digital media building on the north-west side. Finally, the business installed a fresh siphonic drainage system and mansafe walkways to the roof. Despite the tight programme of working during the summer to ensure construction did not interrupt the football season, the company delivered timeously and with exceptional service.
Project delivery
We mentioned earlier how UKWS prides itself on the relationships it nurtures with its clients, a perfect example of this can be seen on a number of projects it has completed with St Modwen a leading developer of industrial and logistics sites that owns and manages over ten million square feet of land across the UK. These included the St Modwen Park in Newport across 130,000 square feet of land, with a further five more parks in Lincoln, Gloucester, Worcester, Burton and Gatwick of similar sizes.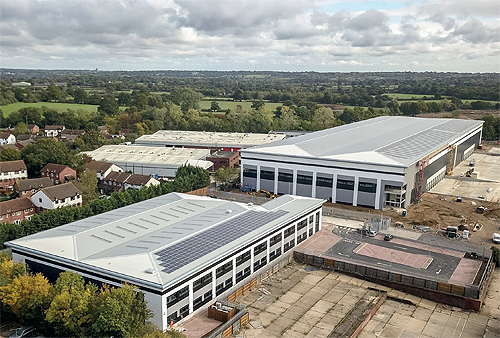 Health & safety
A few more outstanding projects involved working with Bowmer & Kirkland where the business carried out the roofing and cladding works to a 168,000 square-foot manufacturing and office facility for Tiger Trailers in Winsford. Tiger Trailers, a trailer and commercial vehicle body manufacturer, was able to move into its brand-new £22 million facility after rapid business growth encouraged the need to double its production capacity.
It is clear that across the board, industrial logistics and manufacturing warehouse facilities are a key speciality for UKWS. Despite the challenges that come with the waterproofing industry, the company's experienced team excels in the delivery of large-scale buildings un an environment where fast-track programmes and demanding logistics come with the territory. However, it still succeeds in prioritizing impeccable safety and quality standards. This can clearly be seen in how the business was able to pull its team together and surge through the Covid-19 pandemic. After a brief time of strategizing and implementing measures that would enable its staff to work safely, UKWS found a way to continue working at a limited capacity to ensure projects continued. With the dedication and motivation of its employees, subcontractors, clients and supply chain, it remained committed to the health and wellbeing of the entire company to deliver its services during such unprecedented times.
Future growth
Now, looking ahead, the business is determined to continue to expand and keep its name flying high. Recent developments have put the team in a fortunate position to invest in a new vehicle and plant fleet owing to the increase in work demand. According to UKWS, it is crucial to run a modern and efficient fleet to ensure it reduces emissions and its carbon footprint. It has also made significant investments in digital technology, including BIM and the latest CAD software and a single digital platform for its document and project management control.
Other areas in which the business is setting goals for expansion include mental health. This is an aspect that it hopes will serve as additional support for its hard-working employees and to assist with this initiative, UKWS has partnered with Mates in Mind, an organisation that aims to raise awareness, address the stigma of poor mental health and improve the positive mental wellbeing in the UK construction industry.
By maintaining its thorough work ethic and high standard for technical competence, reliability, innovation and the delivery of a quality product safely and on time, UKWS looks to be in good stead to exceed future growth expectations (forward order book with over 5m sqft of new industrial warehouses). There is no doubt that the business will also continue to uphold its vision to be the first choice for roofing and cladding works throughout its sector as it continues to grow from strength to strength.
UK Waterproofing Solutions Ltd
www.ukwsltd.co.uk
Services: Roofing and cladding contractors