One of the largest specialist fit-out contractors in the UK, Veitchi Interiors has established a reputation for delivering a variety of complex projects of all shapes and sizes, on time and within budget, and is Scotland's only approved Metframe installer
Fit for purpose
One of the largest specialist fit-out contractors in the UK, Veitchi Interiors has established a reputation for delivering a variety of complex projects of all shapes and sizes, on time and within budget, and is Scotland's only approved Metframe installer
With an ethos built around providing the very best level of service to its clients via a solutions-based approach, the Veitchi Group has traded successfully for more than 100 years. Today, the group is able to provide a onestop- specialised solutions service for the construction industry thanks to its four separate trading companies, Veitchi Interiors, Veitchi Flooring, Veitchi Homes and Richardson & Starling, each of which is a successful business in its own right.
Veitchi Interiors is a specialist construction solutions contractor, able to offer a unique turnkey service for the interior fit-out aspect of any project to clients across a range of areas within the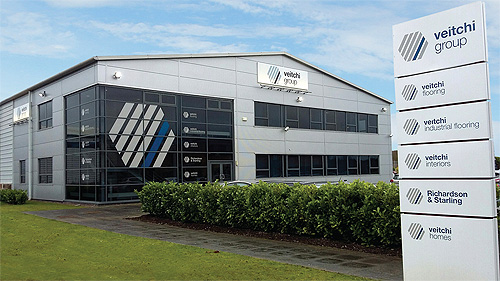 industry. "Veitchi Interiors itself is a diverse entity, with specialism ranging from the construction of complete lightweight steel structures and the fit out of large scale commercial or public buildings, to successfully carrying our single trade work packages such as dry lining," explains Managing Director, Colin Kennedy.
"We enjoy a wide customer base, with clients including large construction companies such as Galliford Try, Robertson, Morgan Sindall, BAM and Kier, as well as some of Scotland's largest regional contractors such as Ogilvie and Hart Construction," Colin continues. "Meanwhile, our fit-out division is not only a strong player in the commercial office space market, but also has gained a reputation for carrying out a series of projects for several hotel chains."
Veitchi Interiors has experienced strong growth, both in terms of turnover and profits, year-onyear for the past five years, and one of the key drivers of this has been its Metframe offering. "Metframe is a versatile, high quality, yet reasonably simple framing system, which can be used in a number of ways," Colin says. "When using this system, a lot of work is taken 'off-site', meaning we create our panels in a factory located in central Scotland. This provides us with benefits in terms of health and safety, quality, speed of construction and site housekeeping, as we don't require lay down areas for excess material to be stored.
"Metframe represents a niche field that we have entered into and had great success in as a company. It lends itself to a great many uses, including care homes, flatted developments, hotels and student accommodation. Metframe offers a streamlined framing system that acts to reduce project duration, create tidier sites, and enhance operative health and safety. We have also gained a strong reputation for being licensed installers of our Altro hygienic wall-cladding system. Altro is another excellent and diverse system that provides good performance for end users and clients, and it is through the selecting of high quality products and providing a fuss-free installation process that allows clients and principle contractors to turn to us with confidence."
There are a good number of examples of projects that Veitchi Interiors has been involved in that we can shine a spotlight on. One such case study involves the award of a £3.7 million contract by Allenbuild, working in collaboration with Edinburgh Council to provide affordable and private housing in Leith, Edinburgh. Here, Veitchi was tasked with the design, manufacture, supply, and installation of the internal and external structure using Metframe steel frames. By the end of the project, Veitchi has successfully constructed the three main blocks in this development, ranging from eight to six storeys high and comprising of 344 properties in total. This work required over 8000 linear metres of panels over a total floor area of 3500 square metres, supporting over 500 cubic metres of concrete used for flooring and 300 tonnes of hot rolled steel beams spanning 1.4 kilometres.
Another significant, recent completed contract was on Anderson High School in Lerwick, Shetland for Morrison Construction, where Veitchi Interiors was appointed to install all of the internal partitions and wall linings within the new £42 million complex. As well as undertaking the internal fit-our works on the four-storey school, the company also supplied and installed over 700 timber door sets, together with numerous acoustic/fire rated timber glazed screens and all other general joiner finishings, including atrium seating, performance stage, skirtings, cills and pelmets.
"The Anderson High School project was a special one for the company as it went on to be presented with a Gold Award for FIS projects in the UK valued at over £1 million," Colin beams. "Our people did a fantastic job across this project, with the high standard of work being praised by not only the client but also our peers within the industry. To have achieved this feat in Shetland also adds weight to our accomplishment, what with the logistics of building a school here being far from simple!"
Positive contributions
Veitchi was incorporated 101 years ago and in that time has managed to facilitate positive change in a wide number of areas and, as Colin goes on to conclude, it is the group's intention to continue this for many years to come. "We intend to go from strength-to- strength with Metframe, continuing to create strong and diverse structures for the built asset needs of clients across the country. Throughout all of this, our continued group focus on our charity efforts through our Veitchi Gives campaign still receives our full attention, with causes such as local food banks, soldier rehabilitation and children's' charities, and health research facilities being the main beneficiaries of our efforts.
"Meanwhile, Veitchi's Graduate Training Programme and Trade School demonstrates our dedication to the industry through the cultivating of new talent. Our focus at Veitchi Interiors is getting the best from our people, and giving them the best in return. We have put a large percentage of our people through further education and will continue to provide the necessary training to mould them into the best employees that they can be. Our in-house training schemes, charitable endeavours and strong work ethic has positively impacted on people's lives all around the UK, and another 101 years in business will only add to this positive contribution."
Veitchi Interiors
Services: Specialist fit-out contractors / Licensed Metframe Installers